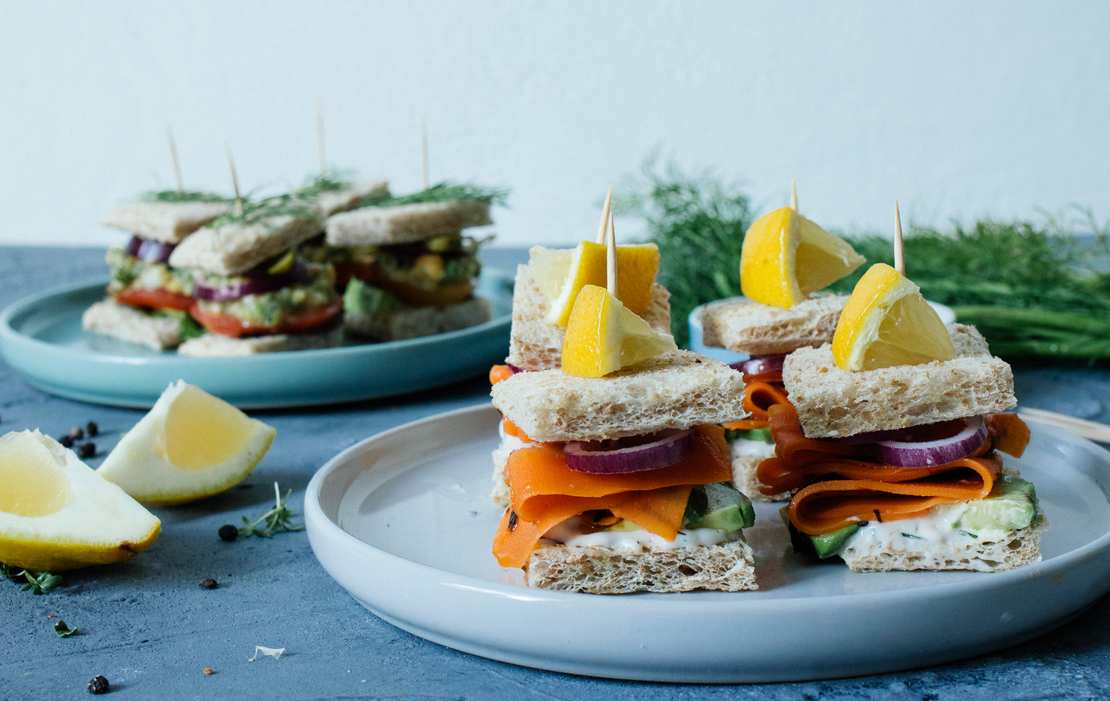 Mini sandwich bites with vegan salmon & tuna
Mini sandwich bites are definitely all-time favorites for buffets! If you think, they won't work out for vegans, you're absolutely wrong! We show you two recipes, even omnivorous people will love - sandwich bites with vegan carrot lox and tuna cream. Just schedule enough time to build you small sandwich towers - this takes more time than you initially think you will need. The rest of it is pretty easy!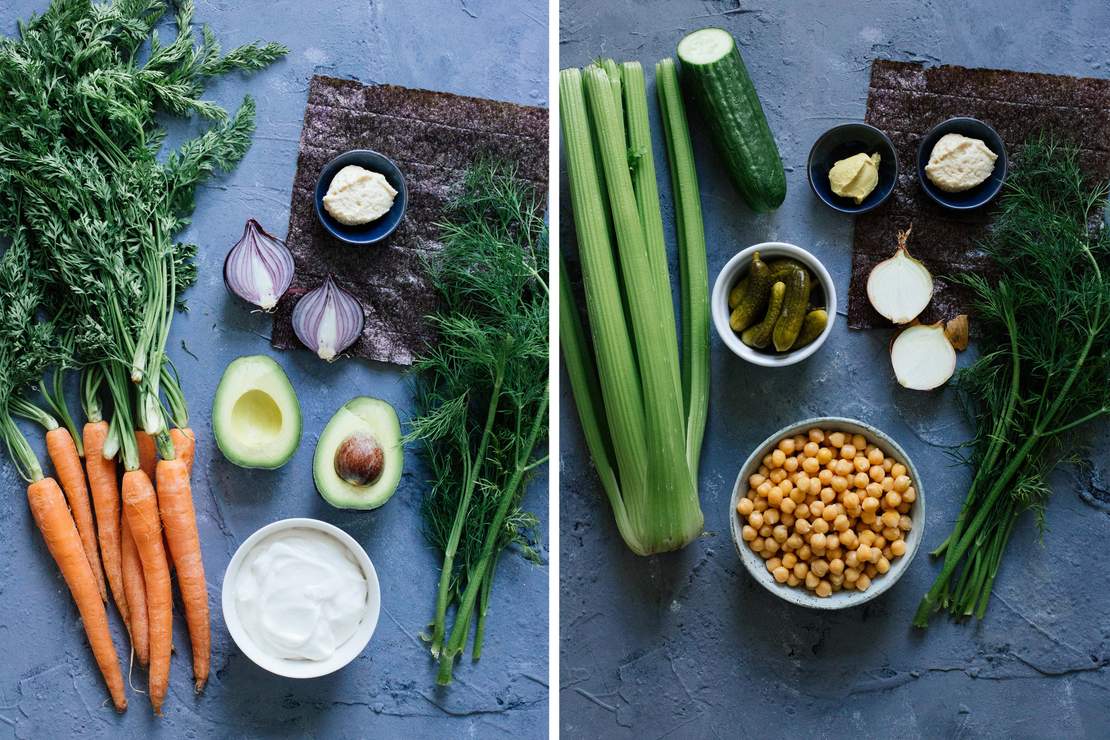 Vegan Carrot Lox
Ingredients
3 large carrots
1 tbsp oil
2 tsp liquid smoke
1/2 nori sheet
0.5 tsp salt
0.5 tsp rice vinegar
optional: 1/2 tsp Old Bay Seasoning
Instructions
Peel and finely slice carrots using a sharp knife or a vegetable peeler.
Steam slices by transferring to a pot of boiling salted water and cook for approx. five minutes. Afterward, drain and transfer to a low bowl.
Stir all ingredients for the marinade (oil, liquid smoke, salt and rice vinegar). Finely cut nori sheet with a sharp knife or scissors and stir into marinade.
Drizzle marinade on top of carrot slices and make sure that each of them is covered with it. Set aside for approx. 60 minutes.
Enjoy as topping on sandwiches, bagels or as a starter on our vegan blinis!
Vegan sandwich bites with carrot-lox
30 mini sandwiches
120 minutes (salmon included)
Ingredients
sandwiches
8 slices of toast
2 lemons
1 avocado
1 portion vegan carrot lox (recipe on the blog)
toothpicks
horseradish mayonnaise
125 g (4.4 oz) vegan mayonnaise
7 g (0.2 oz) fresh dill
1/2 red onion
2-3 tsp horseradish
salt&pepper
Instructions
Prepare carrot lox as instructed on our blog.
Wash and chop dill. Peel an onion and chop finely.
Mix all ingredients for horseradish mayonnaise in a small bowl and season.
Remove crust from white bread slices and cut into 4 small squares.
Top square with horseradish mayonnaise, avocado, salad and carrot lox and close sandwich with another square of white bread. Fix with a toothpick and serve with fresh lemons.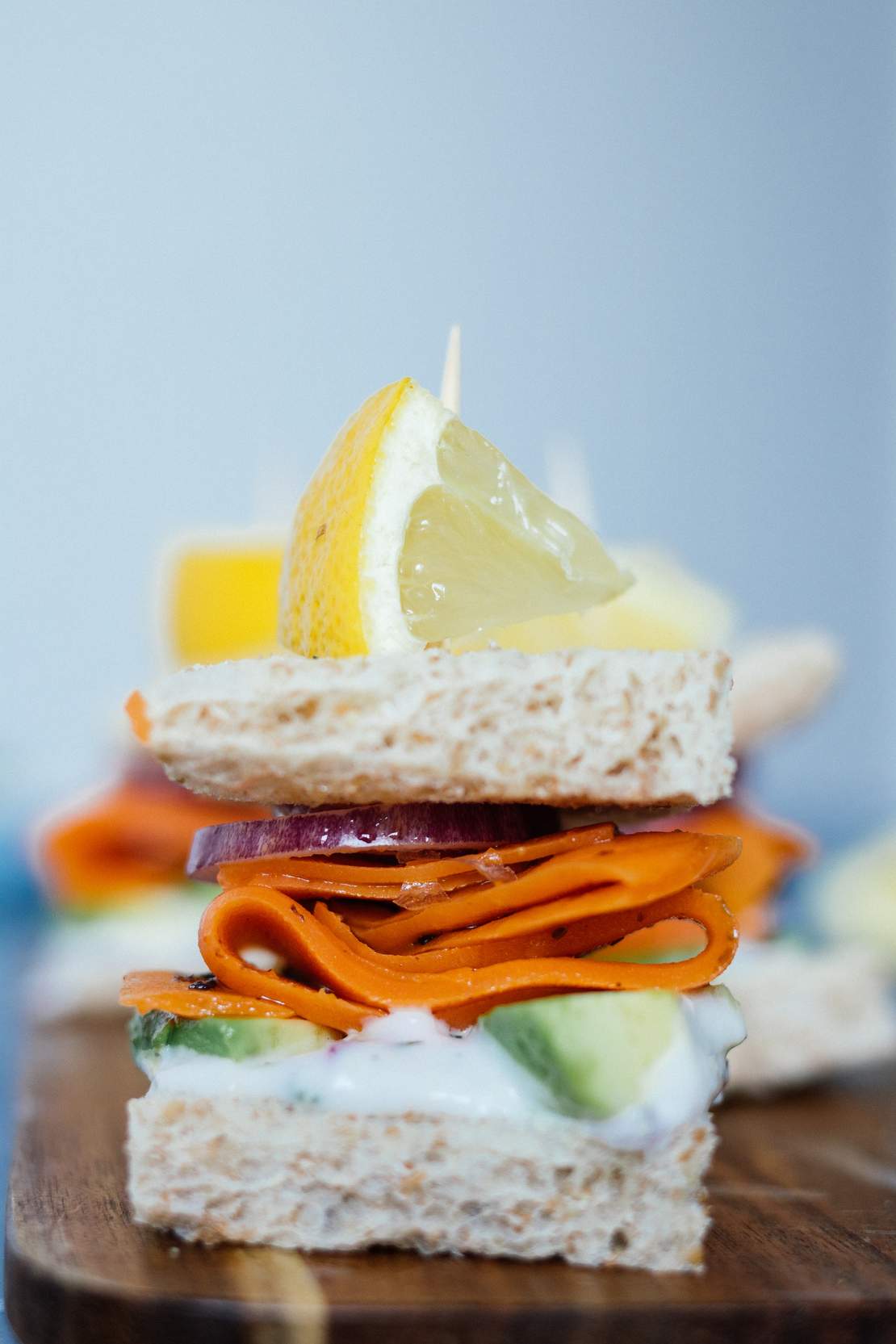 Vegan sandwich bites with tuna cream
about 30 sandwich bites
30 minutes
Ingredients
8 slices of toast
2 red onions
20 g (0.7 oz) cress
3 tomatoes
100 g (3.5 oz) salad
tuna cream
1/2 shallot
125 g (4.4 oz) chickpeas
1/2 stick of celery
5 gherkins
1/4 cucumber
1/2 nori leaf
75 g (2.6 oz) vegan mayonnaise
1 tbsp mustard
1 tbsp lemon juice
7 g (0.2 oz) dill
salt&pepper
Instructions
Roughly cut cucumber, gherkins, celery, and shallot.
In a mixer or food processor, add chopped veggies and chickpeas and let them mix 2 or 3 times shortly in order to get them minced, but not too minced. There still should be some chunks in it, so don't let them mix for too long.
Put everything in a large bowl and add vegan mayo, mustard and lemon juice. Season with salt and pepper.
Finely chop dill and cut a nori sheet. This will work best if you roll your nori sheet first and slice it. Stir in both into your tuna cream.
Remove crust from white bread slices and cut into 4 small squares.
Wash, slice and prepare tomatoes, salad, red onion, and cress.
Top square with tuna cream and veggies and top with another toast square. Fix with a toothpick.