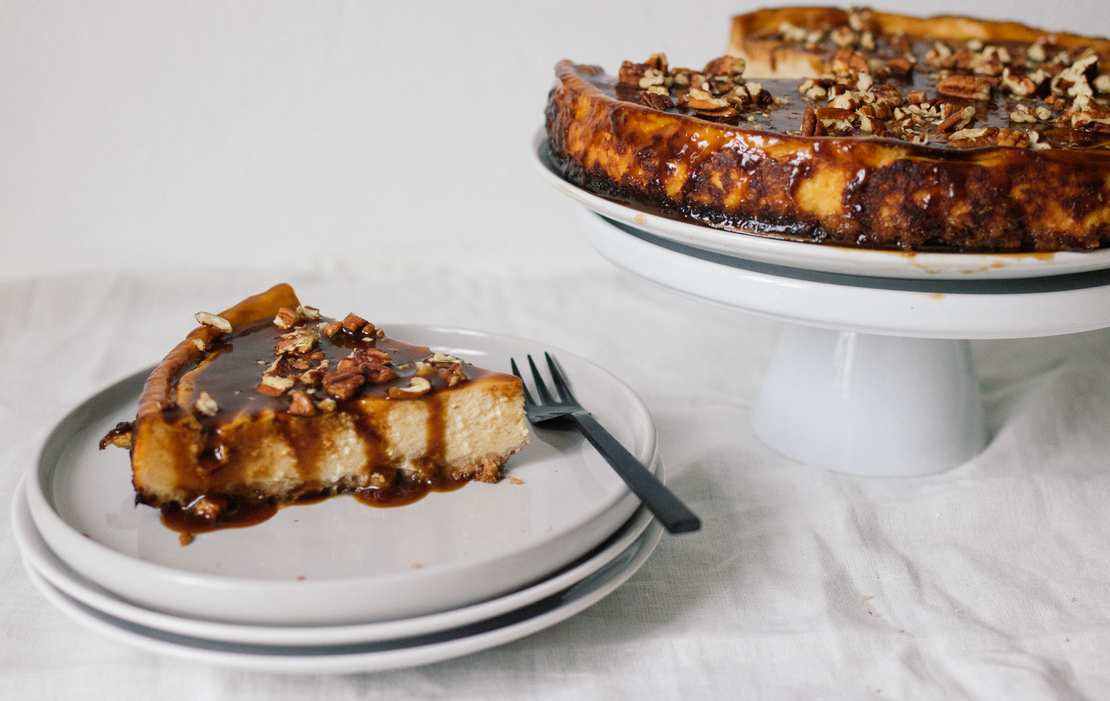 This recipe has been waiting in our drawers now for several months. Or let say, we planned to release it already in summer and everything was almost done. We baked it, we served it with fresh berries on top and ate it joyfully. But then somehow we forgot about it, although some people asked for a vegan cheesecake recipe. Whups.
But here it is and since it's winter, we're serving it with a tasty caramel topping. And you should know by now HOW much we love this caramel layer! But the cheesecake underneath is in no way inferior to its topping. And if WE are able to bake a cake in our gas oven, you can do it too!
If it happens to be summer right now, you can of course change the topping to a layer of berries. Just blend your desired berries and transfer them into a small pot. Mix together starch and water and add it to the pot. While stirring, warm up the mixture until it thickens. Afterwards, let it cool down a bit before drizzling it onto the cooled cheesecake and let it rest in the fridge until serving.
Vegan caramel cheesecake
Ingredients
For the bottom:
150 g (5 oz) cookies
75 g (3 oz) walnuts
75 - 100 g (0.33 – 0.5 cup) vegan butter
For the filling:
1200 g (42 oz) soy curd
150 g (0.66 cup) vegan butter
100 g (0.5 cup) brown sugar
200 ml (1 cup) plant-based milk (unsweetened)
2 tbsp maple syrup
80 g (3 oz) custard powder
Also:
vegan butter for greasing
flour for dusting
For topping:
vegan caramel
chopped nuts of choice
Instructions
Crumble cookies and walnuts for the cheesecake crust. This works best when you put cookies in a sealable bag and roll over the bag with a rolling pin. Those cookies only need to crumbled, it doesn't have to be powdered. Melt vegan butter in a saucepan, slightly cool it down, then add to crumble cookies and mix. Grease and flour a cake pan and add cookie-walnut-butter mix in there. Press slightly and place in the fridge for approx. 10 minutes.

Add vegan butter, brown sugar, soy milk and vanilla sugar to a pot and heat on low level until butter is melted, sugar is dissolved and everything turns into a smooth mixture. Take from heat, and stir in Vanillepuddingpulver. Make sure to stir as best as you can so your filling is as smooth as possible in the end. Place saucepan on stove again and let simmer until thickened for approx. 2 – 3 minutes.

Add soy curd to a large mixing bowl and stir in custard powder. Again, stir as best as you can, so the filling is as smooth as possible. Take cake pan out of the fridge and fill in curd pudding mixture.

Preheat oven to 175°C/350°F and bake cake for approx. 60 minutes. Don't worry, this cake will be still a bit wobbly in the middle, when it's "done". The trick ist o let the cake cool down in the oven (which is then switched out, of course), with the door left ajar.

Once your cheesecake is cooled down, you can pour vegan caramel on top and sprinke chopped nuts on it. Let it dry before serving.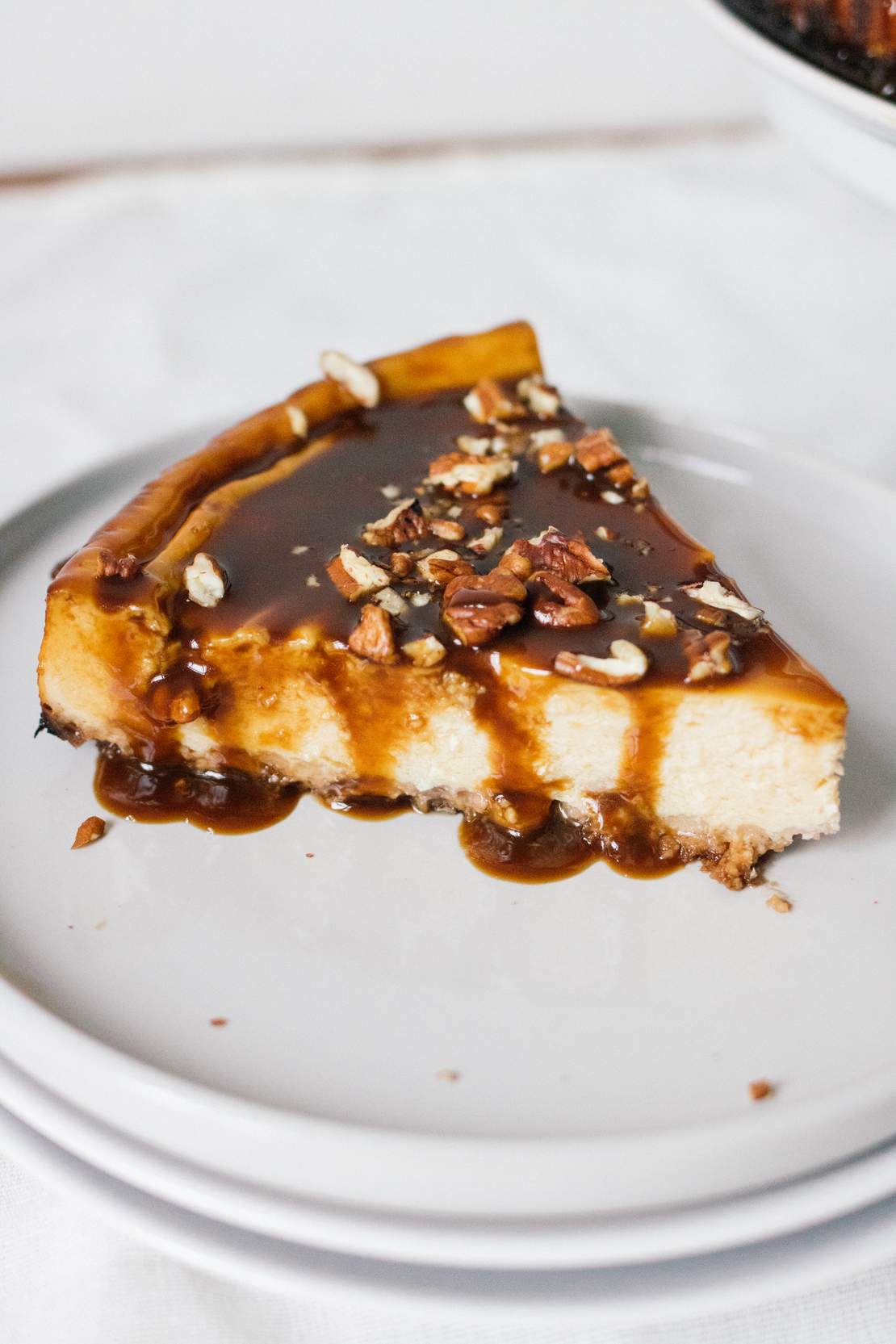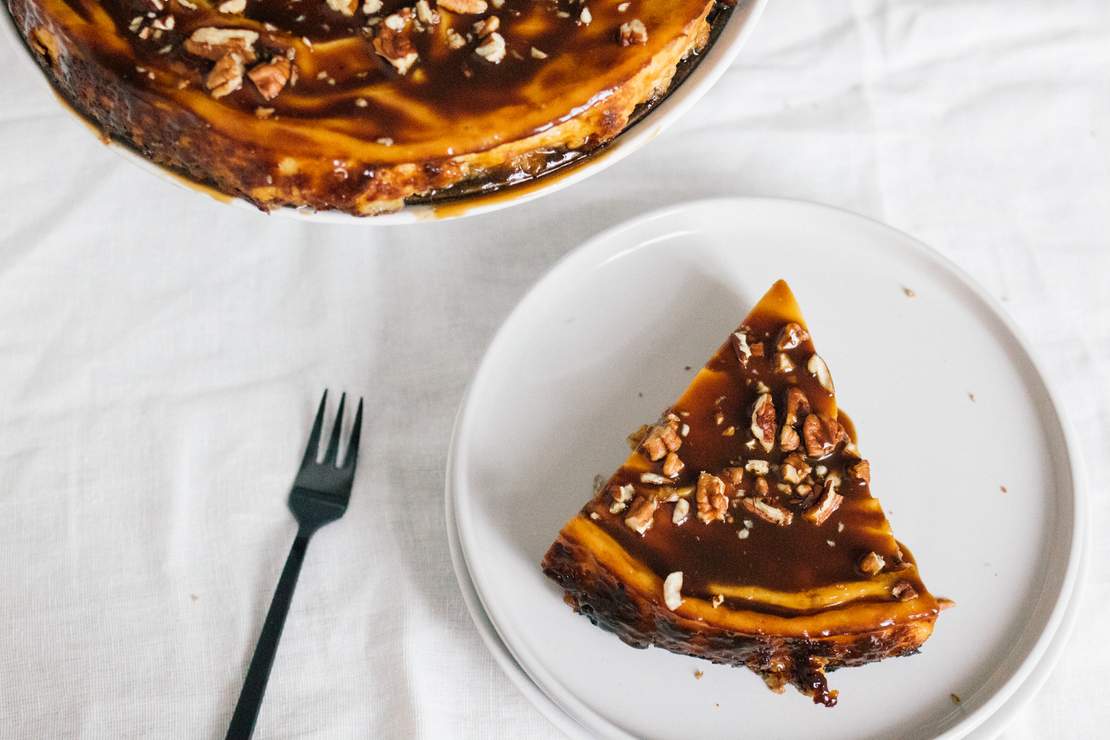 Vegan Caramel
Ingredients
125 g (1.6 cups) coconut sugar
120 ml (0.5 cups) coconut milk
pinch of salt
optional: 1 vanilla bean
Instructions
Optional: Slice the vanilla pod and scrape out the seeds.
Place all the ingredients in a pot or pan.
Combine everything well and stir continuously.
Let simmer for 10 minutes and set aside. Enjoy still warm.
This vegan caramel dip works perfectly on a cake or as a dip for vegan snicker balls or fresh fruits. The caramel gets thicker by the time, so use it still warm if you want to decorate a cake with it. The creme of the coconut can is essential for the consistency of your caramel dip. There is a firmer creme at the top of the can that works perfectly for a thick caramel creme.