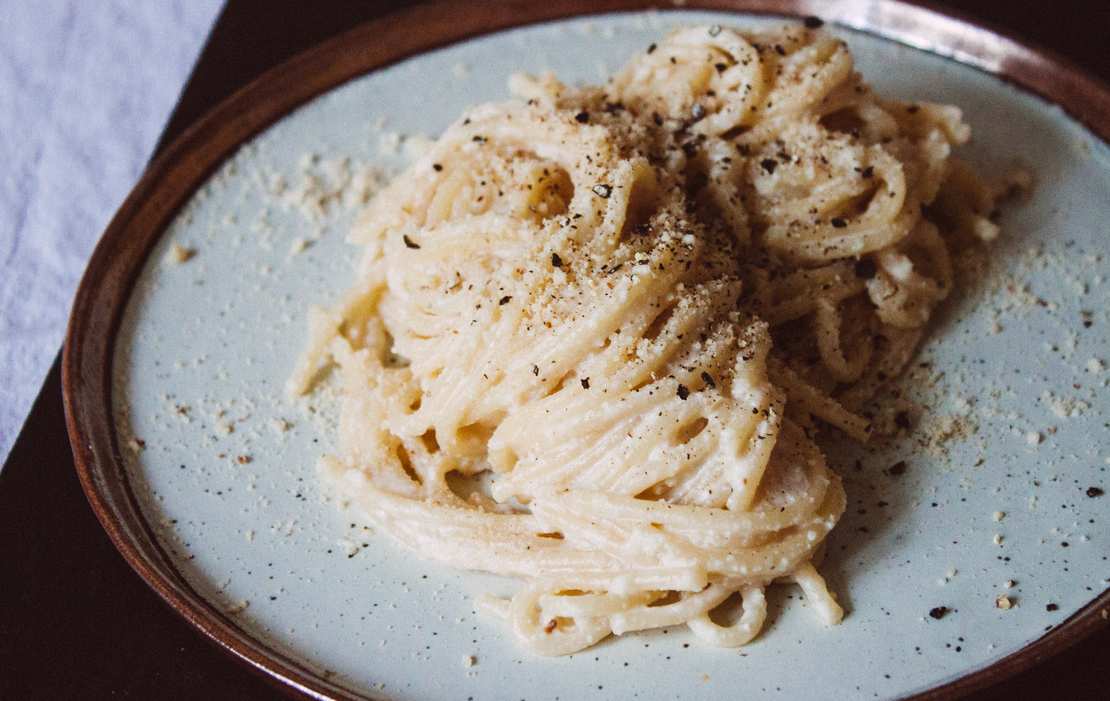 The traditional dish of Cacio et Pepe consists only 3 ingredients: pasta, parmesan and pepper. Since vegan parmesan doesn't melt that way, we changed the recipe and added some more ingredients. Still, the way of preparation stays the same. This dish originates in – surprise, surprise – Italy. They just know how to make incredible dishes out of very few, but therefore very good ingredients. Usually, you eat this dish with pasta types Tonnarelli or Vermicelli, but if you can't find them near, just grab your favorite pasta.
Vegan Cacio e Pepe
Ingredients
250 g (9 oz) spaghetti (if you find them, use tonarelli or vermicelli)
black pepper
salt
FOR CHEESE PASTE
100 g (3.5 oz) cashew nuts (soaked in warm water for at least 30 minutes)
1 tsp white miso
3 tbsp vegan parmesan (recipe on the blog)
1 tbsp oil
0.5 lemon (juice)
1 garlic clove
salt
Instructions
In a blender, mix all ingredients for the cheese paste until combined and smooth. As you can see in pictures, it's supposed to be a real paste texture, not liquid. Set aside.
In a large pot, bring slightly salted water to a simmer. Add pasta and cook for about 8 minutes until it's right before al dente.
Ladle a cup of pasta cooking water and set aside. Pour off remaining water, but still keep some water in the pot.
Now add cashew paste to the pot and stir, until it combines with pasta water. You should already see, that this turns into a creamy sauce. If it's still too thick, just add some more pasta water. Season with black pepper and stir.
Serve on plates with additional black pepper on top and more vegan parmesan cheese.
Vegan Parmesan Cheese
150 g (5.5 oz) vegan parmesan cheese
5 minutes
Ingredients
100 g (3.5 oz) cashews
50 g (2 oz) chopped almonds
3 tbsp nutritional yeast
1 tsp sea salt
0.5 tsp garlic powder
Instructions
Add all ingredients to a food processor and mix until you get fine crumbles. No worries, in case there should be bigger chunks left, that just makes your vegan parmesan a bit crunchy.
Store in an airtight container or jar and sprinkle on top of your pasta dishes or mix it into your pesto.