Half-past nine in the morning in Bavaria ... time for a vegan veal sausage! To kick off our beer garden theme week, we have a real classic for you. Whether in the morning, at noon, or in the evening, the Bavarian veal sausage enjoys great popularity in Bavaria at any time of the day and is a true beer garden classic. The classic veal sausage is served with pretzels and sweet mustard. But, of course, how you want to eat your German Weisswurst is up to you. For example, how about fried veal sausages cut up in slices with a fresh salad?
But how do you veganize a veal sausage? This question has kept me busy the last few days. After numerous attempts, the breakthrough finally came! My biggest challenge: the typical light color of the sausage. My first attempts with soy granules, vegan mince, and seitan were far too dark or yellowish. Tofu has just the right color but is difficult to shape into the right form. That's when I got the crucial idea. Why not just combine tofu and seitan? That way, we get the right consistency and color. All we need is some tofu, seitan, and lots of spices, and we're ready to go. Instead of a casing, we use aluminum foil in our recipe - it couldn't be simpler. You just have to make sure you chop your tofu finely and mix the tofu and seitan very well. Otherwise, your vegan sausages might not hold together properly. Also, when cooking the sausages, make sure they don't touch the bottom or sides of the pot. To avoid this, simply place the aluminum foil-wrapped sausages in a sieve and hang them in the boiling water. This allows them to cook evenly.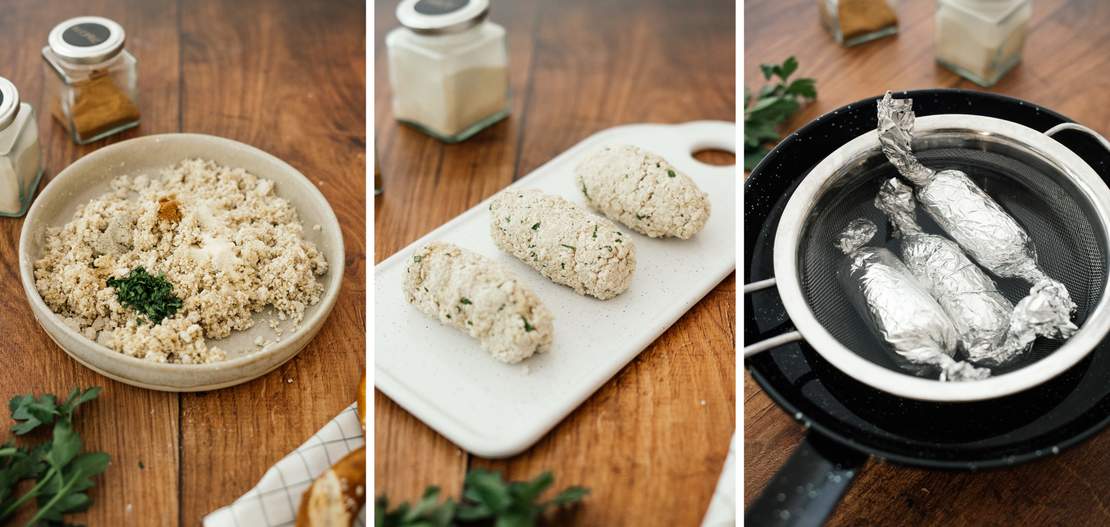 Vegan Veal Sausage
3 veal sausages
40 minutes
Ingredients
For the veal sausages:
200 g (7 oz) firm tofu
5 g (0.25 oz) parsley
1 tsp ground nutmeg
0.5 tsp ground cardamom
0.5 tsp ground ginger
1 tsp onion powder
0.5 tsp garlic powder
1 tsp vegetable broth
2.5 tbsp seitan fix
salt
pepper
Also:
soft pretzels
sweet mustard
Instructions
Crumble the firm tofu well with your hands and finely chop the parsley. Season the tofu with parsley, nutmeg, cardamom, ginger, onion powder, garlic powder, vegetable broth, salt, and pepper.

Knead in seitan fix and form three sausages of the same size from the mixture. Wrap the "sausages" in aluminum foil, so no water gets in during cooking.

Place the seitan sausages in a sieve and hang the sieve in a pot with boiling water. The "sausages" should be covered with water but shouldn't touch the bottom of the pan. Simmer the vegan sausages over medium heat for about 20 minutes.

Remove the vegan sausages from the water and let them cool. Once cooled, unwrap and serve with soft pretzels and sweet mustard. Enjoy!
More Vegan Recipes with Seitan