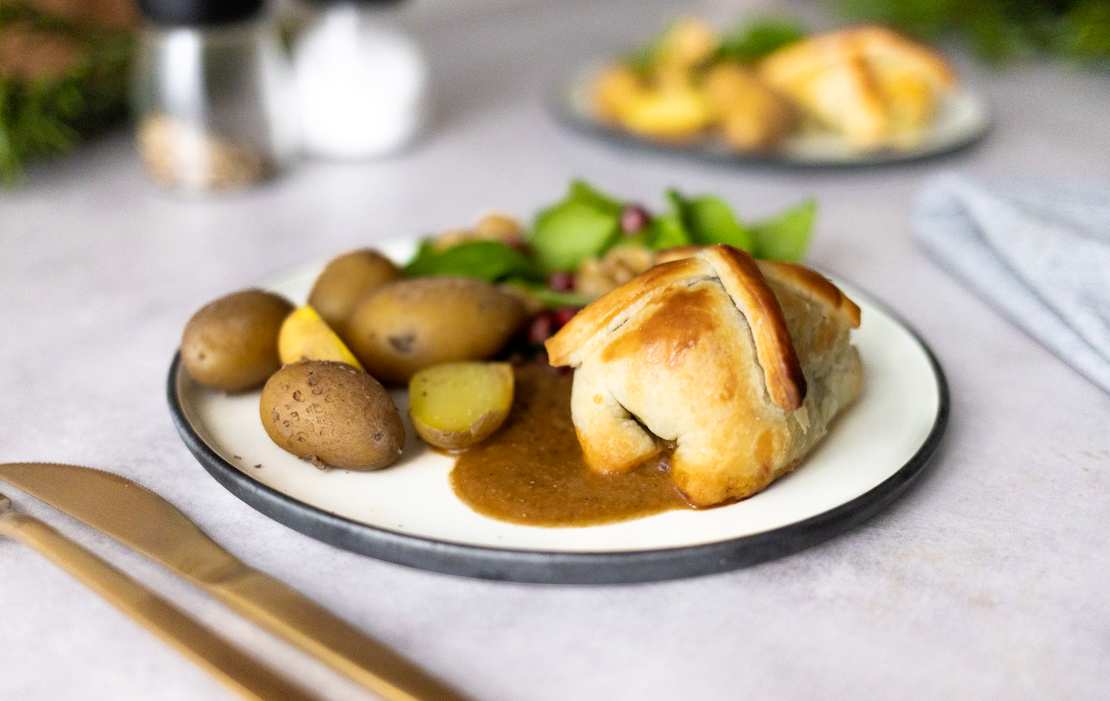 Mini Beet Wellington with Vegan Gravy
Beef Wellington is an absolute classic, but where does it come from? As an amateur detective and history fan, I had to get to the bottom of it! There are many legends about its origin. The name probably refers to Arthur Wellesley, the 1st Duke of Wellington. After the victorious battle of Waterloo in 1815, that very dish was developed in his honor. source Others say it was named after him simply because he was absolutely mad about it. Source If someone was naming a dish after us it probably would be potatoes with cottage cheese or mushroom croquette casserole.
Back to the recipe: First, we prepare a delicious filling. We need various mushrooms, chestnuts, spinach and fresh herbs. The combination of fresh mushrooms and nutty chestnuts is unbeatable! We make it easy and use store-bought, ready-to-eat chestnuts. Did you know that the sweet chestnut was Tree of the Year 2018 (source)? Next, we fry everything and deglaze it with a good amount of white wine. Alternatively, you can use vegetable broth and some white wine vinegar.
I copied the recipe for the gravy from Julia. The gravy is one of the first recipes I ever made from the blog, and it just tastes so wonderful. Who would have thought that a few vegetables would be enough to make such a delicious sauce?
The trickiest part of the recipe is rolling everything in the puff pastry. Since the beet balls can vary in size, it's not always so easy to do. Just make sure to use only a little filling. Also, store the pastry in the refrigerator until just before use, as it will remain much more stable and is easier to work with. Not so complicated after all, right? After that, you are entirely free to choose the side dishes. I served it with potatoes and lamb's lettuce with pomegranate seeds. Very tasty, but the sky's the limit!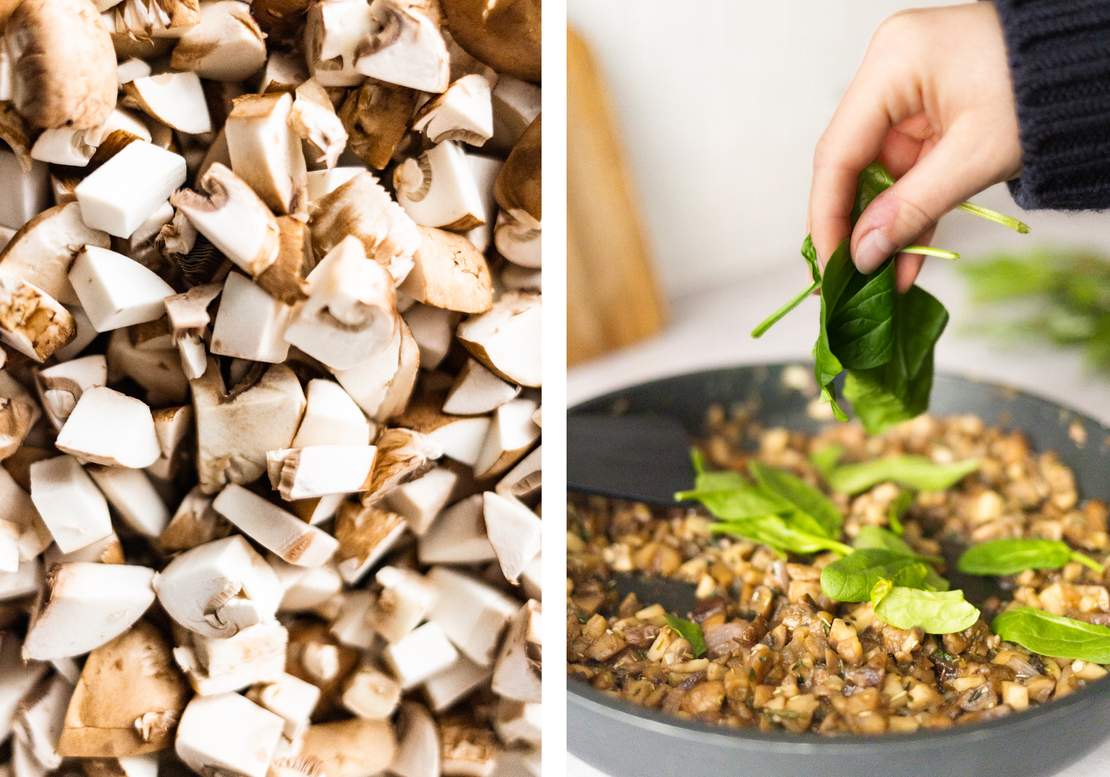 Mini Beet Wellington with Vegan Gravy
8 mini Beet Wellington
45 minutes (+ 20 minutes baking time)
Ingredients
For the filling:
150 g (0.33 lb) mushrooms
150 g (0.33 lb) king oyster mushrooms
125 g (0.25 lb) ready-to-eat chestnuts
2 shallots
2 garlic cloves
5 sprigs of fresh thyme
2 sprigs of rosemary
2 tbsp vegan butter for frying
250 ml (1 cup) vegan white wine
1 tbsp sugar
80 g (3 oz) fresh spinach
vegetable oil for frying
salt
pepper
For the sauce:
2 shallots
1 garlic clove
2 carrots
3 mushrooms
150 g (0.33 lb) leek
2 tbsp flour
2 tbsp tomato paste
50 ml (0.25 cup) vegan red wine
750 ml (3.25 cups) vegetable broth
1 tsp mustard
1 tbsp soy sauce
1 tbsp sugar beet syrup (or agave syrup)
2 sprigs of rosemary
2 bay leaves
vegetable oil for frying
salt
pepper
sugar
Also
8 beet balls (cooked)
1.5 ready-made vegan puff pastry sheets (approx. 25 x 38 cm/ 10 inches x 15 inches)
plant-based heavy cream for glazing
Instructions
For the filling, clean the mushrooms and cut them into pea-sized cubes. Chop the chestnuts to the same size. Finely dice the shallots and chop the garlic. Sauté both in a pan with plenty of vegetable oil for 2–3 minutes until the onions are translucent. Then add the chestnuts and mushrooms and sauté for approx. 5 minutes.

In the meantime, remove the thyme and rosemary leaves from the stems and chop them finely. Add the herbs and vegan butter to the pan. Deglaze the filling with white wine and simmer for approx. 10 minutes over medium heat. Season with sugar, salt, and pepper. Remove the pan from the heat and add the washed spinach. Allow the filling to cool.

While the filling is cooling, prepare the gravy. To do this, peel the shallots, garlic, and carrots, clean the mushrooms, remove the outer layer of leeks, and cut everything into thumb-size pieces. Sauté the vegetables in a pan with plenty of oil for about 8–10 minutes, until lightly roasted – season with salt, pepper and a pinch of sugar.

Add flour and tomato paste, mix and roast for another 1–2 minutes. Then deglaze with vegan red wine and pour the vegetable broth. Stir in mustard, soy sauce and sugar beet syrup and add rosemary and bay leaves to the sauce. Simmer everything together for about 5–10 minutes.

Pour the gravy through a fine sieve into a second pot. Return the pot to the stove and let simmer until desired consistency is reached. Season to taste with salt, pepper, sugar and/or mustard.

Preheat the oven to 180 °C (convection heat). Drain the beet balls and rinse thoroughly under cold water. Divide the puff pastry along the shorter side into strips about 7 cm wide. Spread the filling on the bottom two-thirds of each strip. Leave about 1 cm of space on each side. Place one of the beet balls on top of the filling and fold the long sides of the puff pastry over it. Then carefully roll up.
Tip: If you like, you can decorate the little Wellingtons with the leftover puff pastry. To do this, cut the remaining puff pastry into strips about 1 cm wide and place diagonally over the Wellingtons to form a cross.
Spread a thin layer of plant-based heavy cream on the small pastry rolls and bake for about 20–25 minutes at 180 °C (convection heat) until golden brown. Serve with gravy.