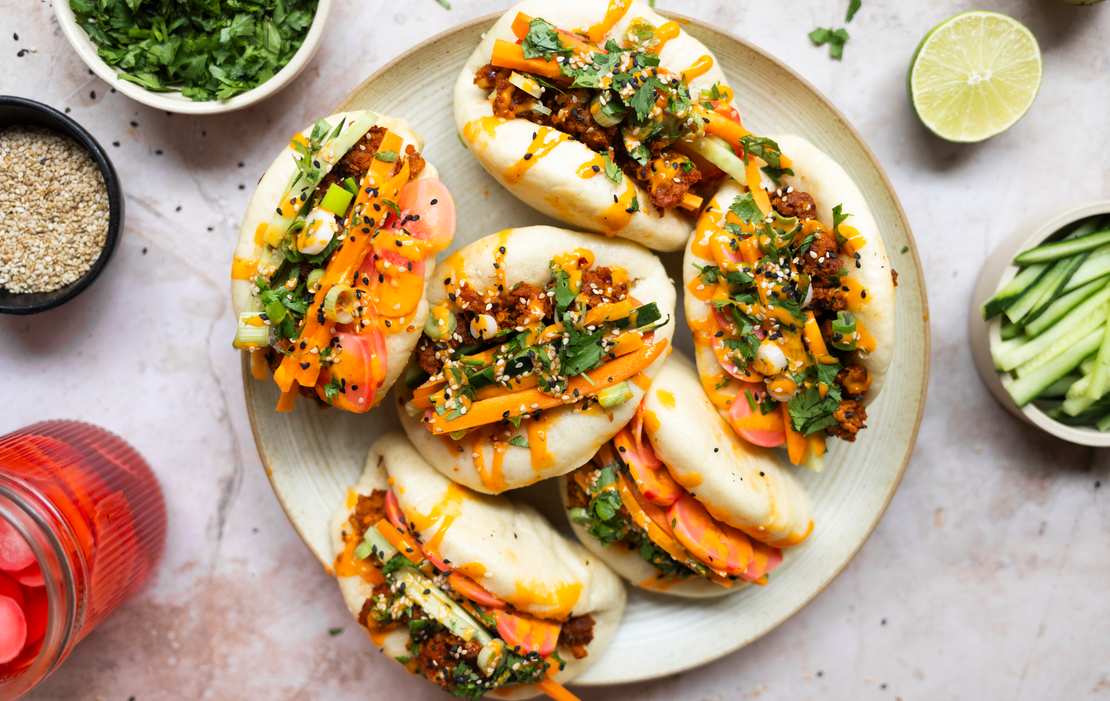 Make a wish: In our series "Make a wish" we develop recipes to make your wishes come true - whether it's about vegan french toasts or doughnuts. If you also have a recipe that we should cook for you, send us a quick mail to hello@zuckerjagdwurst.com. Until then, find all your previous wished recipes here.
How many times I've eaten Bao Buns in a restaurant and always been in 7th heaven! The incredibly fluffy bun dough, spicy vegan mince, pickled vegetables, creamy sauce and, not to forget, fresh coriander together make both the most perfect taste and texture combination there is for me. Bao Buns are often available as street food at (flea) markets (at least in Berlin).
Traditionally, Bao Buns are from China from the Fujian province. "Bao" is Chinese and means "bun". A very well-known variation of Bao Buns are Gua Buns, which are filled with boiled pork belly, pickled vegetables, peanuts and coriander. However, this varies greatly from country to country and can be easily modified depending on your mood. (Source)
And because the production of all the components (except for the buns) is really simple, we thought: Why not try it ourselves! With the buns, however, as I said, I was faced with a small challenge at the beginning. They became totally dry at the first try and were by far not as light, fluffy and airy as the ones I had eaten in restaurants or at markets. Therefore, there were (unfortunately) many rounds of testing with lots of tastings until, finally, the perfect recipe was created for us in the office. If you don't have the time or desire to make the buns yourself, you can also buy them ready-made in Asian stores. You only have to heat them up briefly, which is of course much faster than preparing a yeast dough. And the premade buns also taste really good – so you're doing absolutely nothing wrong with them.
If our filling doesn't appeal to you that much, it doesn't matter. Because as with almost every dish, everything is interchangeable. You can replace the spicy mince with shredded tofu, soy granules or tofu slices. And the pickled vegetables are also variable. You prefer to use pickle radish and onions? Go for it! Cilantro can easily be replaced by parsley or mint. As you can see, there should be something for everyone.
Vegan Bao Buns
16 Bao Buns
90 minutes (+ 120 minutes resting time)
Ingredients
For the pickled vegetables:
150 g (5.33 oz) carrots
150 g (5.33 oz) radishes
200 ml (0.75 cup) vegan white wine vinegar
200 ml (0.75 cup) water
1 tsp sugar
1 pinch of salt
For the buns:
300 ml (1.25 cups) lukewarm water
2.5 tsp dry yeast
1 tsp sugar
600 g (4.75 cups) wheat flour (type 450)
2 tsp vegan butter (room temperature)
For the spicy minced meat:
1 onion
2 cloves of garlic
20 g (0.66 oz) fresh ginger
1 spring onion
1 tsp chili flakes
1 tsp agave syrup
1.5 tbsp tomato paste
200 g (7 oz) fresh vegan minced meat
2 tbsp soy sauce
1.5 tsp chili crisp or chili oil
2 tsp hoisin sauce
2 tbsp tahini
vegetable oil for frying
1 lime (juice)
Also:
fresh cilantro
0.5 cucumber
1 spring onion
sesame seeds
sriracha mayo
1 lime (juice)
Instructions
For the pickled vegetables, peel the carrots and cut them into thin strips. Cut radishes into thin slices. Place both in a jar. In a saucepan, bring white wine vinegar, water, sugar and salt to a boil until everything has dissolved. Then pour the mixture over the vegetables.

Mix lukewarm water with dry yeast and sugar in a large bowl. Then let it sit for 5 minutes until bubbles form. Add flour and knead until a rough dough forms. Then place in a food processor, add vegan butter and knead for about 8 minutes on medium speed. Alternatively, continue kneading by hand. Round the dough, place it in a bowl, cover with a damp cloth and let it rise for 1–1.5 hours until the dough has doubled in size.

Peel and chop the onion, garlic and ginger and sauté in a pan with vegetable oil. Cut the spring onion into rings and add along with chili flakes. Add agave syrup and tomato paste and lightly fry everything.

Add the vegan minced meat to the pan, break it apart and fry for about 5 minutes. Remove the pan from the heat and add soy sauce, chili crisp, hoisin sauce and tahini and mix well. Season to taste with lime juice and salt.

Wash and chop the cilantro, cut the cucumber into strips and the spring onion into rings and set everything aside.

Once the dough for the buns has risen, knead again for 6–8 minutes. Roll the dough into a long snake, divide it into 16 pieces and dust them with flour. Shape the dough pieces into balls and flatten them by hand to make circles of about 8 inches in diameter. Fold the dough in half and place a piece of baking paper between them to prevent the dough from sticking together. Let the buns rise again for 30 minutes.

Place steamer insert in a pot and add enough water to steam the buns over, not in, the water. Only add 2–3 buns to the steamer insert, as they will rise during steaming. Steam the buns for about 10 minutes.
Tip: You can also put baking paper in the steamer basket to prevent the buns from sticking to the bottom after steaming.
Fill the buns with the mince mixture, pickled vegetables and cucumber and garnish with spring onions, coriander, Sriracha mayo and sesame seeds. Drizzle lime juice over the top, if desired.