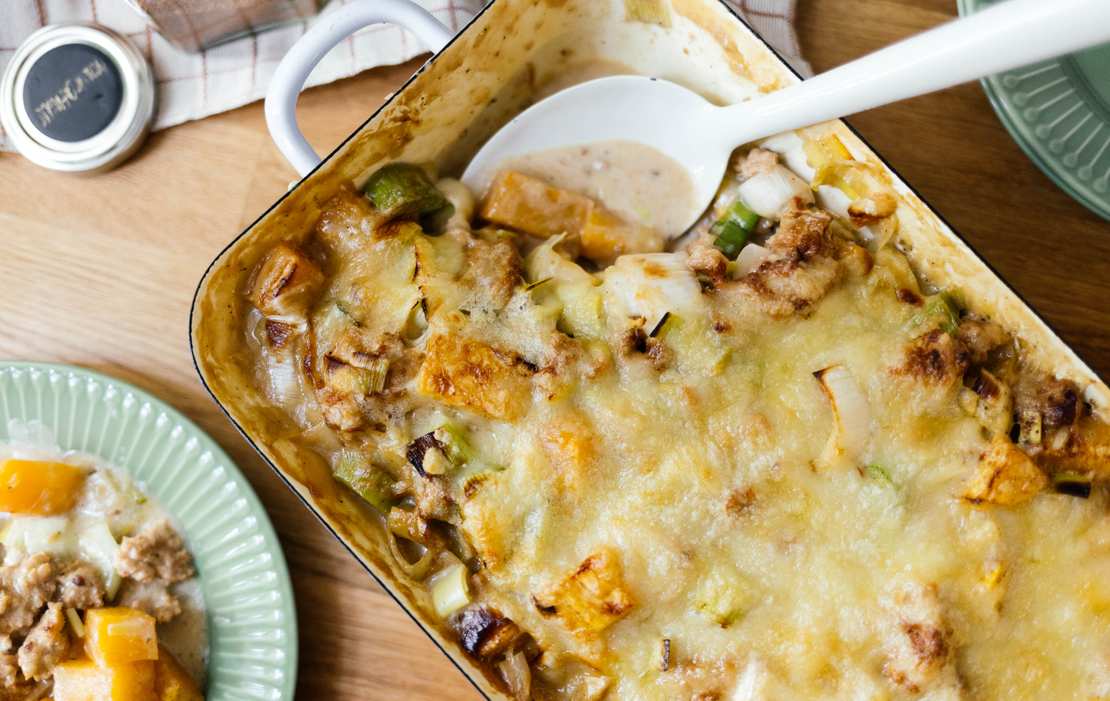 Vegan Cheese, Mince and Leek Casserole with Rutabaga
I once had a theory that EVERY family growing up in Germany added the infamous cheese and leek soup at least once to a buffet table for a family celebration. For me, it's an absolute classic, which was often served in our childhood (but even today). That theory shattered when Isa told me she hadn't even heard of this soup until I cooked it for the blog. But so be it. Exceptions prove the rule.
So for the classic soup, we already have a vegan recipe on the blog, but recently it came back to my mind on a completely different occasion. A few weeks ago, I wanted to make a potato casserole but devoted myself to the ingredients I had lying around in my kitchen anyway. These were half a leek and a package of vegan minced meat, which made me think of the soup I just mentioned.
The soup became a casserole: Since I already had leek and plant-based mince, I prepared the sauce precisely according to our soup recipe and only adjusted the quantities here and there. Since there's no plant-based alternative to processed cheese, our version isn't quite as rich as the original, but don't worry – we make up for it with a lovely vegan cheese layer in our casserole recipe.
Hello, rutabaga! On top of it, I got another idea when I started test-cooking this casserole in our office. There are still a few fruits and vegetables we haven't included in any of our recipes on the blog so far – and rutabaga is one of them. You can find it in the colder months at farmer's markets and the supermarket and have perhaps ever wondered what to do with this colossal turnip. Honestly, you can do anything with it: add them to oven vegetables or a stew, blend them into purees or soups, or even eat them raw. So have a heart for this excellent root vegetable, and grab it next time you see it! When buying, I would advise you not to go for the huge ones because they can be woody, but the smaller ones taste like a mix of parsnip and kohlrabi. Before you use them for this (or any other recipe), you should always clean, dry, and peel them thoroughly. After that, though, the fun can begin.
Potatoes instead of rutabagas: If you don't get rutabagas right now, if you don't like them, or if you want to eat some more carbs today, you can, of course, replace them with potatoes. You don't have to pre-cook them in the oven, but if you use uncooked potatoes in the casserole, you'll need to add a bit more liquid to ensure they're cooked through in the oven.
Vegan Cheese, Mince and Leek Casserole with Rutabaga
4 servings
45 minutes (+20 minutes baking time)
Ingredients
1 rutabaga (approx. 1.5 kg / 3.33 lbs)
2 tbsp olive oil
300 g (10.5 oz) leek
1 onion
1 garlic clove
500 g (1 lb) plant-based (raw) mince
1 tsp soy sauce
1 tbsp agave syrup
3 tbsp vegan butter
2 tbsp flour
500 ml (2 cups) vegetable broth
250 ml (1 cup) plant-based heavy cream
3 tbsp nutritional yeast
200 g (7 oz) vegan shredded cheese
1 tbsp water
1 tbsp vegetable oil
salt
pepper
nutmeg
vegetable oil for frying
Instructions
Preheat the oven to 200°C/390°F (convection heat). Wash, dry and peel rutabaga thoroughly. To do this, cut off the stalk and the opposite end of the rutabaga and cut off the skin with a knife. Then cut the rutabaga into bite-sized pieces and arrange them on a baking sheet. Drizzle with olive oil and season with salt and pepper. Pre-bake for about 15 minutes to soften the rutabaga.

In the meantime, clean the leeks thoroughly and cut them into rings. Next, peel and finely chop the onion and garlic.

Heat vegetable oil in a frying pan and sauté the vegan minced meat with onion and garlic for about 5 minutes. Add soy sauce and agave syrup and sauté for another 5 minutes. Season the vegan mince with salt and pepper and set aside.

For the sauce, melt vegan butter in a saucepan and dust with flour. Stir in vegetable broth and plant-based heavy cream. Season the sauce with nutritional yeast, salt, pepper, and nutmeg to taste.

Mix vegan shredded cheese with water and oil in a bowl.

Grease a baking dish with vegetable oil and add the rutabaga, leek, vegan mince mixture, and sauce. Mix to combine everything and sprinkle a layer of vegan shredded cheese on top. Bake at 200°C/390°F (convection heat) for about 20-25 minutes, until the "cheese layer" is golden brown and the rutabagas are soft.