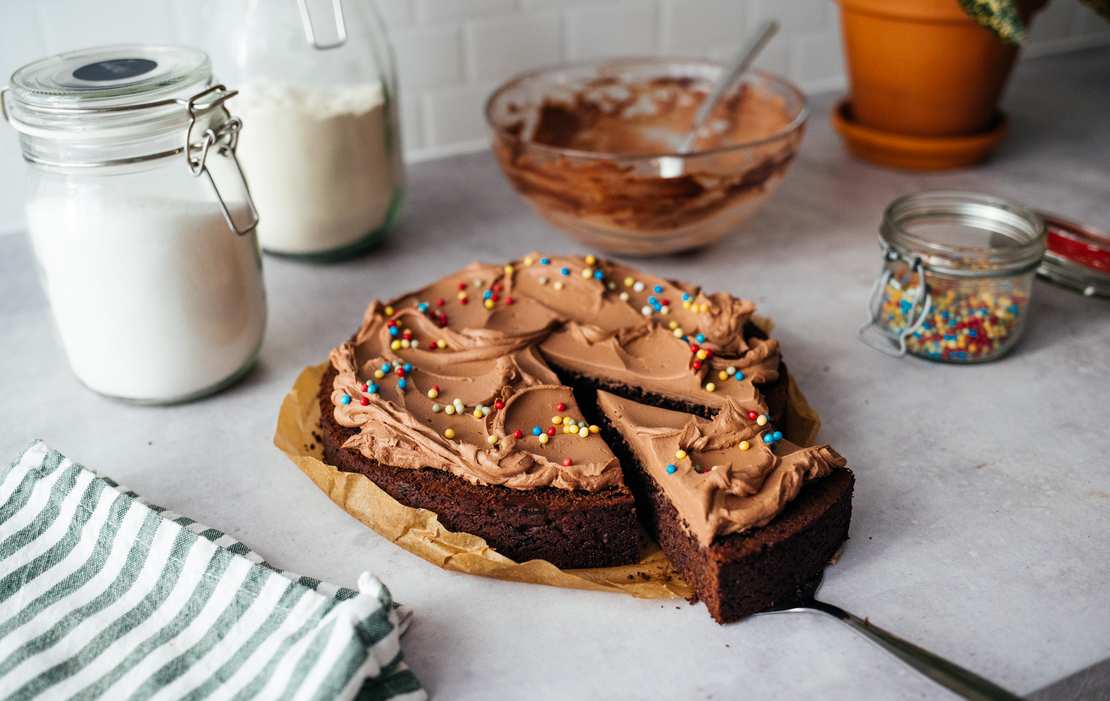 Vegan Chocolate Cake with Cream Cheese Frosting
You might think that baking a chocolate cake is a no-brainer. But anyone who likes to eat a piece of a rich, chocolaty cake knows they are not all the same. There are quite a few differences in texture, taste and preparation method. One is delicately crumbly, the other moist, the next one tastes bland and only of cocoa powder, while some are so intense and rich that you can hardly manage to eat more than two forks of them. To bake a chocolate cake that meets all the criteria (which at least I have) is not easy because everyone knows chocolate cake, so there are incredibly many comparisons that can be drawn. Whew!
So when it came to developing this recipe, it was essential for me to create a quick and simple recipe. Because who wants to bake a complicated and elaborate chocolate cake, right? In addition, I wanted to bake a moist and intense-flavored cake that is not too rich but also not too crumbly and is manageable for everyone. You will find mainly straightforward ingredients in the list that you will get in any supermarket. A trip to the organic grocery market is worthwhile, however, because this is where we get the fairtrade chocolate from Naturata. To give our batter a dark color, we use unsweetened cocoa powder. Still, for extra richness, we need more intensity and add a chopped chocolate bar called Ecuador Edelbitter. It has a cocoa content of 70 % and thus gives the taste an excellent depth. All raw materials come from controlled organic farming from smallholder cooperatives. The chocolate is made in Switzerland and without additives and adjuvants. We also need chocolate for our frosting, which we first melt and then mix with vegan cream cheese. We used the classic dark chocolate for this. By the way, both chocolates are produced climate-neutrally and packed in OPP instead of aluminum foil and cardboard.
If you're wondering how to adjust the chocolate cake, I have the following tips: You can replace the applesauce with mashed banana. For plant-based milk, it's best to use an alternative that tastes good to you. We like to use oat milk or almond milk for baking. If you want to save some time with the frosting, you can just cover the cake with dark chocolate. When it's summer, you could also garnish this cake with fresh berries. If it's for a birthday, go for colorful sprinkles. And if you prefer it more classic, simply chop a few nuts.
... last but not least, Katja has put together a playlist that is perfect for a coffee & cake date with your loved ones. Have a listen!
Vegan Chocolate Cake with Cream Cheese Frosting
1 cake (∅ 24 cm / 9.5 inches)
30 minutes (+ 60 minutes baking time + 30 minutes cooling time)
Ingredients
For the batter:
400 g (3.25 cups) wheat flour (type 405)
10 g (4 tsp) cornstarch
200 g (1 cup) sugar
50 g (0.5 cup) unsweetened cocoa powder
15 g (3 tsp) baking powder
0.5 tsp salt
270 ml (1 cup) plant-based milk
40 g (2.5 tbsp) applesauce
250 ml (1 cup) neutral vegetable oil
100 g (3.5 oz) vegan dark chocolate (e.g. from Naturata)
For the frosting:
100 g (3.5 oz) vegan dark chocolate (e.g. from Naturata)
300 g (10.5 oz) plant-based cream cheese (at room temperature)
2-3 tbsp agave syrup
1 pinch salt
sprinkles or chopped nuts for garnish (optional)
Instructions
Preheat the oven to 180 °C / 355 °F (convection heat). Line a springform pan (∅ 24 cm / 9.5 inches) with baking paper and grease with vegan butter. Finely chop the dark chocolate.

In a large bowl, mix wheat flour, cornstarch, sugar, baking cocoa, baking powder and salt. Add plant-based milk, applesauce and neutral vegetable oil to the dry mix and stir until smooth. Lastly, fold in the chopped dark chocolate. Transfer the batter to the prepared baking dish.

Bake the cake at 180 °C / 355 °F (convection heat) for about 60 minutes. To test the doneness of the cake, stick a toothpick at an angle into the cake and pull it out. If there's no dough stuck to it, the cake is done. Remove the cake from the oven and let it cool down completely.
Tip: If you want to be extra precise, remove the top of the cake after baking and cooling with a cake knife or cake divider. This is not a must, just looks a little prettier in the end.
In the meantime, prepare the frosting. Melt vegan dark chocolate and stir in plant-based cream cheese at room temperature. Add agave syrup and season with salt to taste.

Spread the frosting on the cooled cake and garnish with sprinkles or chopped nuts if desired. Refrigerate the cake until serving.