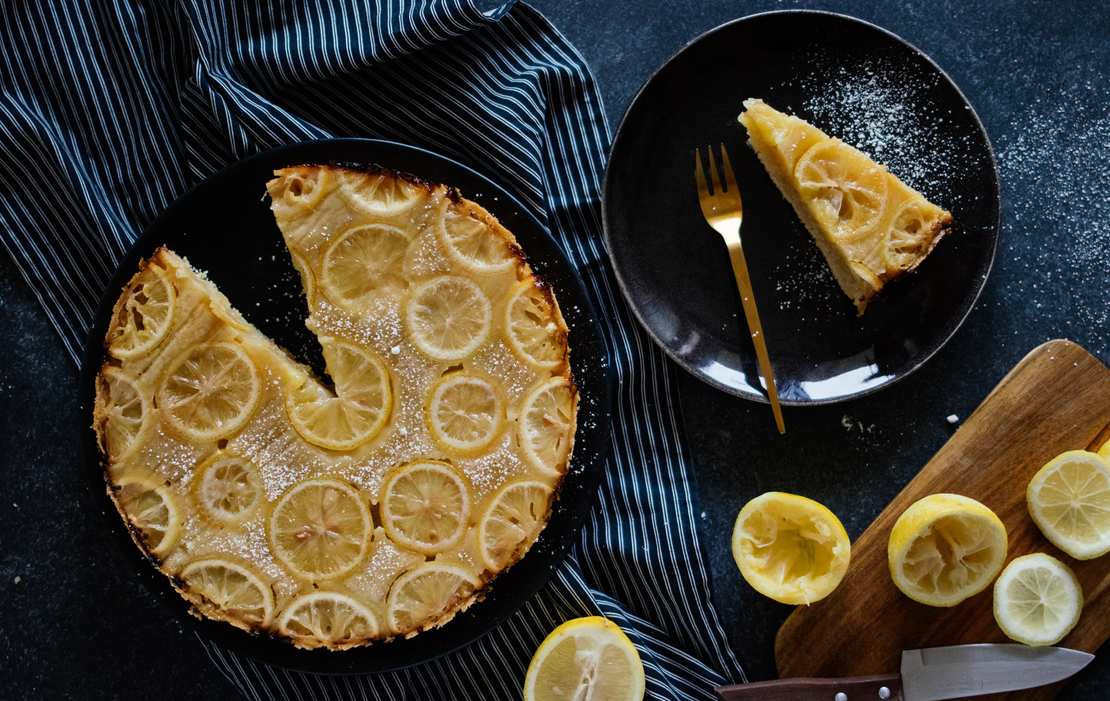 Vegan Lemon Upside Down Cake
Why baking an ordinary lemon cake, if you can have an upside down cake? That's why we turned a basic recipe for a vegan lemon cake into a special version, and we bet that you will receive lots of compliments for this one.
But how exactly does it work? To make it short: you just bake your cake backward by adding the cake decoration at first into your baking tin, followed by the cake dough. So on the bottom of your cake tin is not the dough, but the fruit slices. In this way, your fruit slices are perfectly surrounded by the cake dough. An easy way to turn a simple cake into a special one!
We are very happy that RUF supported us with this recipe. We used the grated organic lemon peel from RUF for our cake dough, which consists of 97% freeze-dried lemon peel and 3% lemon oil. It adds a wonderful sour and sweet flavor to your pastry. All ingredients are 100% natural, organic, vegan, and with no artificial additives and flavors. We've also added the organic bourbon vanilla sugar, which gives your pastry a slight note of vanilla. The ingredients are all from certified organic farming. RUF also collected more ideas and tips for vegan baking on their own website. Check it out!
Vegan Lemon Upside Down Cake
12 servings
20 minutes (+60 minutes baking time)
Ingredients
1 tbsp plant-based butter
2 tbsp white sugar
5 lemons
50 g powdered sugar (for decoration)
dough
450 g wheat flour
0.5 tsp salt
20 g baking powder
8 g organic bourbon vanilla sugar (e.g., from RUF)
5 g organic lemon zest (e.g., from RUF)
200 g sugar
200 g plant-based butter
150 ml plant-based milk
100 ml sparkling water
1 lemon
Instructions
Preheat the oven to 180 ° C convection.
Cover the bottom of a baking pan with parchment paper. Grease the baking pan with 1 tbsp plant-based butter. Sprinkle the bottom of the baking pan with 1-2 tbsp of white sugar.
Wash 5 lemons, cut into slices, remove the seeds and lay out the bottom of the baking pan with the lemon slices. Set the baking pan aside.
Mix wheat flour, salt, baking powder, organic bourbon vanilla sugar and organic lemon peel in a small bowl.
In a second bowl, whip up the vegan butter with the sugar and gradually stir in the flour mixture.
Gradually add the plant-based milk, the sparkling water and the juice and zest of one lemon.
Pour the dough into the baking pan so that all the lemon slices are covered with the dough.
Bake the cake at 180 ° C on a medium rack for about 60 minutes. Let the cake cool down for 10 minutes in the baking pan and place it on a cooling rack afterward. Serve with powdered sugar.