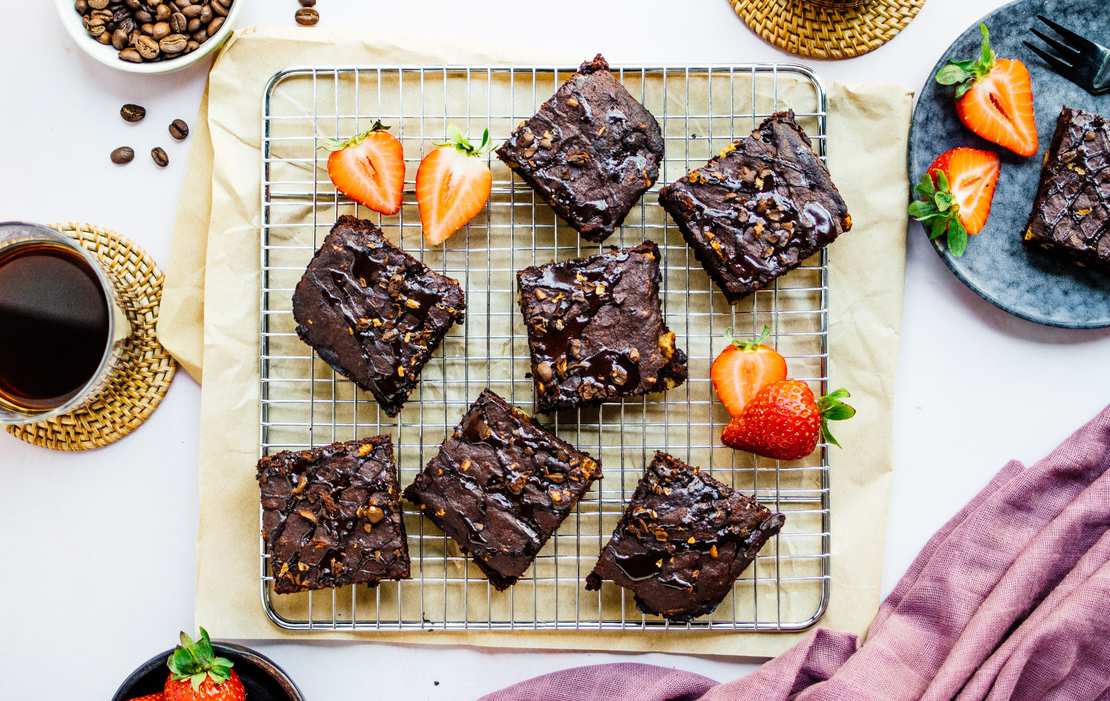 Brownies are an absolute classic and are suitable for any occasion: whether for a barbecue, picnic, or brunch. You probably already know our recipe for vegan chocolate brownies, and maybe you've already prepared it so often that you're looking for a change. Even though there're a lot of vegan brownie recipes on the internet, we think it's still time for another one. Cause why not? Since we've already prepared various recipes such as vegan brownies with pumpkin or vegan brookies, we wanted to try a recipe with coffee. Because the very first thing we do every, really EVERY morning, when we come to the office, is to make a big pot of coffee (or two or three?). So what would fit better than brownies in combination with coffee? However, coffee fans will love it and all those who need a delicious, juicy chocolatey feel-good moment, will love it too.
So what coffee could match better than "the chocolaty one "Mokka from Turm Kaffee. They've been producing sustainable coffee for over 260 years and are still an independent family business. As the oldest coffee roasting company in Switzerland, Turm makes coffee at the highest level and always pays attention to a fair treatment of the people and culture in the countries of origin. All of their products are Fairtrade certified, which is especially important to us!
We used Turm Kaffee's Mokka for our espresso brownies, which is THE bestseller of their products. It has nuances of dark chocolate, dried raisins, and hazelnuts. So if you're looking for a classic espresso that brings a wonderful, chocolaty, smoky note, you're on the right track with this Mokka! By the way, on the website of Turm you can also find out from which countries and farms the coffee comes from and which programs and projects are supported. With the code "zuckerjagdwurst10" you can get a 10 % discount online in addition to the already existing offers.
Before you preheat the oven, here some more hints for you: If you don't have a banana at home, you can substitute it with applesauce. And you can also replace the walnuts with hazelnuts, peanuts, or almonds. By the way, the brownies can be prepared one day ahead cause they stay juicy for two or three days or even longer.
Vegan Espresso Brownies
12 Brownies
15 minutes (+ 25 minutes baking time)
Ingredients
For the brownies:
200 ml (0.75 cup) espresso (e.g. "Mokka" from Turm Kaffee)
200 g flour (7 oz) (type 405)
130 g (4.5 oz) sugar
50 g (1.75 oz) cocoa powder
200 g (7 oz) dark chocolate
1 (3.5 oz) banana
100 ml (0.5 cup) plant-based oil (e.g. sunflower oil)
100 g (3.5 oz) walnuts
For the glaze:
30 g (1 oz) powdered sugar
1 tbsp cocoa powder
2-3 tbsp espresso (e.g. "Mokka" from Turm Kaffee)
espresso beans
Also:
vegan butter or margarine for greasing
cocoa powder to pat out the mold
fresh berries to serve
Instructions
In the beginning, brew espresso and let it cool down. Preheat the oven to 180°C/355°F (circulating air). Mix flour, sugar, and cocoa powder in a large bowl.

Melt dark chocolate in a water bath or a microwave. Meanwhile, mash the banana with a fork in a bowl. Then add the melted chocolate, mashed banana, oil, and espresso to the dry ingredients and mix well. Then chop the walnuts and fold them in.

Put the batter into a greased and cocoa powdered baking pan (20x25 cm/ 8x10 inches) and bake for approx. 25 minutes in the oven at 180°C /355°F (circulating air).

In the meantime, mix the powdered sugar, cocoa powder, and espresso to make a slightly thick glaze. Chop the espresso beans into small pieces.

After the brownies have cooled down a bit, decorate them with the glaze and sprinkle the chopped espresso beans on top. If you like, you can serve them with fresh berries.