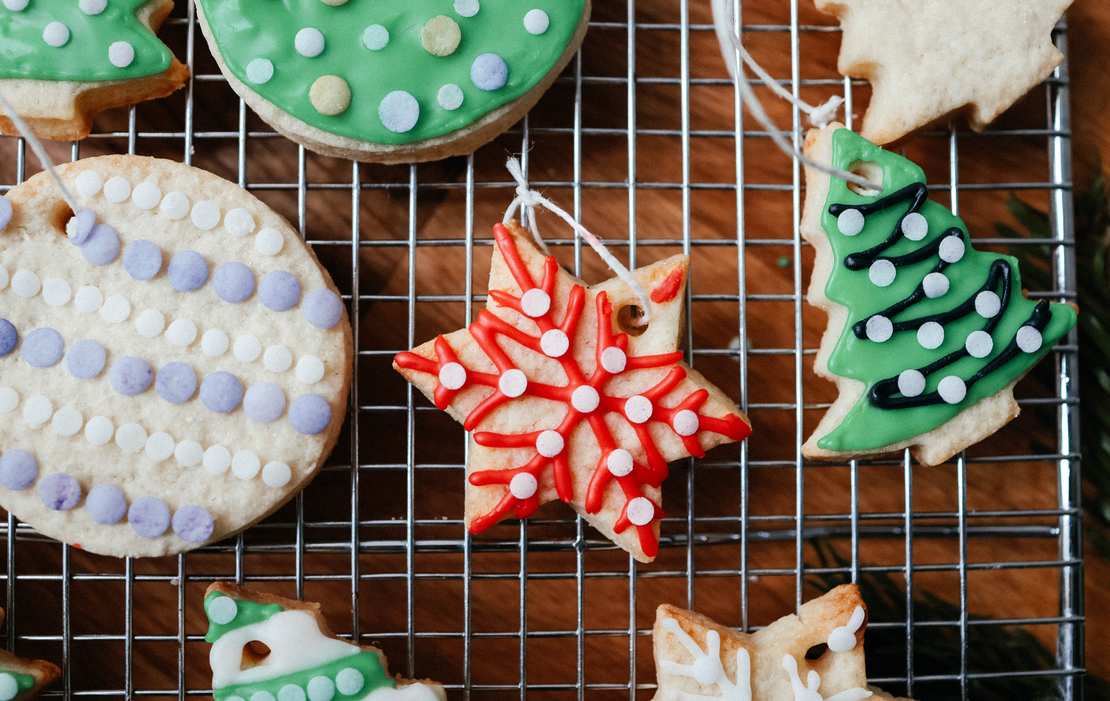 Vegan Christmas Tree Cookies
Cut-out sugar cookies are probably the simplest and most familiar cookies we know. Just three ingredients make the dough, which is usually (and especially together with children) drowned in icing and melted chocolate after baking. But stop! You can make much more out of simple cut-out cookies than "just" turning them into random shapes – all you need is a concept!
And that's exactly what we're going to give you today! Our concept is to bake small Christmas trees and baubles, which we will decorate very delicately and gracefully. From a simple shortcrust pastry, we cut out the appropriate shapes, from which, in turn, a small hole is cut out. This is how we bake our own Christmas tree ornaments because, in the end, we pull a thread through the cookies and can actually hang them on the Christmas tree. A tree on a tree – ingenious! We decorate our cookies beforehand with colored frosting and matching vegan sprinkles.
However, there are two big exclamation points here that you should have in mind when planning the recipe! Number one: food coloring is not always vegan! Blame it on E120, a red dye made from animals, more specifically, scale insects. Number two, yes, sprinkles aren't always vegan, either! However, it's not just E120 that plays an important role here, but also beeswax, which is often used to coat sprinkles to make them shiny. So you're on the safe side if you buy sprinkles that are clearly labeled as vegan. And now we have a top tip for you: We have implemented our own vegan streusel mix called "Konfettiiiii" in collaboration with Super Streusel! These sprinkles are not only guaranteed vegan but also organic and perfectly matched to our Christmas tree cookies.
We developed and produced the streusel mix exclusively for our Zucker&Jagdwurst Advent Calendar 2022, which is why you, unfortunately, can't buy it. However, if you got hold of one of our 3000 Advent calendars, then here comes the absolutely perfect recipe for you. And if you didn't get the calendar and, therefore, the streusel mix: you will find many more vegan sprinkle varieties in Super Streusel's online shop. Go wild!
Vegan Christmas Tree Cookies
30 cookies
60 minutes (+ 20 minutes baking time, 20 minutes cooling time)
Ingredients
For the dough:
300 g (2.5 cups) wheat flour (type 405)
100 g (0.5 cup) sugar
200 g (1.75 sticks) cold vegan butter
cold water as needed
For the decoration:
powdered sugar
plant-based milk
vegan food coloring
vegan sprinkle mix (e.g., "Konfettiiiii" from Super Streusel)
Instructions
Mix wheat flour and sugar in a large bowl. Cut the cold vegan butter into small cubes, and add and knead them into the flour mix with cold hands. Add cold water, if necessary, until you get a smooth dough. Let the dough rest in the refrigerator for at least 30 minutes.

Preheat the oven to 180°C/355°F (convection heat). Roll out the dough on a floured surface and cut out Christmas trees and ball ornaments. Then cut out another small hole from each tree and bauble, through which we will later pull the strings. Place the cookies on a lined baking sheet and bake in the oven for approx. 8-10 minutes.

While the cookies are cooling, prepare the icing. For this, mix the powdered sugar with plant-based milk until you get a smooth and thick glaze. Color it as desired (e.g., green for the trees or yellow for the ball ornaments). Decorate the cooled out cookies with icing and the vegan sprinkles and hang them on the Christmas tree.
More Vegan Christmas Cookies