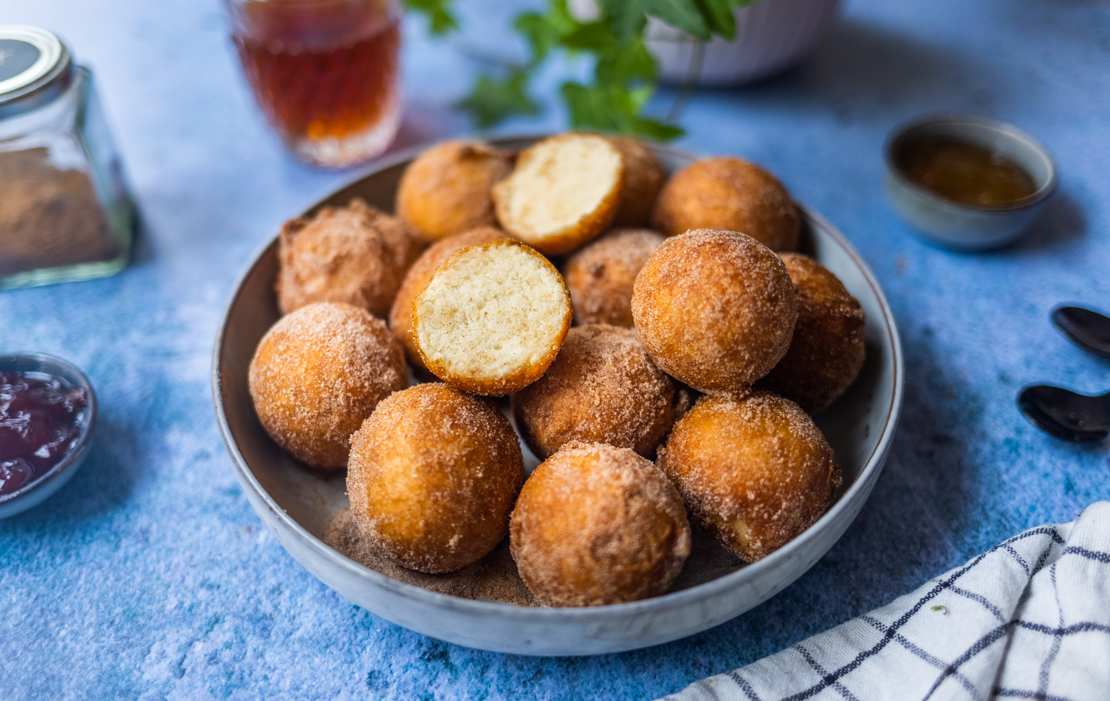 Whether it's at Carnival, Christmas markets, fairs, or at the bakery – the tempting smell of deep-fried dough in the form of pancakes and doughnuts is hiding in many places, and the baked goods are (almost) never vegan! So we guess we have to do the job on our own. We already have recipes for jelly doughnuts and apple fritters on the blog, but today, we're talking about vegan curd doughnuts called "Quarkbällchen "in Germany. The recipe is a bit older, so we reshot the photos, but the recipe is still the old one.
You can find vegan curd from various companies in supermarkets and organic markets. If you can't find any, you can also use plant-based yogurt and drain it with a clean kitchen towel for at least 2-3 hours to get a firmer texture.
We also recommend using an ice cream scooper if you're particularly keen on getting perfectly round curd doughnuts. But even without it, your not-quite-round doughnuts will taste delicious!
Our intern Ronja told us that she knows curd doughnuts by the name "little mice." It probably comes from the fact that you can see little ears, a pointed nose, or a cute stubby tail forming around the doughnuts during deep-frying. I think the name is actually quite cute, and maybe it takes the pressure off you to always want to fry perfect-looking curd doughnuts.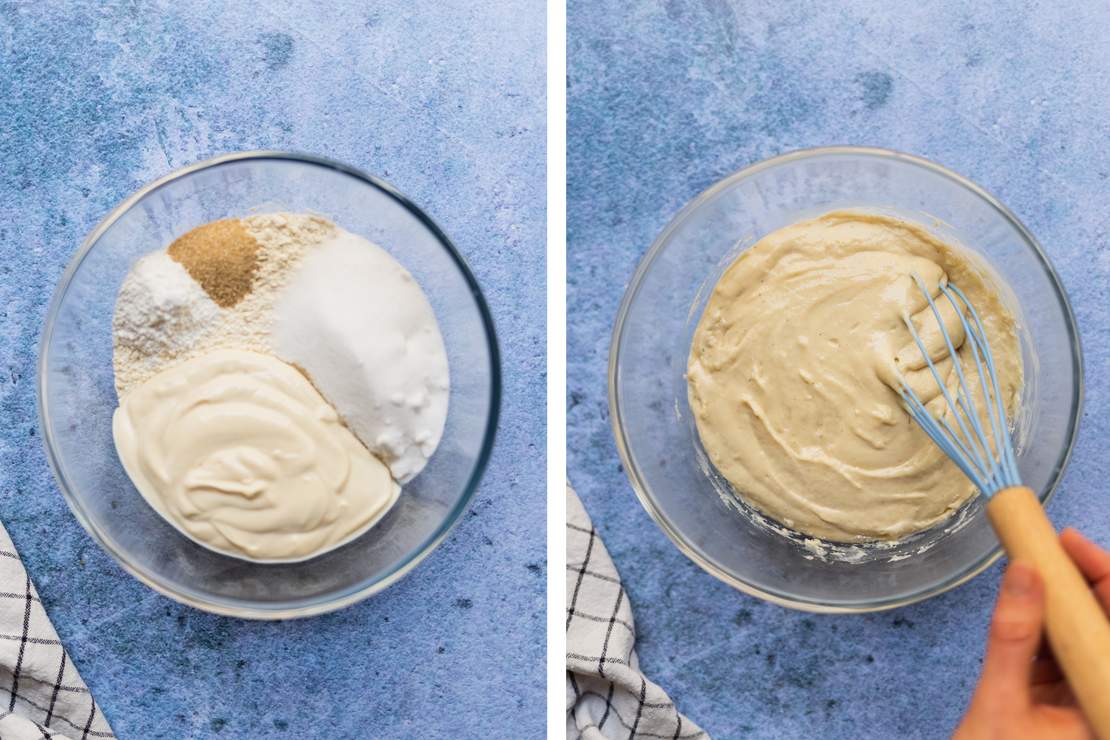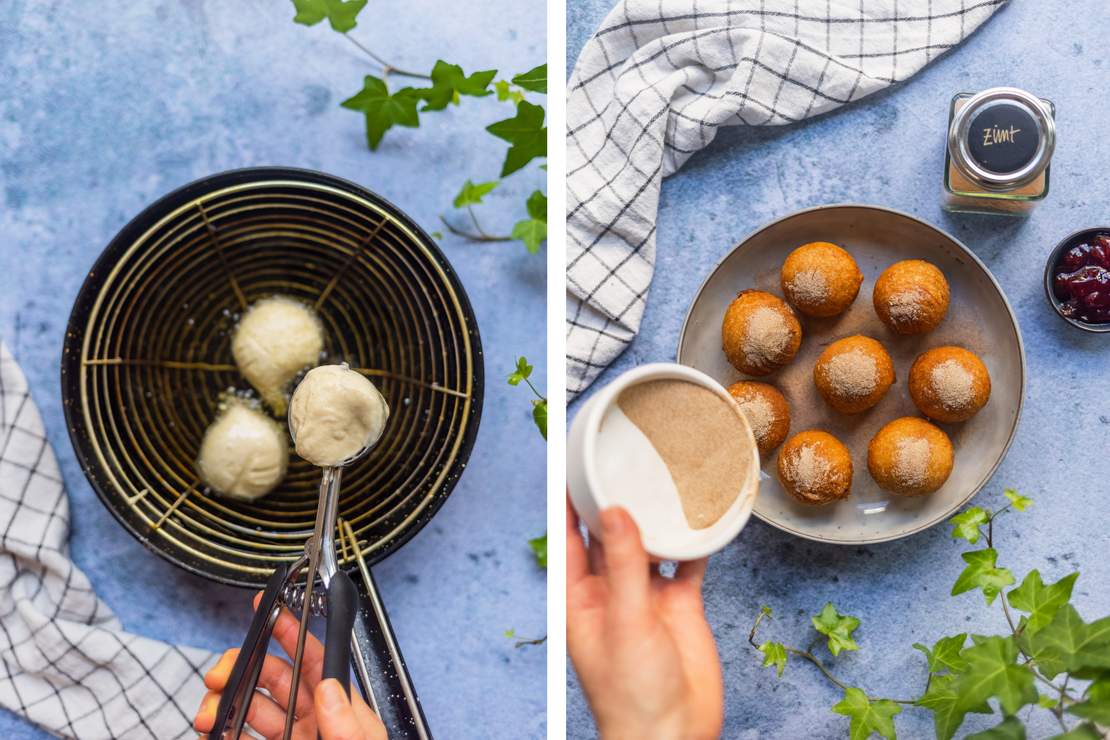 Vegan Curd Doughnuts
approx. 30 curd doughnuts
45 minutes
Ingredients
For the dough:
250 g (9 oz) plant-based curd
300 g (2.5 cups) flour
125 g (0.5 cup) sugar
8 g (1.5 tsp) vanilla sugar
16 g (1.5 tbsp) baking powder
40 ml (2.5 tbsp) plant-based milk
40 ml (2.5 tbsp) sparkling water
1 pinch of salt
Also:
1 l (4 cups) plant-based oil for deep-frying
1 tbsp cinnamon
3 tbsp sugar
jam for serving
Instructions
Mix flour, sugar, vanilla sugar, baking powder, and salt in a large bowl. Add plant-based curd, plant-based milk, and sparkling water. Blend everything until you get a creamy, thick batter. Let it sit for approx. 10 minutes.

In the meantime, heat plant-based oil in a pot until it reaches 180°C/355°F. If you don't have a food thermometer, you can check if it's hot enough by holding a wooden skewer into the hot fat. If bubbles form around the skewer, you're good to go.

In preparation for serving, mix cinnamon and sugar in a bowl and set the mix aside.

Once the oil is hot enough, carefully drop about one tablespoon batter per curd doughnut into the hot fat. This works great with two tablespoons or an ice cream scooper. Once in the pot, you can move the batter around a bit, so it doesn't stick to the bottom. Deep-fry the curd doughnuts in batches until they're all golden brown and crispy. Only add 3-4 tablesppons to the pot at a time to not overcrowd the pot. Remove the doughnuts from the pot and let them drain on paper towels.

After draining, toss the curd doughnuts in the sugar-cinnamon mixture when they're still warm until they're coated from all sides. If desired, serve your favorite jam as a dip.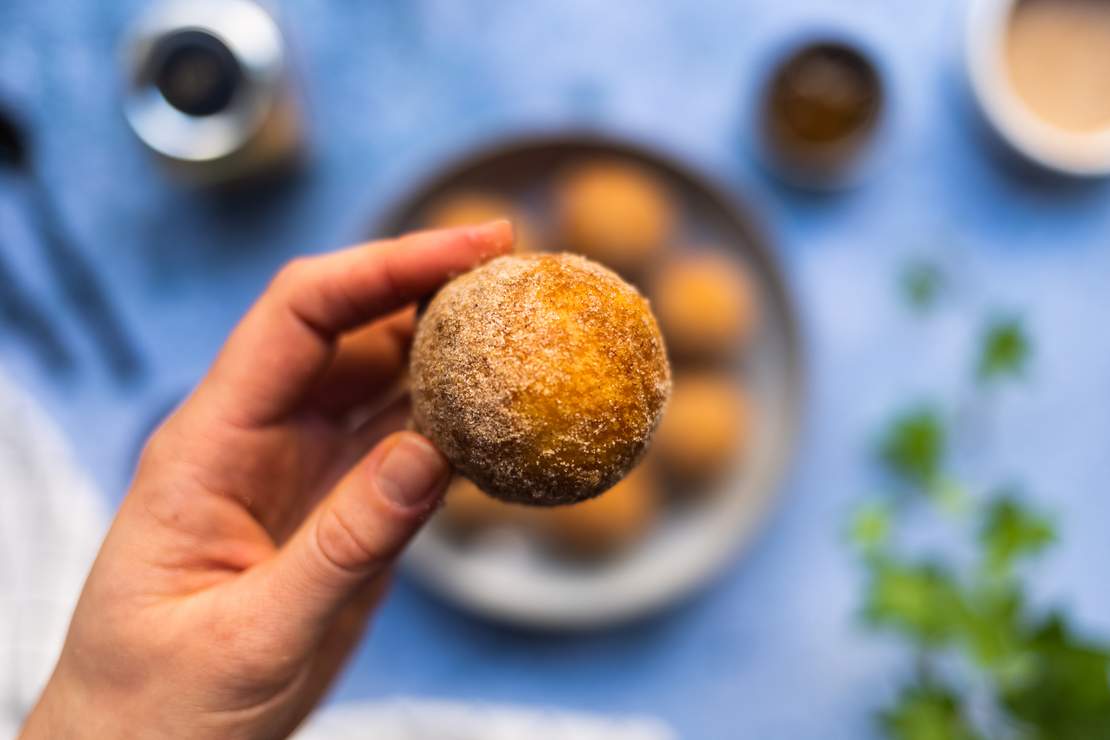 More Vegan New Years Eve Recipes