Vegan Double Down Sandwich
When we planned our vegan fast food theme week, it was immediately clear that we would need at least one burger. Now there is simply an incredible number of signature burgers from various fast-food chains that came into our minds for this - from Burger King's Whopper to McDonald's Big Mac. However, I had seen a very special kind of fast-food sandwich a few years ago: the Double Down from KFC. It's definitely not a classic burger, but I just couldn't resist the temptation.
At the time, I thought the idea of the sandwich was simultaneously disgusting and ingenious. In fact, instead of buns, the Double Down consists of crispy breaded chicken fillets topped with bacon, cheese, and a special sauce. The whole thing is so special that even KFC doesn't have the sandwich on the menu all the time but always brings it out as a special. I've never eaten the original sandwich but still dared to try the individual components for our theme week.
The "rolls": I opted for dried soy steaks, which are soaked first. For this, it's best to take a strong vegetable broth to get some flavor into the soy steaks already. You can find the dry steaks online, but also in Asian supermarkets. For the breading, you must crumble the cornflakes finely. I also tried it by hand, but the pieces still got too big that way and stuck rather poorly to the soy steaks. So better do the extra step and roll over them a few times with a rolling pin.
The bacon: For this kind of bacon, which is supposed to be thin and crispy, I prefer to use rice paper, which I always have at home anyway (hello summer rolls!). To make it successful, though, there're a few things to keep in mind. Only soak the rice paper sheets in water for a few seconds. You tend to leave them in it longer, so they aren't "too dry", but this will really make them way too soft later when you pull them through the marinade. I've tested out the rice paper bacon in the pan and the oven, and I get annoyed every time I choose the supposedly more convenient pan-fried option. The rice paper sticks even in my coated pans and just becomes a tangled mess. The oven version sounds a bit more involved, but the result turns out much better. The rice paper bacon was done after 7 minutes, but don't take the time as set and keep an eye on the oven yourself. The rice paper dries in the air again, so take it out of the oven a little earlier and try the vegan bacon after a few minutes. If it's not crispy enough for you, you can continue baking it.
The cheese: Since there's now a wide selection of vegan sliced cheese, I've made it as simple as possible for me (and you). The variety or brand doesn't matter here, so feel free to grab your favorite vegan sliced cheese. You can put the slices as they are on your sandwich or collect a few more plus points and "melt" the vegan cheese a bit. This should actually work with any kind and is most convenient in the oven. Preheat it to approx. 180°C/355°F and put the topped sandwiches on the rack for a few minutes until you see the edges of the vegan cheese soften.
The special sauce: Here, I had to get a little more creative because I couldn't figure out what exactly is in the "legendary" double-down sauce. In fact, in photos, it looks like there're different sauces in the U.S. and Germany because the American version is reddish, while the "German" looks similar to a remoulade. So, since neither I nor anyone around me has ever eaten the sandwich, I decided to go with a sauce that I find flavorful. It's based on vegan mayonnaise and gets a spicy twist from cayenne pepper and hot sauce, which you can, of course, adjust to your taste. I also tried the sandwich with vegan remoulade in my test trials, which was also quite tasty. So feel free to do as I do and get creative yourself.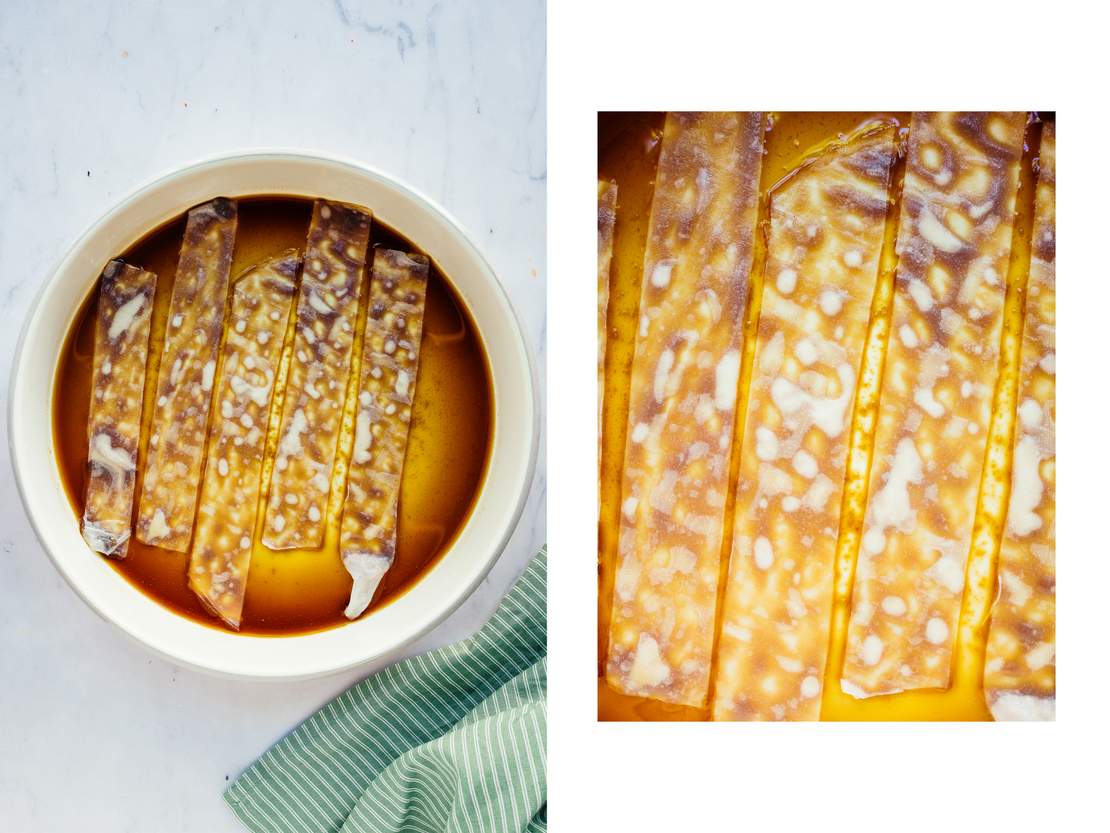 Vegan Double Down Sandwich
Ingredients
For the steak buns:
4 soy steaks
mustard
salt
pepper
vegetable oil for frying
For breading:
150 g (5.33 oz) spelt flour
20 g (0.66 oz) yeast flakes
2 tsp paprika powder
1 tsp dried oregano
150 ml (0.66 cup) plant-based milk
200 g (9 oz) cornflakes
salt
pepper
For the rice paper bacon:
4 sheets rice paper
2 tbsp soy sauce
0.5 tbsp liquid smoke
1 tbsp maple syrup
1 tsp mustard
vegetable oil for frying
For the sauce:
120 g (4.25 oz) vegan mayonnaise
1 tsp garlic powder
0.5 tsp cayenne pepper
1 tsp mustard
2 tsp hot sauce
1 tbsp apple cider vinegar
salt
pepper
Also:
Instructions
Rice paper bacon
Preheat the oven to 180°C/355°F (top and bottom heat). For the marinade, whisk together soy sauce, liquid smoke, maple syrup, and mustard and place in a shallow dish.

Prepare a large bowl of water that is larger than the rice paper. First, place two rice paper sheets in the water, one at a time, for 5 seconds each, and then place one on top of the other on a cutting board. Cut into wide strips with scissors or a knife.

Pull the strips only briefly through the marinade so that they are coated on both sides.

Place the rice paper strips on a baking tray covered with baking paper and bake in the oven at 180°C/355°F (top and bottom heat) for approx. 7 minutes. Always keep an eye on the strips and take them out of the oven when they don't look completely done. This is because they will still dry out in the air and otherwise become "too hard".
Steak Buns
Pour strong hot vegetable broth over the dry soy steaks until they are covered and let them soak for approx. 15 minutes until they no longer have any dry, hard spots. Then drain the broth and squeeze the soaked steaks vigorously between two cutting boards. Brush both sides with mustard and season with salt and pepper.

Prepare three bowls for breading: In the first bowl, mix flour with yeast flakes, paprika powder, dried oregano, salt, and pepper. In the second bowl, add plant-based milk. First, place the cornflakes in a sealable freezer bag and roll over them several times with a rolling pin, so they're finely crumbled. Put the crushed cornflakes in the third bowl.

First, turn the soy steaks in the flour so that the breading holds well. Then, once through the plant-based milk and finally in the crumbled cornflakes until the soy steaks are breaded all around.

Put enough vegetable oil in a pot until the fat is about 3 cm high and heat to about 170°C/340°F. The pot should be large enough to fit at least one steak. To test whether the fat is hot enough, you can hold a wooden stick in the oil. As soon as tiny bubbles form around it, you can start. Fry the soy steaks one after the other until it's golden brown on both sides. Then remove from the oil and drain on kitchen paper.
Topping
For the sauce, mix vegan mayonnaise, garlic powder, cayenne pepper, mustard, hot sauce, apple cider vinegar, and season with salt and pepper.
Spread sauce on a deep-fried steak and top with vegan sliced cheese. If you want, you can put the steaks like this again in the oven at 180°C/355°F and wait a few minutes until the vegan cheese is slightly melted. Then place rice paper bacon on top of the melted cheese, brush with sauce again and place the steak bun on top.