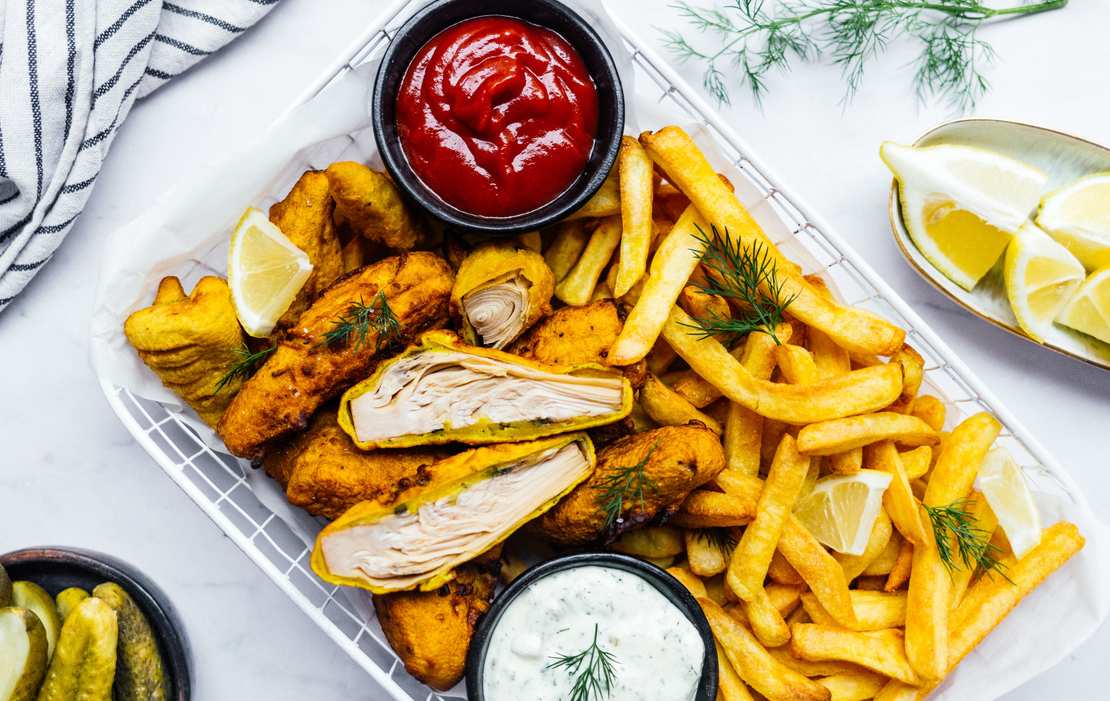 Vegan Fish and Chips (made of banana blossom)
Jackfruit, tofu, and seitan - there are numerous meat alternatives on the market! Fortunately, preparing a schnitzel based on kohlrabi, soy or seitan is no longer a problem. You can usually find the products reliably in supermarkets and organic food stores, and the selection of recipes is immense. But when it comes to preparing fish, the selection looks quite different. We are not talking about ready-made products from the supermarket, though, because there are now quite a few of them as you can see(here). However, products that come close to the consistency of fish and are easy to prepare at home are rare.
And now you probably know what follows. Of course, we didn't write this introduction to present you with a fait accompli. In the meantime, an ingredient has become established that can be used wonderfully in the preparation of fish: Banana blossoms. But what exactly is a banana blossom? Hold on tight, here comes a little excursion into the anatomy of the banana plant: From pictures, vacations, or documentaries, you probably already know what a banana plant looks like. Bananas grow in so-called "clusters" on a herbaceous perennial. At the bottom of these clusters, shoots are forming, on which banana flowers appear. If you look at pictures of banana plants, you can spot the banana flowers directly by their purple color. So you can think of banana flowers as corn on the cob, where many leaves also protect the inside. (source)
In Southeast Asia, banana blossoms are sold in many markets and are an integral part of curries or vegetable dishes. In European cuisine, however, they are still quite unknown. Nevertheless, you can find them in organic markets, larger supermarkets, Asian stores, or online. The consistency reminds us of jackfruit because the preparation is very similar. (Source) Banana blossoms are quite suitable as a fish substitute due to their many layers, but they taste quite neutral. So when preparing them, you should not be sparing with spices. Furthermore, we cut nori leaves into our flour breading to give the banana blossoms a slightly fishy character. You probably already know nori leaves if you like eating sushi. They are made of dried, roasted, and seasoned seaweed. You usually find them in the supermarket or Asian market in square shapes, but you can easily cut them with scissors into small pieces. (source)
Of course, we served French fries with the "fish" and prepared our own tartar sauce. If you are particularly diligent, you can even prepare the fries yourself. If you want to save time, though, just buy a package of fries and use a ready-made product for the tartar sauce. Adapt the recipe to your taste, but don't forget to sprinkle your fish with fresh lemon juice.
Vegan Fish and Chips (made of banana blossom)
Ingredients
For the "fish":
440 g (15.5 oz) canned banana blossoms (drained weight)
For the flour mix:
100 g (0.75 cup) flour
1 tsp garlic powder
0.5 tsp sweet paprika powder
0.5 nori leaf
5 g (0.25 oz) dill
salt
pepper
For the dough:
100 g (0.75 cup) flour
5 g (1 tsp) baking powder
0.5 tsp turmeric
125 ml (0.5 cup) sparkling water
1 tsp mustard
salt
pepper
For the vegan tartar sauce:
150 g (5.33 oz) vegan mayonnaise
1 pickled cucumber (from the jar)
15 capers (from the jar)
5 g ( 0.25 oz) dill
5 g (0.25 oz) parsley
5 g (0.25) chives
1 tsp medium hot mustard
salt
pepper
Also:
400 g (14 oz) French fries
oil for frying
ketchup to serve
dill to serve
lemon to serve
Instructions
Drain the liquid from the banana blossoms and squeeze each piece a little so they lose as much liquid as possible. Then pat dry with a towel and set aside.

Prepare two bowls: In the first bowl, mix flour, garlic powder, and sweet paprika powder. Use scissors to cut a nori leaf into fine shreds and finely chop the dill. Add both to the flour mix and season well with salt and pepper.

In the second bowl, mix flour, baking powder, and turmeric. Add sparkling water, mustard, salt, and pepper and stir until smooth.

Preheat the oven for the French fries. Then prepare the remoulade: Pour vegan mayonnaise in a container and chop pickle and capers very finely. Next, chop dill, parsley, and chives and add to the mayonnaise along with the diced gherkins and capers. Season to taste with mustard, salt, and pepper and refrigerate until serving.

Spread frozen fries on a baking sheet lined with parchment paper and prepare according to package instructions.

Pour plant-based oil several inches high in a small pot and heat to 180°C. It's hot enough when small bubbles form around a wooden skewer once you dip it into the fat. Dip the banana blossoms first in the flour mixture before dipping them one by one in the batter. Once the oil is hot enough, deep fry the banana blossoms one by one. It's best to fry only 2-3 at the same time. Once browned and crispy (takes about 4-5 minutes), remove from the pan and immediately drain on paper towels.

Serve the crispy banana blossoms with french fries, tartar sauce, ketchup, dill, and lemon wedges.