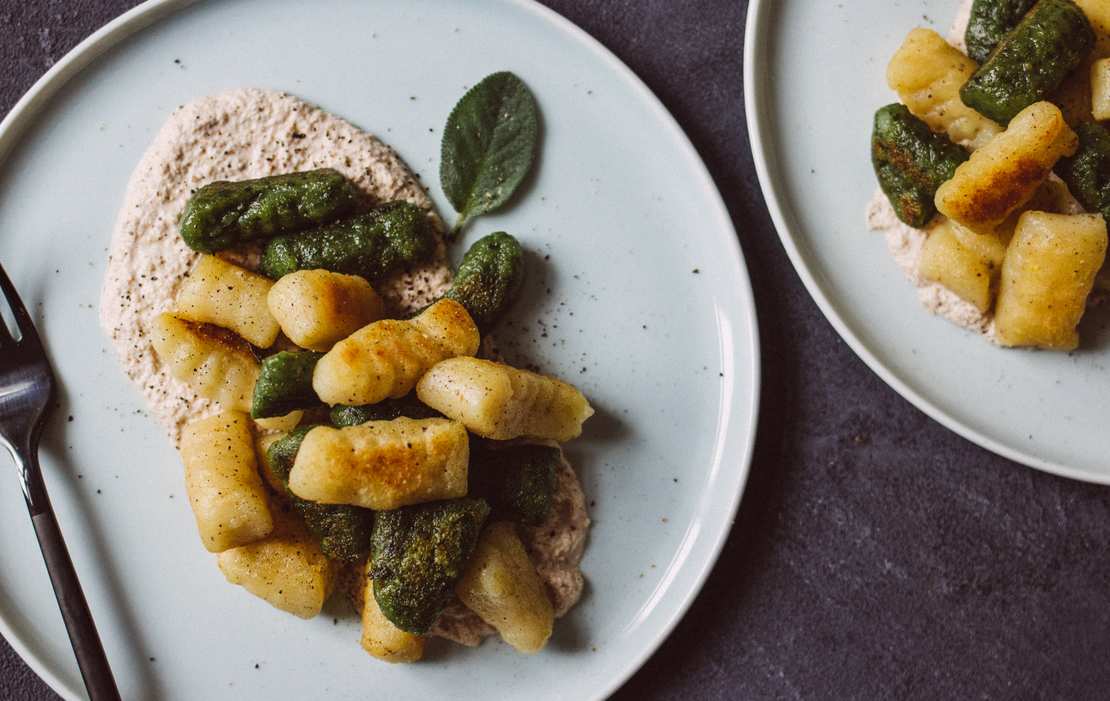 Vegan Gnocchi in Walnut Sauce and Sage Butter
Huh, can somebody tell us why we mostly cooked with store-bought gnocchi so far and didn't cook them on our own? Stupid us! It's too easy and such a pleasure to roll those sweethearts over the back of a fork to create that typical gnocchi look.
The secret to vegan gnocchi? Just leave out the egg, it will still work out! Maybe we'll use more flour than others, but still it's a straight-forward and great dish! Dough, cook, and fry if you like. And in contrast to store-bought gnocchis, you now can get creative and also add some spinach, pumkin, beetroot or whatever you like.
Vegan gnocchi in walnut sauce and sage butter
Ingredients
500 g (18 oz) floury potatoes
75 g (3 oz) spinach
1 shallot
250 g (2 cups) flour
3 tbsp vegan butter
1 clove garlic
approx. 10 sage leaves
salt
pepper
nutmeg
chopped walnuts for serving
For walnut sauce:
150 g (5 oz) walnuts
50 ml (0.25 cup) plant-based milk
100 ml (0.5 cup) plant-based heavy cream
1 clove garlic
1 pinch cinnamon
salt
pepper
Instructions
Soak walnuts in warm water for approx. 30 min. Add the soaked walnuts, garlic, plant-based milk, and plant-based heavy cream to a liquid measuring cup and blend until smooth. If the sauce should be too thick, add some more plant-based milk or heavy cream until you reach the desired consistency. Season with salt, pepper, and cinnamon to taste. Before serving, you can heat up the sauce in a small pot.

Peel potatoes and cut them into equal-sized chunks. Add them to a pot, cover with water, and season with salt. Bring to a boil then reduce to medium heat and let the potatoes simmer until they're fork-tender. Drain and mash the potatoes. Season with salt, pepper, and nutmeg to taste. Halve the mashed potatoes and add each part to a bowl.

Peel and finely dice shallot. Heat vegetable oil in a frying pan and fry shallot for approx. 2-3 minutes, or until translucent. Add spinach and the shallot to a liquid measuring cup and blend until smooth. Add the spinach mix to one half of the mashed potatoes and mix until the spinach is incorporated and the dough turned green.

Divide the flour evenly and add it to both bowls of mashed potatoes. Mix the flour until you get two doughs: a plain and a spinach one. It's possible that you might need more or less flour for your doughs, so just make sure to add enough until the dough isn't sticky anymore. You should be able to form the dough into small gnocchi. Roll each dough into longer ropes, and slice them into approx. 2cm/0.75-inches pieces. To get the typical gnocchi shape, carefully roll each gnocchi over the back of a fork. In case the dough is still sticky, add some more flour.

Bring a pot of salted water to a boil. Cook gnocchi in batches as they should have enough space while boiling. As soon as the gnocchi are swimming on the surface, they are done. Use a slotted spoon to carefully remove them from the boiling water and transfer them to a large plate before adding the next batch of gnocchi.

Once the gnocchi are done, peel and finely slice a garlic clove. Melt vegan butter in a large frying pan, then add garlic slices and sage leaves. Now you can add the gnocchi in batches and fry them for approx. 2-3 minutes, or until browned. Keep doing this in batches and feel free to remove any sage leaves that turn too dark and add fresh ones.

Serve gnocchi with the warmed up walnut sauce and some chopped walnuts on top.