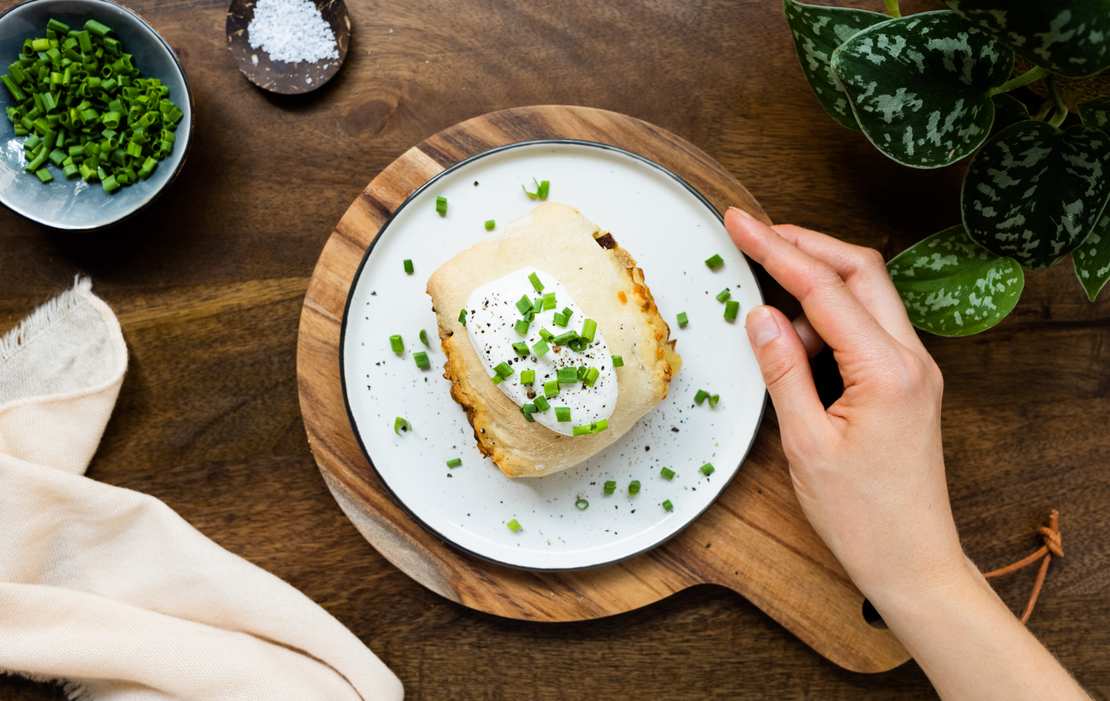 Vegan "Handbrot" (Cheese Stuffed Bread)
In Germany, "Handbrot" is probably THE highlight at every festival or Christmas market. 2016 at the Kosmonaut Festival we already wondered if there's a German law that dictates that there must be one "Handbrot" foodtruck for a crowd up from 30 people. For all those who don't know "Handbrot", here's a short explanation: it's a yeast dough roll that is often filled with cheese and ham. Unfortunately, there's often no vegan version of it, although it would be so simple since you only have to adapt the filling. At Kosmonaut Festival, we promised you that we'd get to work it if no one else does the job. And we keep our promises.
For our filling, we mix plant-based cheese with a bit of vegetable oil because the extra fat helps to melt the vegan cheese in the oven. Otherwise, you can adjust the filling to your taste and also add in mushrooms, olives, tomatoes, or other vegetables.
"Handbrot" isn't only the perfect festival snack but also great for a picnic or as a snack. To make sure it's not the only thing that ends up in your picnic basket, we have a few more ideas of what else you can bring: how do vegan mini pies with artichokes and spinach, vegan focaccia with tomatoes and basil or a vegan pull-apart bread with ajvar butter sound? Or would you prefer something sweet? Sweet skewers with vegan brownies and berries or vegan crumble buns with redcurrants are just as wonderful ideas!
Vegan "Handbrot" (Cheese Stuffed Bread)
Ingredients
For the dough:
42 g (1.5 oz) fresh yeast
1 tbsp sugar
300 ml (1.25 cups) warm water
500 g (4 cups) flour
1 pinch salt
olive oil for greasing
For the filling:
250 g (9 oz) plant-based shredded cheese
1 tbsp vegetable oil
200 g (7 oz) smoked tofu
soy sauce (optional)
vegetable oil for frying
For serving:
plant-based sour cream
chives
Instructions
Add warm water, yeast, and sugar to a large bowl (or the bowl of a stand mixer) and stir to combine. Let sit for approx. 5 minutes, or until you can see bubbles on the surface.

Add flour and salt and start to combine all ingredients. Once that's done, start to knead until you get a smooth dough. As soon as it comes away of the sides of the bowl, transfer it to a floured surface and keep kneading by hand for another 5 minutes.

Grease the bowl with some oil, transfer the dough to the bowl, and cover it with a clean kitchen towel. Let it rest in a warm place for at least 30 minutes, or until it's doubled in volume.

In the meantime, mix vegetable oil with plant-based shredded cheese. If desired, use an infused oil, e.g. chili oil or garlic oil.

Finely dice smoked tofu and fry them in a pan with some vegetable oil for approx. 2-3 minutes. If desired, add a splash of soy sauce and keep frying for another 5 minutes, or until the tofu is crispy and browned.

Preheat you oven to 200°C/390°F. Your dough should have doubled in volume by now. Transfer the dough to a floured surface and halve it. Roll out each dough half into a rectangle. Arrange half of the plant-based cheese and smoked tofu in the center line of each dough.

To fold the bread, start with the two outer short edges and fold them inward over the filling, then also carefully fold the two long sides over the filling so that it's fully infolded. Gently roll over the dough to move the "dough seam" down.

Using the handle of a wooden spoon, gently press down the bread roll to create four equal pieces of bread. Cut the top of each bread roll diagonally with a knife and gently pull the dough apart right around the cut.

Transfer the stuffed bread rolls to a lined baking sheet. Bake at 200°C/390°F for approx. 15 minutes, or until they are done and browned from the top.

Serve stuffed bread right from the oven with a dollop of plant-based sour cream on top and sprinkle with finely chopped chives.