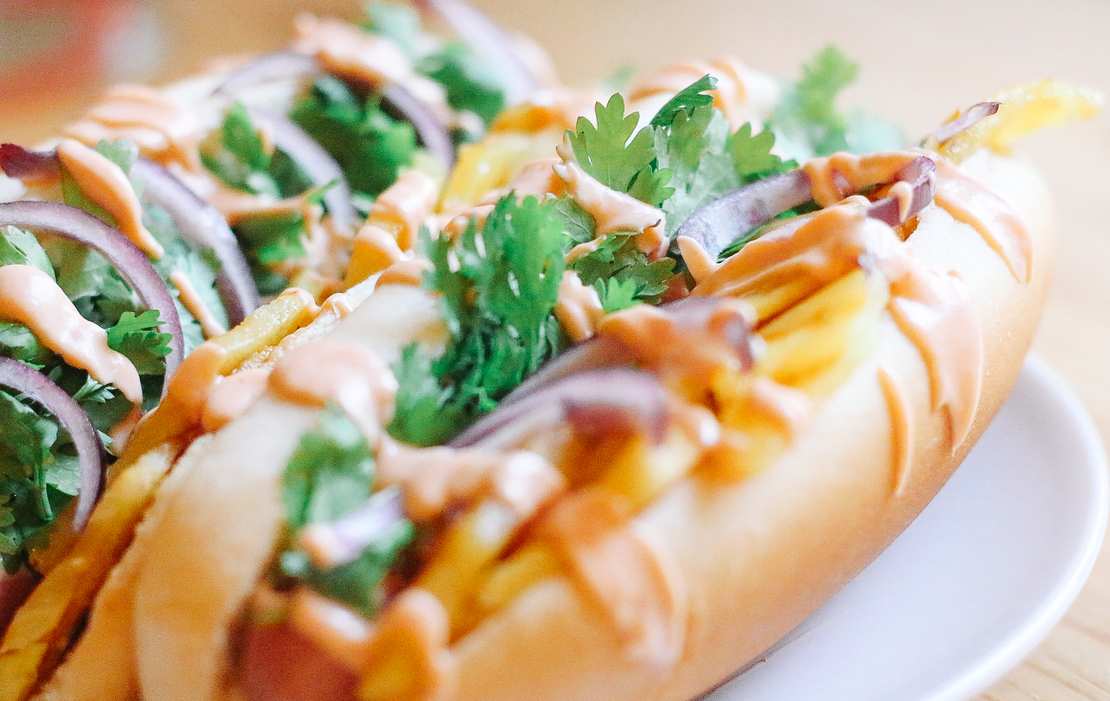 Vegan Hot Dogs with Grilled Pineapple
My Tasty Enemy: Welcome to "My Tasty Enemy," where we face our biggest culinary enemies in the kitchen. Julia isn't fond of pineapple, Brussels sprouts and endives, Isa dislikes kohlrabi, mango, and radishes. Will we still find recipes that somehow make us like these ingredients?
Julia has the heart to get close to her first tasty enemy. Hello pineapple! The "tasty enemy"-story between pineapple and me is kind of unsteady, I have to admit. Pineapple is not allowed in my kitchen right now. And it wasn't even allowed when I grew up, even though my mother loves that dingbat. The smell… eww. The taste… eeeew. We were separat people the moment I tasted my first bite.
But when I was in Rome and accidentally ordered pineapple as "fruit of the season" and suddenly it tasted good. Really. Back in Berlin I was super excited telling everyone the good news and grabbing some pineapple in the supermarket, when… ewwwww. No. Never again.
So maybe my tasty enemy is just pineapple that's available in Germany? No, I won't accept that. I challenge myself eating pineapple in the weirdest combinations as long as it tastes good. And since hot dogs have never disappointed me so far, they are up! Here is pineapple-tasty-enemy-recipe #1.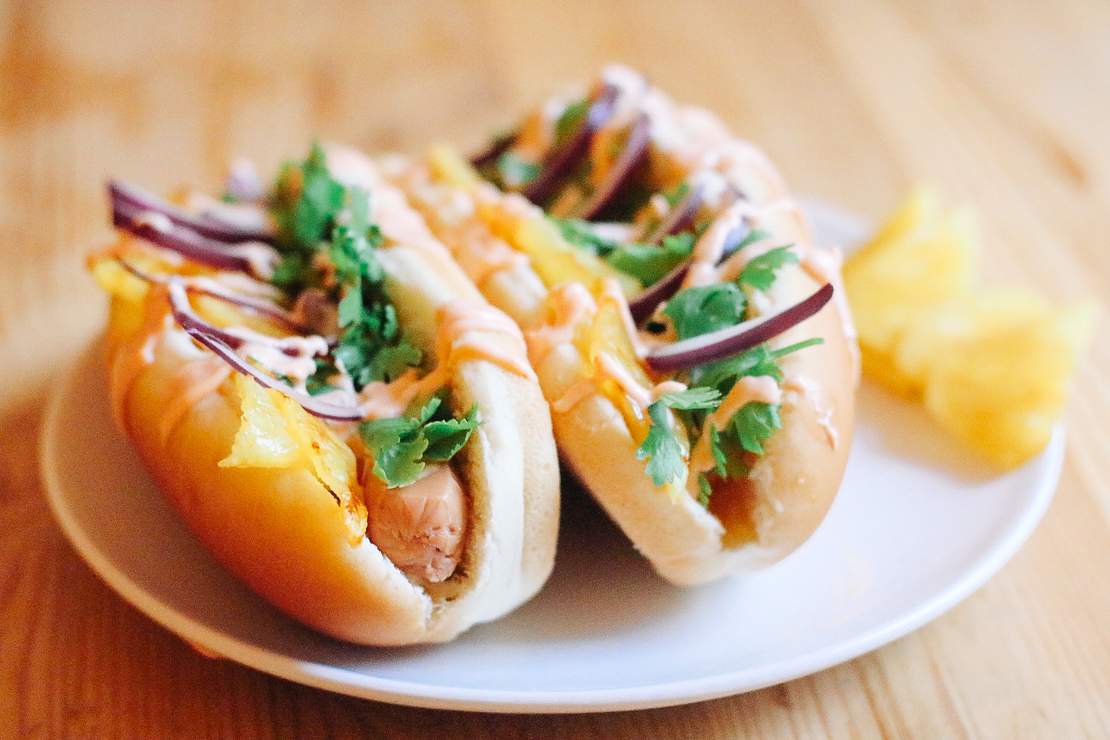 Vegan Hot Dogs with grilled Pineapple
Ingredients
6 hot dog buns
6 vegan sausages
1 pineapple
1 red onion
3 jalapeño peppers
1 bunch of cilantro
peanut oil
agave syrup
FOR YOUR SRIRACHA MAYO
250 g (8.8 oz) vegan mayo
3 tbsp Sriracha
Instructions
Peel off the pineapple with a knife, cut it in half, then quarter it and slice it, so you get small triangles out of it.
In a grill pan heat 2 tbsp peanut oil and roast your pineapple from one side. Drizzle some agave syrup on it so they start to caramelize slowly. Turn over and roast it from the other side as well.
In the meantime you can peel the red onion and cut it in thin slices. The jalapeño peppers should be cut into slices as well. Wash and chop your cilantro.
For sriracha mayo only stir vegan mayo with sriracha. For this recipe I would suggest to start with 3 tbsp and afterwards add some more if it isn't spicy enough.
You can either heat up your sausages in cooking water or fry them in a pan with some oil. Just check the package info to see what your vegan sausages like.
Also put your buns in the warm oven for some minutes, so they roast slightly from outside.
Now we should be ready to serve. Split your bun, spread some sriracha mayo on it, put in your sausage and top with pineapple slices, onion rings, jalapeno and cilantro. At the end, drizzle some more mayo on it. For this, you can fill your mayo in a freezer bag and cut a small hole at the tip. This way, the Sriracha mayo will come out smooth.
So how did it taste?
Nope, nope, pineapple and me won't get friends today. This is how I imagine what pizza Hawaii tastes like... and I'm afraid warm pineapple might even taste worse than "cold" pineapple. Let's keep looking for the right recipe for me.