Indian Soya Korma with Rice
We've already introduced to you several Indian classics on the blog: [vegan butter chicken] (https://www.zuckerjagdwurst.com/en/recipes/vegan-butter-chicken-with-rice), [vegan Malai Kofta] (https://www.zuckerjagdwurst.com/en/recipes/vegan-malai-kofta-indian-veggie-balls), [Tikka Masala] (https://www.zuckerjagdwurst.com/en/recipes/tofu-tikka-masala) and [vegan Palak Paneer] (https://www.zuckerjagdwurst.com/en/recipes/vegan-palak-paneer). But one of my favorite dishes is vegan soya korma!
Soya korma is a type of curry but most of the time not made from coconut milk. The sauce very often includes dairy cream and tomato puree or fresh tomatoes. So usually it's not vegan. Very characteristic are the almond flakes on top of the dish and roughly chopped cashews in the sauce. We tried our best to get a wonderful plant-based cream sauce and to get as close as possible to the taste of the Indian classic .. and we can now confirm: it turned out so delicious!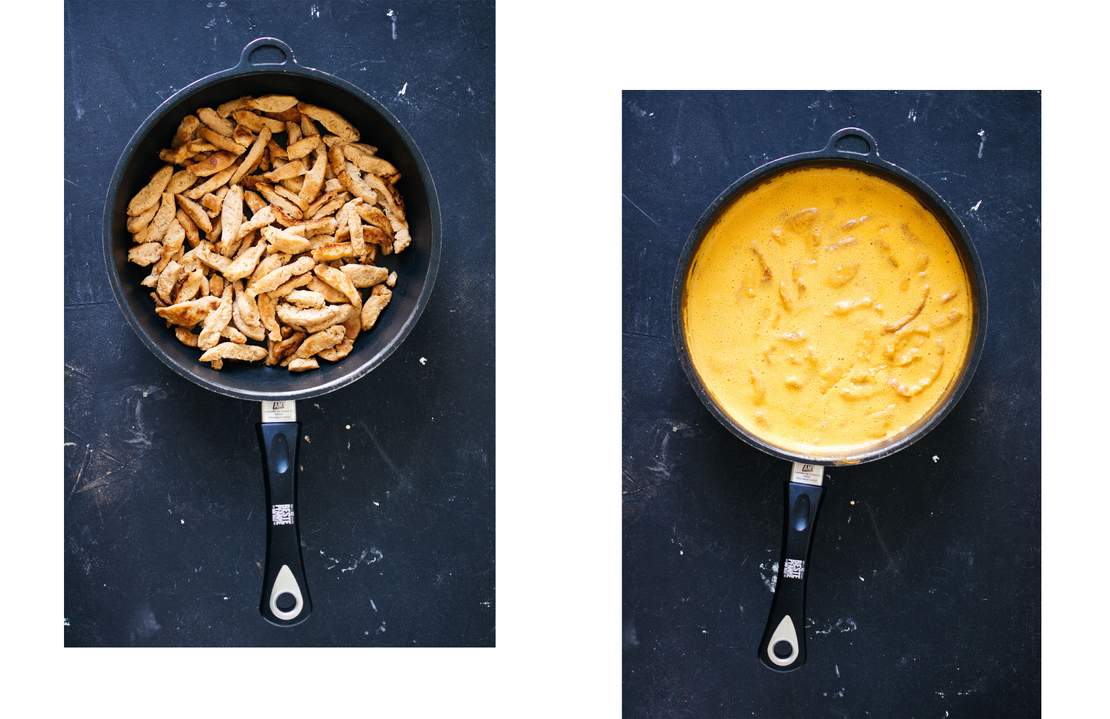 Indian Soya Korma with rice
Ingredients
200 g soy medallions/soy chunks
veggie broth
250 g rice
1 tsp salt
2-3 tbsp coconut oil
50-100 g almond flakes (for decoration)
sauce
1 onion
2 cloves of garlic
30 g ginger
2-3 tbsp coconut oil
1 tsp salt
1 tsp paprika powder
1.5 tsp curry powder
1 tsp garam-masala
1 tsp cardamom
1 tsp turmeric
2 tbsp of agave syrup
2 tbsp tomato paste
500 ml plant-based cream
400 ml veggie broth
150 g plant-based yogurt
100 g cashew nuts
salt&pepper
Instructions
Place soy medallions in a bowl and cover with hot veggie stock. Let soak with the lid on for approx. 15 minutes, then drain and press out as much liquid as possible.
Heat salted water in a large pot and prepare the rice according to the package instructions.
Peel and dice the onion, ginger, and garlic.
Heat 2-3 tbsp of coconut oil in a large, high pan and fry the soy medallions or soy chunks for 5-10 minutes until brown. Then remove the soy chunks from the pan.
Use the same pan again and heat another 2-3 tablespoons of coconut oil. Sauté the onion, ginger, and garlic for 2-3 minutes.
Add all spices and roast for 1-2 minutes.
Add the agave syrup and tomato paste and roast for another 1-2 minutes.
Now add the plant-based cream and veggie stock and let simmer for 5 minutes. Now puree the sauce and add the plant-based yogurt.
Transfer the soy medallions back to the pan. Chop the cashews and add them as well. Stir and season again.
Serve the soya korma with rice and garnish with almond flakes.