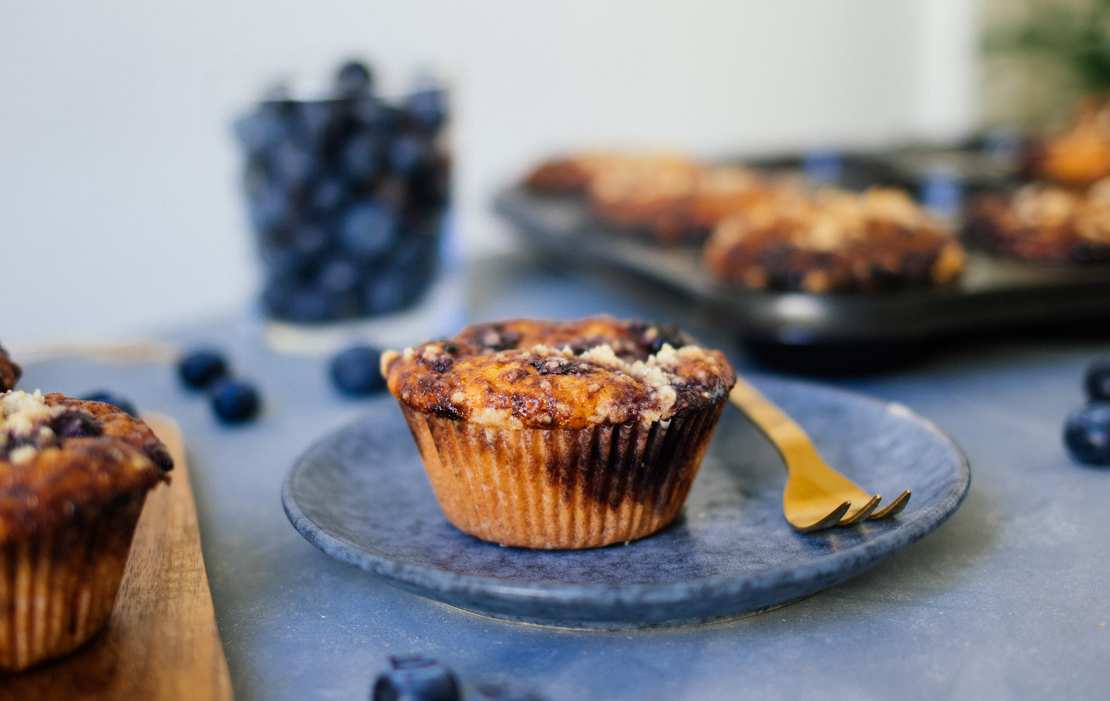 Vegan blueberry muffins with crumbles
For a very long time now, we use this vegan recipe for blueberry muffins. It's fruity, crumbly and pretty easy. We've never put it on the blog for you, cause whenever we thought about baking it, the berry season was almost over again. This time we wrote a little note so we can show you our favorite recipe for blueberry muffins now.
There are two versions for baking these vegan muffins. The detailed version is the recipe, just as you can find it below. A classic muffin dough is topped with blueberry sauce and crumbles. This version consists of three components and is super fruity and crumbly at the same time. But if you want a classic blueberry muffin recipe, the blueberry sauce, and the crumbles. It works great too and is a slightly faster and more traditional version.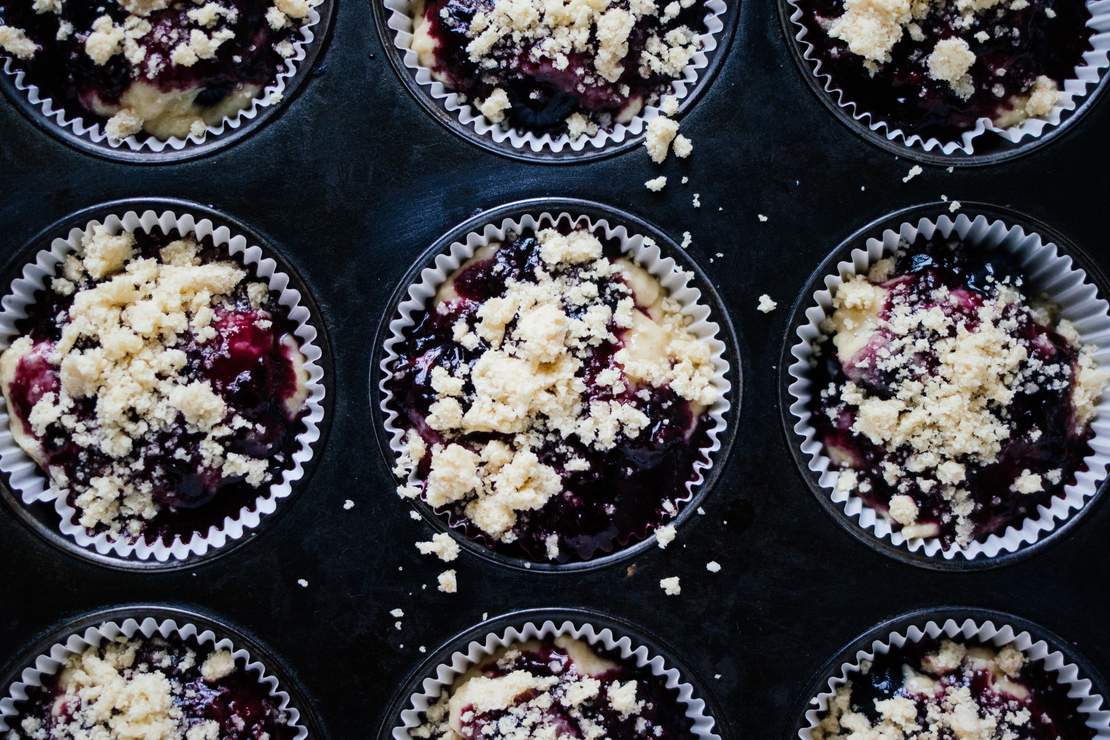 Vegan blueberry muffins with crumbles
12 muffins
20 minutes (+30 minutes baking time)
Ingredients
blueberry sauce
125 g (4.4 oz) blueberries
25 g (0.125 cups) brown sugar
crumbles
25 g (0.125 cups) plant-based butter
20 g (0.12 cups) brown sugar
pinch of salt
50 g (0.5 cups) flour
dough
300 g (2.5 cups) flour
1 tbsp soy flour or chickpea flour
190 g (0.9 cups) brown sugar
15 g (0.5 oz) baking powder
pinch of salt
75 ml (cups) oil
75 g (0.33 cups) plant-based butter
75 ml (0.3 cups) plant-based milk
150 g (5.3 oz) plant-based yogurt
150 g (5.3 oz) blueberries
Instructions
Wash the blueberries. In a small pot heat the blueberries for the sauce and the brown sugar. Let simmer for 4-5 minutes and crush all the blueberries with a fork. Set aside.
For the sprinkles knead the plant-based butter, the brown sugar, a pinch of salt and the flour with your hands.
For the muffin dough, mix the dry ingredients: flour, soy flour, sugar, baking soda, and salt. Melt the plant-based butter.
Add the melted butter, the oil, and the plant-based milk and mix well. Carefully stir in the remaining blueberries.
Preheat the oven, grease the muffin tin and powder with flour. Pour the batter into the 12 molds of the muffin tin.
Spread 1-2 teaspoons of the blueberry sauce on the muffin dough and then top with the crumbs.
Bake the muffins at 180 ° C for 30 minutes in the preheated oven.