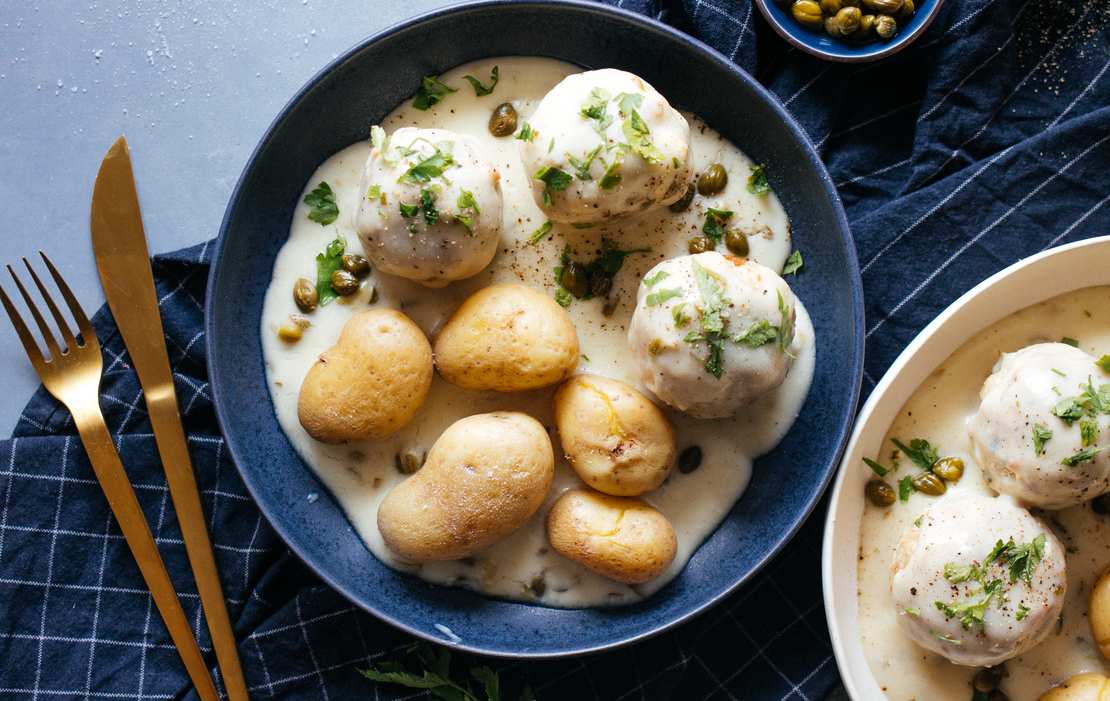 Vegan "Königsberger Klopse" (meat balls)
To say it right from the start: I've never really liked "Königsberger Klopse", mostly because of capers. So when I quit eating meat, there was only a sad potato and a white sauce left on my table. Still, when we thought about our "Small&Round-week", this dish directly came across our mind. So let's give it a new shot today.
The biggest challenge is to tighten meatballs. Usually, you'd use an egg for it, but we get the help from soy flour and breadcrumbs. But sometimes they can be a dog in the manger, so what worked best in our experience, is to simply to fry them in a pan before transferring them to the broth.
You can also serve mashed potatoes, Hasselback potatoes or rice to this dish!
Vegan "Königsberger Klopse"
Ingredients
1 kg (35 oz) waxy potatoes
Meat balls
1 stale bun
100 g (3.5 oz) breadcrumbs
1 onion
600 g (21 oz) firm tofu
200 g (7 oz) smoked tofu
10 g (0.35 oz) fresh parsley
3 tbsp soy flour
1 tbsp mustard
Stock
1.5 l (6 cups) vegetable stock
1 bay leaf
2 cloves
2 black peppercorns
2 pimento corns
white sauce
5 tbsp vegan butter
4 tbsp flour
100 ml (0.4 cup) vegetable stock
100 ml (0.4 cups) vegan white wine
250 g (9 oz) soy cream
3 tbsp caper
3 tbsp caper water (from the jar)
1 tbsp lemon juice
5 g (0.17 oz) fresh parsley
salt, pepper & nutmeg
Instructions
Heat a large saucepan with salted water and cook the potatoes until soft. Depending on the size, this can take 20-30 minutes.
sauce
In a small saucepan, melt vegan butter. Stir in flour little by little and keep stirring the whole time, so it doesn't clump. Repeat with vegetable stock, and again, keep stirring!
Add white wine, soy cream, caper water from the jar, and lemon juice and bring to a simmer for about 15 minutes. Afterward, add capers and season with salt, pepper, and nutmeg. Wash and finely chop the parsley and mix in. Add agave syrup and more veggie broth if the sauce tastes too sour.
vegan meatballs
Place a stale bun in a bowl, pour over warm water, and let it soak for 5 minutes. Afterward, press out the water and transfer bun on a large bowl.
Peel and finely dice the onion. Crumble tofu with your hands. Wash and chop parsley.
Add diced onion, tofu, parsley, mustard, soy flour, and breadcrumbs to the soaked bun in a large bowl and carefully knead with your hands.
Take 1-2 tbsp of dough and roll balls out of it. Heat 2 tbsp oil in a large frying pan and roast meatballs for about 7 minutes until crisp.
Take out a midsized pot, fill up with vegetable stock, and add spices for broth. Bring to boil, then turn down the heat, so the water should NOT be bubbly anymore.
One by one, add meatballs. They should always lie next to each other, not on top of each other. Depending on the size of your saucepan, repeat this step in batches. Meatballs should simmer in the broth for 5 minutes. Afterward, take them out with a scoop and directly add them to your sauce. Make sure that your caper sauce is also not bubbling anymore.
Time for serving! Serve potatoes with a batch of meatballs in sauce and add fresh parsley on top. If you're really into capers, sprinkle some on top of everything.