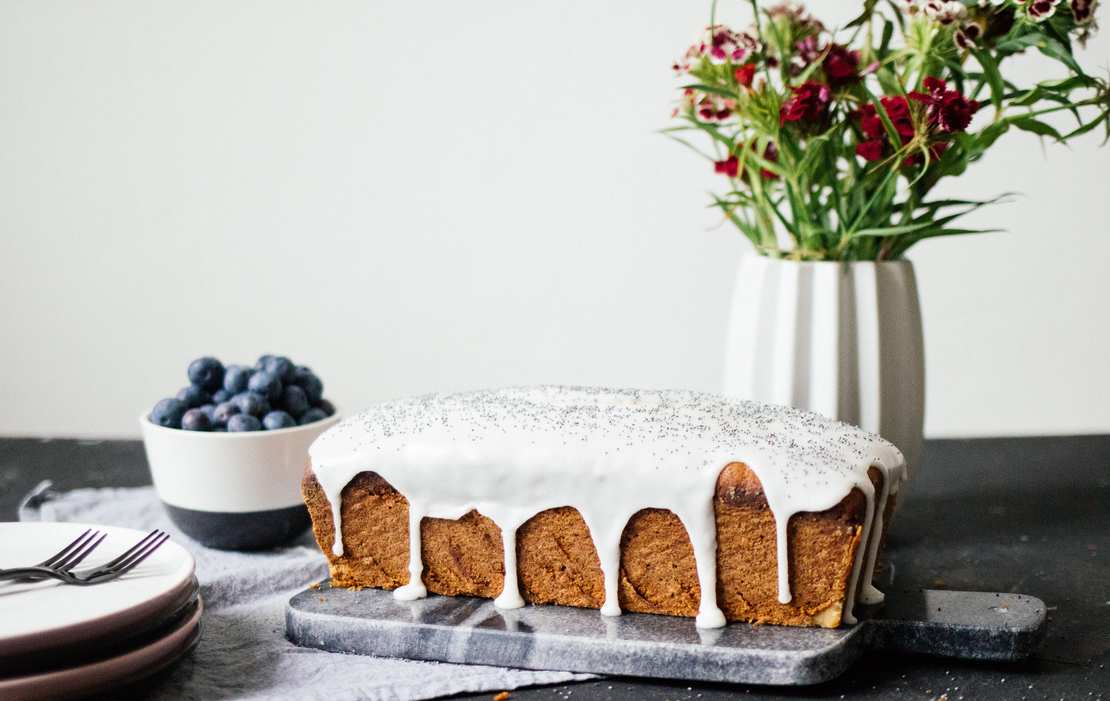 Vegan lemon poppyseed cake
We heard there are people who do not like poppyseeds. We are not one of them. But let's start with good news for all poppy-hater: You can leave out the poppyseeds in this recipe. To us, lemon cake is a cake for everyday. Every day! And we haven't heard of people who don't like lemon cake. This recipe is really easy, you don't need any fancy ingredients, so to all of you claiming you couldn't bake. Nope! This one is for you. And always keep in mind: The thicker the icing, the better.
Vegan Lemon Poppyseed Cake
Ingredients
FOR THE DOUGH
450 g (2 cups) wheat flour
200 g (0.8 cup) sugar
150 ml (0.6 cup) plantbased milk
200 g (0.8 cup) vegan butter
2 tbsp baking powder
2 tbsp vanilla sugar
50 ml (0.2 cup) sparkling water
0.5 tsp salt
2 lemons (juice!)
4 tbsp poppyseeds
FOR THE ICING
250 g (8.8 oz) icing sugar
3 tbsp lemon juice
Instructions
Preheat your oven to 200°C/390°F.
In a large bowl, sift in flour and stir backing powder, vanilla sugar and salt.
In another small bowl beat butter and sugar until fluffy with a hand mixer.
Now put together those two bowls and stir carefully.
Bit by bit add all liquid ingredients: milk, sparkling water and lemon juice. Stir again until the dough is really creamy.
Finally stir in poppyseeds.
Take your cake pan, oil it and put some flour all over the pan. This way, your cake won't stick in it.
Pour your dough into the cake pan and let it bake for nearly an hour. Try to stick in a wooden skewer and pull it out again. If there's no dough sticking on it, your cake should be ready.
Let your lemon poppyseed cake cool down, until you take it out of the cake pan.
For your frosting, you just have to stir icing sugar with lemon juice. Start with 2 tbsp and then add another one, if it's too dry. It should be thick and viscous in the end, so don't get it too liquid. Pour your frosting over the cake, spread it all over and then let it frost for some more minutes in your fridge.