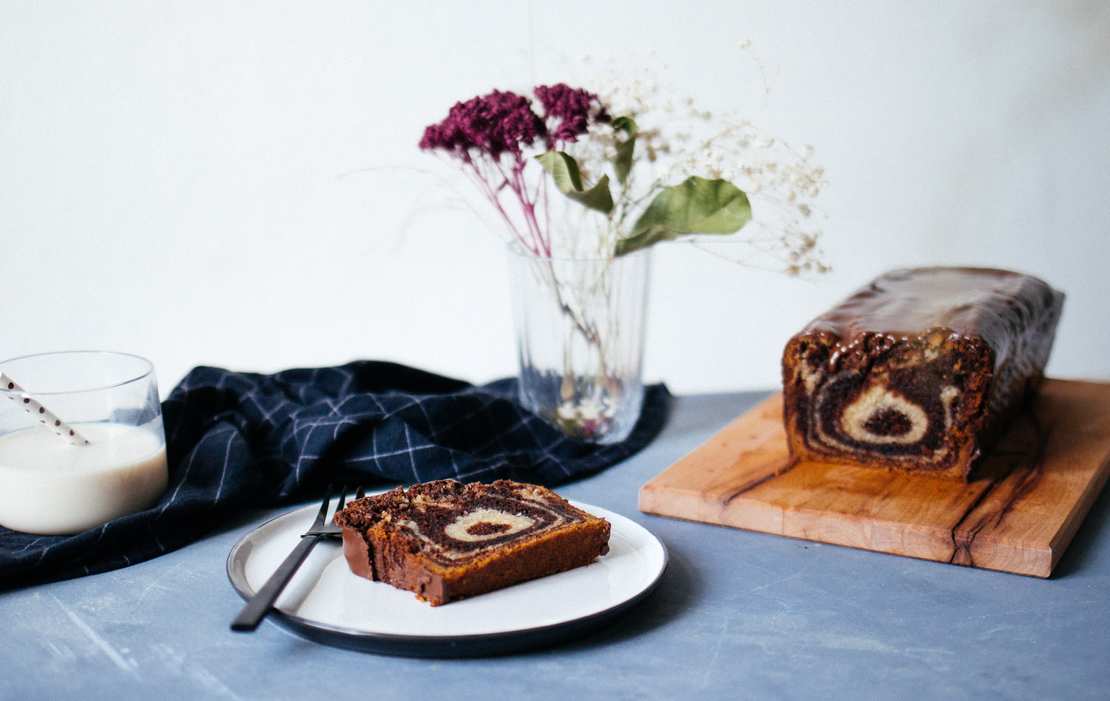 Most of the time a marble cake is treated not very friendly. It's just a simple basic cake, that doesn't seem to be very exciting. So when it comes to "boring" cakes, it doesn't take a long time until the words "marble cake" drop. And next to a [vegan German mole cake] (https://www.zuckerjagdwurst.com/en/recipes/vegan-maulwurfkuchen-german-mole-cake) or a [vegan caramel cheesecake] (https://www.zuckerjagdwurst.com/en/recipes/vegan-caramel-cheesecake), most of you would probably not take a piece of vegan marble cake, right?
But that's totally wrong! Because if you bake a perfect and moist marble cake, this can really impress your family and friends! I'm not exaggerating when I tell you that my mother ate four (!) pieces of this marble cake after I baked it for the first time. Four pieces .. sounds like a record! If you still think that a fresh, moist marble cake is boring, then try this recipe.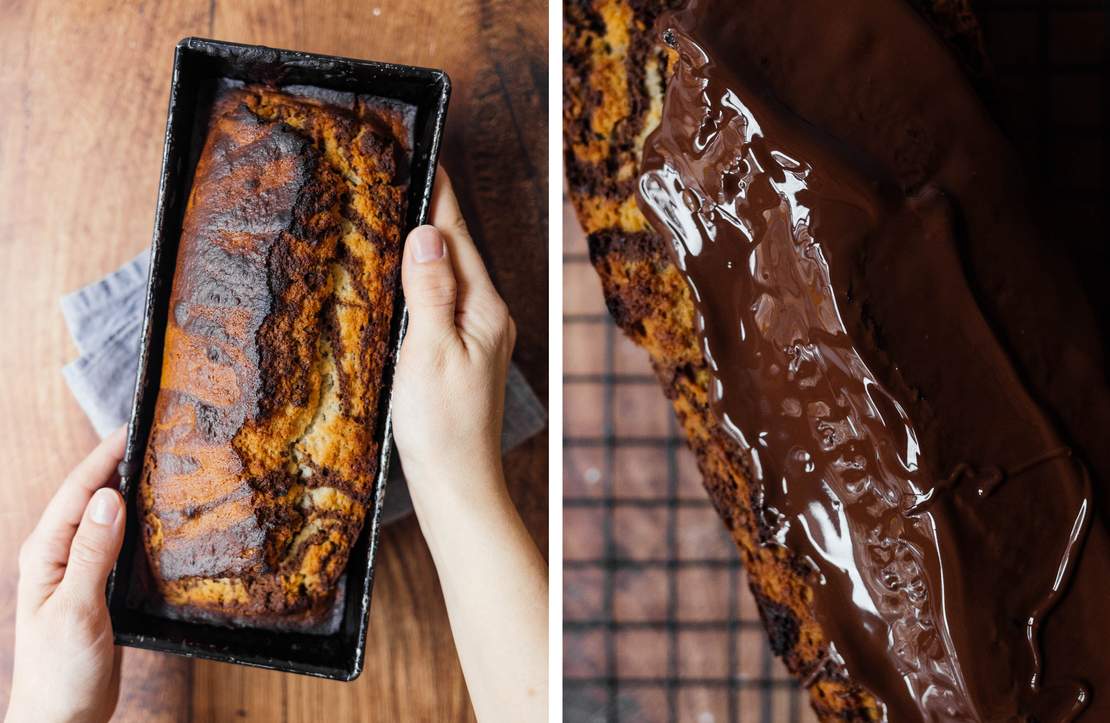 Moist, vegan marble cake
1 cake (12 pieces)
20 minutes (+60 minutes baking time)
Ingredients
dough
400 g flour
10 g (0.35 oz) cornstarch
200 g () white sugar
15 g (0.5 oz) baking powder
0.5 tsp salt
8 g (0.3 oz) vanilla sugar
270 ml (1.1 cups) plant-based milk
40 g (1.4 oz) apple sauce
250 ml (1 cup) sunflower or canola oil
additionally
15 g (0.5 oz) cocoa powder
40 ml (0.17 cups) plant-based milk
250 g (8.8 oz) dark chocolate
Instructions
In a large bowl mix all the dry ingredients for the dough. Then add all wet ingredients and mix to a smooth dough.
Divide the mixture between 2 bowls and add 15 g of cocoa powder and 40 ml of plant-based milk to one bowl. Whisk the dough until you get a smooth dark dough. In the end, you should have a white and a black dough.
Grease a baking tin with plant-based butter, and lightly dust with flour.
Put 2-3 tbsp of the white batter in the center of the baking tin. Follow up with the cocoa dough, the white dough again and so on. Go on until no batter is left. Slightly shake the baking tin to make sure the batter lays evenly throughout the baking tin.
Take a skewer or a wooden stick and swirl it around the batter a few times to create a marbled effect. Do not overmix. Bake the cake in a preheated oven at 180 ° C for 60 minutes. Bake until a toothpick inserted in center comes out clean. Cool in baking tin for at least 10 minutes before removing to wire racks. Cool completely.
Melt the chocolate and pour over the cake. Let the cake rest overnight.