Vegan Lettuce Wraps with Rice & Mushrooms
Lettuce wraps are a good idea if you're looking for a light but satisfying meal in summer. Like regular wraps, lettuce wraps are filled with a variety of ingredients and are served as finger food. However, you exchange the flour tortilla with salad leaves to get a nice crunch and to add some freshness to your meal. You can also fill the wraps with other veggies,e.g., fry broccoli or zucchini instead of mushrooms. Use whatever comes to your mind or is left in your fridge.
We've prepared mushrooms with hoisin sauce for our filling. If you don't know the thick and dark sauce yet: It comes from the Chinese (Cantonese cuisine) and Vietnamese cuisine and tastes sweet and hearty at the same time. In Germany, hoisin sauce is often served with summer rolls or Peking duck. We really like to use the sauce while cooking and always have a jar of hoisin sauce at home. You can find it in almost every Asian supermarket, but also in regular supermarkets.
If you want the recipe to be gluten-free, pay attention to the ingredients list of the hoisin and soy sauce. Of course, you can also leave out the walnuts, so the dish is nut-free. However, the nuts will give the dish a nice "crunch". So you could also replace them with cashew nuts (if that's an alternative) or simply mix in some fresh carrot strips at the end. Unfortunately, the recipe cannot be prepared without soy, since soy sauce and hoisin sauce are made from soybeans.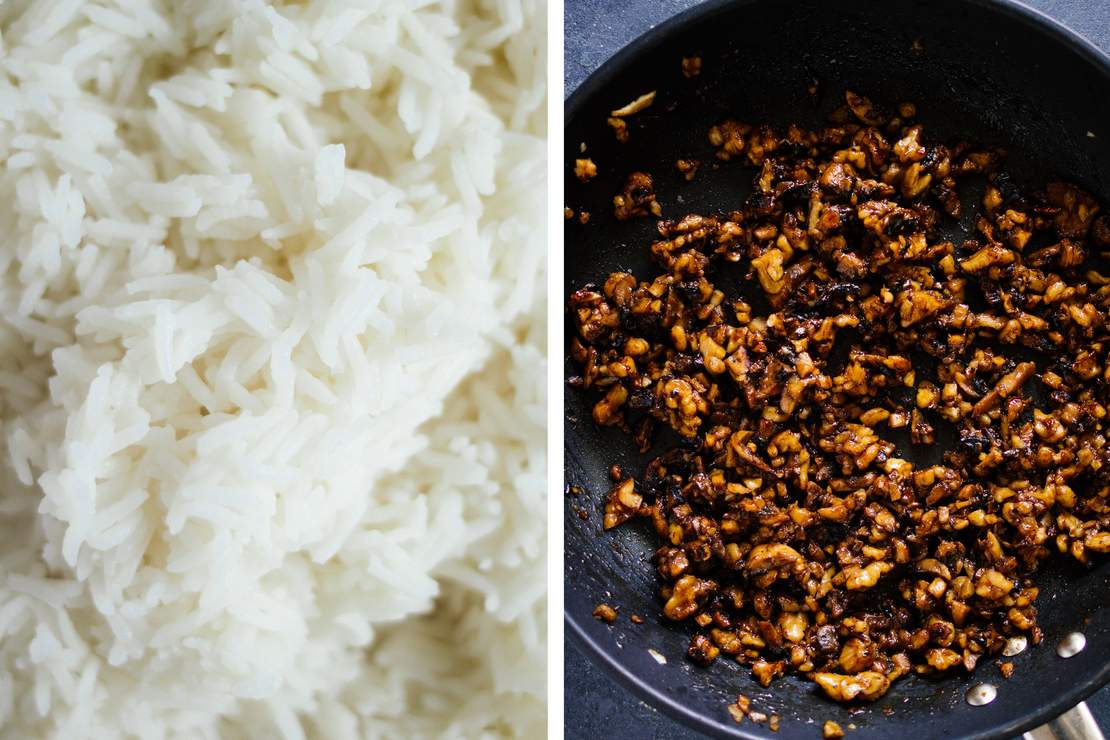 Vegan Lettuce Wraps with Rice & Mushrooms
Ingredients
1 Romaine lettuce
100 g (3.5 oz) rice
100 g (3.5 oz) red cabbage
1 spring onion
1 fresh chili
1 lime
Mushrooms
2 garlic cloves
20 g (0.7 oz) fresh ginger
200 g (7 oz)mushrooms
100 g (3.5 oz) walnuts
3-4 tbsp vegetable oil
salt&pepper
2 tbsp agave syrup
3 tbsp soy sauce
3 tbsp hoisin sauce
1 tbsp rice vinegar
2 tbsp Sriracha
Instructions
Prepare the rice according to the package instructions.
Mushrooms
Peel and finely chop the garlic cloves and ginger.
Clean the mushrooms with a damp cloth, remove the stalks a little and chop the mushrooms. Finely chop the walnuts.
Heat a large pan on medium heat with vegetable oil and sauté the garlic and ginger for 1 minute. Then add the mushrooms and walnuts and fry for 5-10 minutes until the mushrooms are nicely browned. Add salt and pepper.
Add agave syrup, soy sauce, hoisin sauce, rice vinegar, and Sriracha. Season to taste and remove from heat.
Wraps
Remove the lettuce leaves from the stalk, wash them, and put them aside.
Remove the outer layers of the red cabbage (as these are often leathery), wash, and cut into fine strips.
Wash the spring onion and chili and cut into rings.
Fill the salad leaves with rice, mushrooms, and red cabbage and serve with green onions, chili and fresh limes.