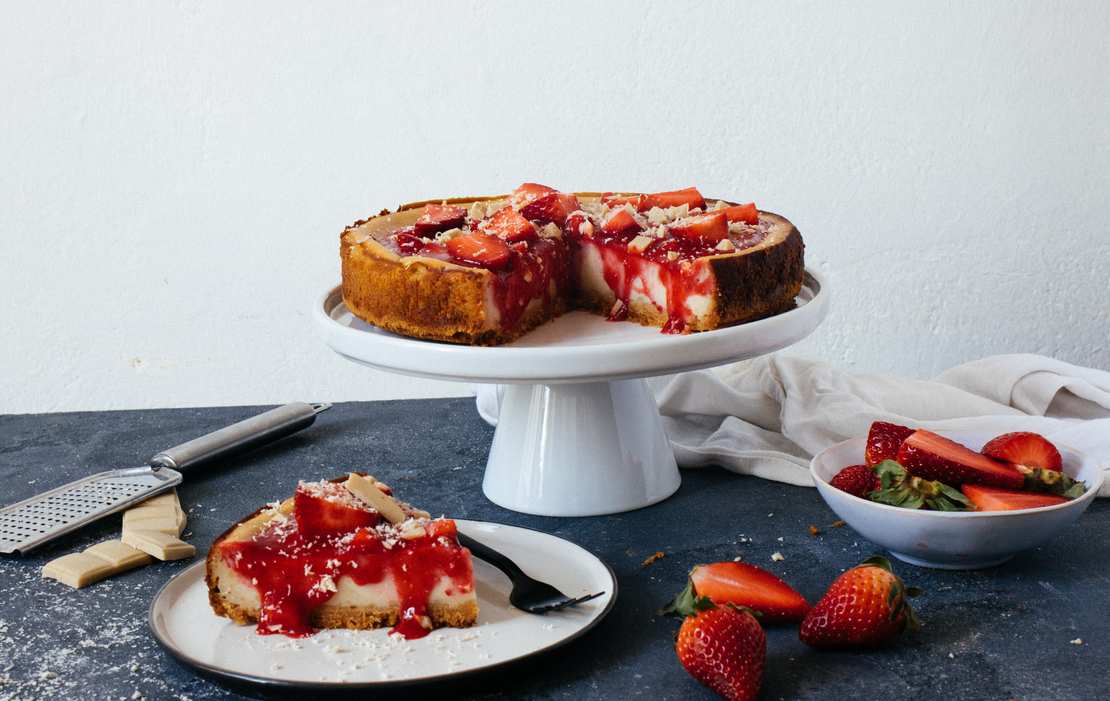 Vegan New York Cheesecake with strawberries & white chocolate
If you are searching for the perfect summer cake that is fruity, light and easy to prepare, you will be faced with a more difficult task than you actually think. Let's talk about the things we want to avoid: a chocolate glaze (melts), a dry cake (nothing we want to eat in summer) and buttercream (quite complicated to transport for a picnic or bbq in a parc). So we developed a recipe for a vegan strawberry cheesecake that doesn't melt, is easy to prepare, creamy, fruity and easy to transport.
The bottom of the cake is made of crushed crackers and plant-based butter, like the classic New York Cheesecake although we used silken tofu, soaked cashews and plant-based cream cheese for a creamy texture of the filling. For a firm texture, that's still creamy inside, we used flour, starch, and melted white chocolate. Just make sure to chill the cake in your fridge overnight for the right consistency!
We're happy that iChoc supported us and this recipe. We're big fans of their plant-based chocolate bars and can only recommend their products to you! Their chocolates are great for baking, but also as a snack in between. iChoc uses 100% eco-friendly packaging, produces climate-neutral and obtains all raw materials from certified organic cultivation. Check more recipes with their vegan chocolates on their blog, like these [vegan chocolate bars with cream filling] (https://ichoc.de/delice-kuchenriegel/).
Vegan New York Cheesecake with strawberries & white chocolate
1 cake / 12 pieces
40 minutes (+ 120 minutes baking time)
Ingredients
crust
200 g plant-based graham cracker
70 g of plant-based butter
filling
300 g plant-based cream cheese
160 g white sugar
200 g silken tofu
50 g soaked cashews
80 g plant-based white chocolate (eg ichoc white vanilla)
1 tbsp egg substitute (+ 2 tbsp water)
juice of 1/2 lemon
1 tbsp starch
20 g flour
1 vanilla bean
a pinch of salt
toppings
250 g fresh strawberries
1-2 tbsp agave syrup
20 g plant-based white chocolate (eg ichoc white vanilla)
Instructions
crust
Melt the plant-based butter. Place the graham crackers and the melted butter in a food processor and pulse until you have cookie crumbs.
Line the base of a 20-23cm springform cake tin with parchment paper and then clipping the side on so the baking paper is trapped and any excess sticks out of the bottom. Remove the excess paper and grease all sides of the tin with plant-based butter.
Fill the crumbs into the cake tin and press the mixture into the bottom of the pan.
filling
Beat the cream cheese and white sugar in a blender.
Mix the egg substitute according to the package instructions (usually add 50 ml of sparkling water to 1 tbsp). Add silken tofu, the soaked cashews, the egg substitute, fresh lemon juice, and the melted white chocolate and mix again.
Now add starch, flour, the seeds of a vanilla pod and a pinch of salt and mix again until creamy.
Add the cream cheese filling to the crust and preheat oven to 180 ° C/350°F. Bake for 60 minutes and add several small or one large bowl of water to the oven (preferably on the wire rack).
Turn off the oven and do not open the oven door for another 60 minutes. Then remove the cake from the oven and let chill at room temperature until completely cooled down. Store in the fridge overnight.
toppings
Just before serving, wash 250 g strawberries and remove stems. Puree 150 g of them with agave syrup to a smooth sauce.
Quarter or half the remaining 100 g and set aside.
Pour the strawberry sauce over the cake and top with the remaining strawberries. Spread some white chocolate on the cake with a grater. Serve cold.