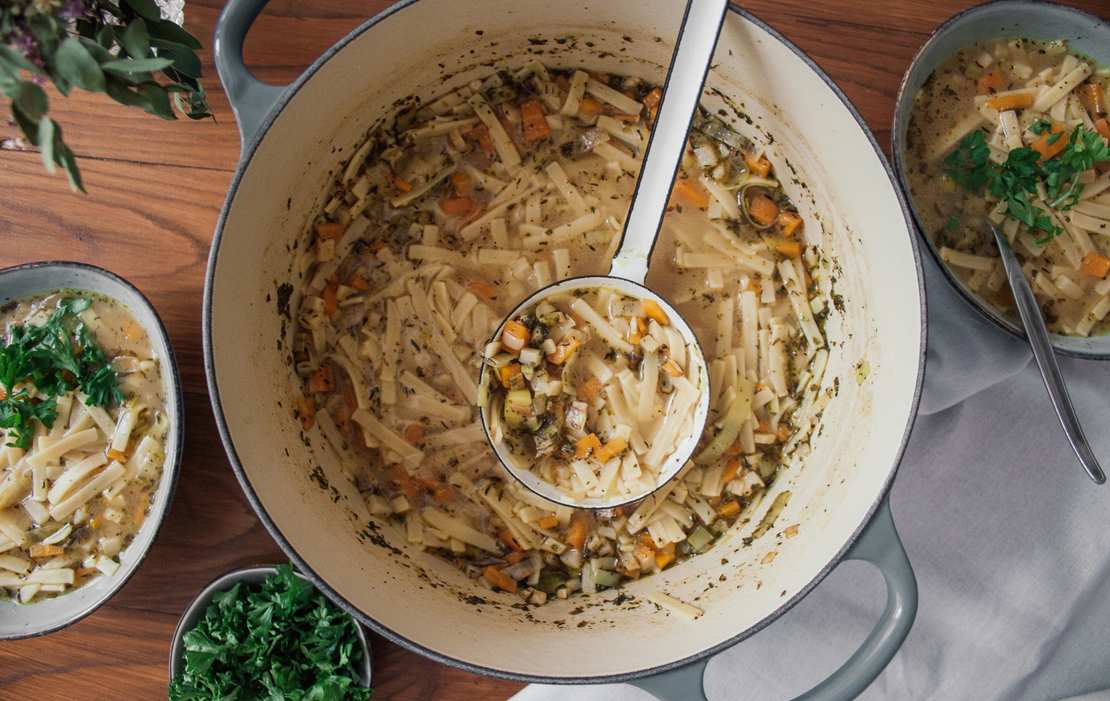 Vegan Noodle Soup with Veggies
One of my favorite childhood memories is hiking holidays in Austria, although I didn't think it was so cool at that time - getting up early and walking through the countryside. But as you get older, you luckily get smarter, and suddenly nature becomes more than a surrounding, and I start to enjoy views.
But back to my holidays in Austria - even though I wasn't too crazy about the hiking part, I was always looking forward to our arrival on the mountain. There, in a mountain hut, we ate buttery, hot noodle soup and drank Almdudler, one of my favorites! I love these memories so much that I only drink Almdudler when I am in Austria, but it was hard to resist a noodle soup in the cold seasons so here we are with my favorite noodle soup recipe.
How to adjust this recipe to your desires: noodles, broth, spices, vegetables, and butter (whoops, yes) are all I need, but if you want, you can add vegan sausages or a vegan chicken substitute, of course. In this case, fry it in the very beginning before adding vegetables and then continue with the recipe below. You can also skip the butter, but for me, it's just part of the childhood memory and therefore part of my favorite noodle soup recipe.
Vegan Noodle Soup with Veggies
Ingredients
250 g (9 oz) pasta for soups
1 carrot
80 g (3 oz) celery root
1 onion
1 garlic clove
50 g (2 oz) leek
1 l (4.25 cups) vegetable broth
2 tsp dried thyme
1 tsp dried marjoram
0.5 tsp dried oregano
1 tsp ground nutmeg
1 tbsp plant-based butter
fresh parsley
vegetable oil for frying
salt
pepper
Instructions
Peel and finely dice celery root, and finely dice carrot and onion. Finely slice leek and peel and finely chop garlic.
Heat vegetable oil in a large pot on medium heat and fry onions and garlic for approx. 2 - 3 minutes, or until the onion is translucent. Add cut vegetables, dried thyme, marjoram, and oregano and fry on medium-low heat for approx. 7 - 8 minutes.
Add vegetable broth (if you notice that the vegetable is frying too much and is sticking to the bottom of your pot, you can also add a bit of the broth before). Now add the pasta of your choice.
Let the soup simmer until the pasta is done and the vegetable is softened. Season with salt, pepper, and ground nutmeg to taste. If desired, add vegan butter right before serving.
Serve noodle soup with fresh chopped parsley.