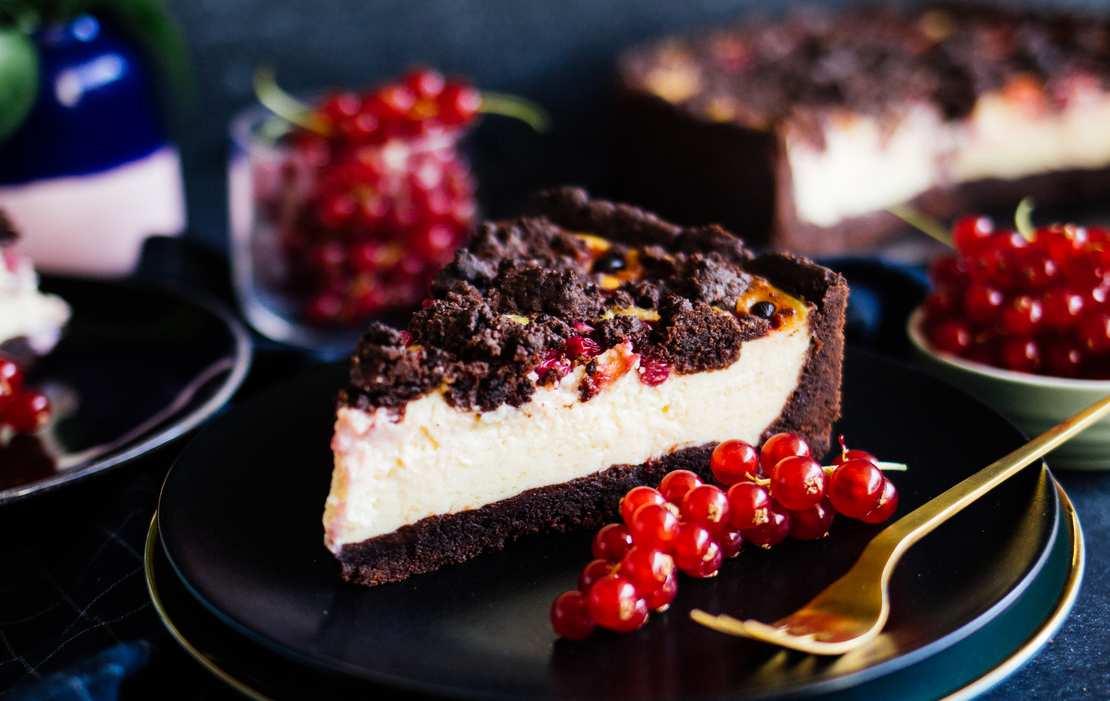 Vegan Redcurrant Chocolate Cheesecake
When summer comes to an end, my culinary heart always gets a little wistful. I can't stop thinking: will this be my last strawberry or the last cherry of this year? Every year it's a tough farewell to all the delicious seasonal and regional produce that we spent tasty time with during the warm months. Besides raspberries, gooseberries, or apricots, we also have to say goodbye to currants at the end of August. Therefore we've thought of a last recipe with the small, jucie berries for you.
A chocolate cheesecake is often a good choice if you want to satisfy different tastes. Most people just love chocolate, others prefer cheesecake in summer, but some also crave a fruit cake – we got you covered! This cake is for all of them as it combines all these wishes in one recipe (plus, it's quite easy to prepare!). However, I would advise you to be patient and prepare the cake the day before and let it chill in the fridge overnight. Also, please never ever cut a cheesecake while it's still warm, as the filling will firm up while it's cooling down.
If currants are not in season, you can just replace them with any other seasonal fruit, e. g. rhubarb, strawberries, cherries, plums, or apples.
Vegan Redcurrant Chocolate Cheesecake
1 cake (springform pan ø 24 cm / 9 inches)
45 minutes (+60 minutes baking time)
Ingredients
For the chocolate dough:
400 g (3.25 cups) flour
125 g (0.66 cup) brown sugar
16 g (1.5 tbsp) baking powder
65 g (0.5 cup) unsweetened cocoa powder
275 g (2.5 sticks) vegan margarine
vegan margarine for greasing
For the cheesecake filling:
1 kg (4 cups) plant-based yogurt
50 g (0.25 cup) brown sugar
75 g (2.5 oz) vegan vanilla custard powder
80 ml (0.33 cup) plant-based milk
150 g (1.33 sticks) vegan margarine
Also:
100 g (3.5 oz) fresh currants
Instructions
Chocolate dough
Mix flour, brown sugar, baking powder, and cocoa powder in a bowl. Add vegan margarine and knead into the flour mixture by hand.
Line a springform pan (ø 24 cm / 9 inches), grease with vegan margarine, and optionally dust with cocoa powder. Add half of the dough to the springform pan and press down to form an evenly crust at the bottom.
Use three parts of the remaining dough and form it into several longer rolls. Place these dough rolls on top of the bottom crust all along the edge, then press the dough to get a leveled rim for the cake crust. Make sure that it's also well connected to the bottom crust.
Set remaining dough aside. It will be used as crumbles on top of the cake.
Filling
Preheat oven to 180°C/355°F (circulating air). Melt margarine in a small pot. Then remove from heat and let cool down.
Mix vanilla custard powder and plant-based milk in a small bowl and set aside.
Add soy yogurt to a large bowl. Add the custard mixture and brown sugar and stir to combine. One the margarine is lukewarm or at room temperature, whisk it into the yogurt mixture.
Add the filling to the springform pan on top of the chocolate dough. Wash currants and sprinkle them on top of the cheesecake filling. Crumble remaining chocolate dough on top.
Bake the cake at 180°C/355°F for approx. 60 minutes on the medium level of your oven.
It's important to let the cake cool down completely before cutting and serving it, as this allows the filling to firm up.