Vegan Strawberry Sheetpan Cake with Vanilla Cream
I actually don't know anyone who doesn't like strawberry cake. It belongs to spring and summer like no other cake and is baked by my family every year in June twice: for my brother's and my mother's birthday. The combination of a fluffy sponge cake, a thick layer of vanilla cream, and strawberries is just unbeatably delicious! If I could, I'd probably eat a slice of this lovely cake every afternoon for coffee until the much-too-short strawberry season is over again.
However, our strawberry sheet pan cake is not just tasty but also easy to prepare and, because of the large portion size, likely to make many people happy. We've already used a slightly smaller baking tray but if you prefer to bake this cake with a regular baking sheet, simply use one and a half times the ingredients.
The base for the cake is, as mentioned, a simple sponge cake batter, which is quickly prepared. On the sponge cake base, we spread a vanilla cream consisting of vegan curd and the vanilla custard and ground bourbon vanilla from "Biovegan". We use their products because they taste deliciously vanillary and are also 100% organic. However, we especially love the cooperative VanillAMI, which Biovegan founded in 2020 to directly support the vanilla farmers and their families in Madagascar. As part of the cooperative, Biovegan guarantees the purchase of the entire harvest of the farming families, who now number around 500 in total. In addition, they support the region's infrastructure, by building schools, providing safe medical care for the farming families, and by helping with reforestation projects that ensure sustainable agriculture.
In summary, the cooperative is a comprehensive project that stands for social and ecological commitment and supports fair and sustainable trade in addition to obtaining high-quality products. You can find more information about the project here.
But back to the cake. On top of the bourbon vanilla cream, we arrange sliced strawberries and pour a clear fruit glaze over them. As soon as the glaze has cooled down and is firm, the cake can go on your plate! If you do not have strawberries or don't want to use them, you can, of course, prepare the cake with other fruits. I can only recommend the combination of strawberries and vanilla, though!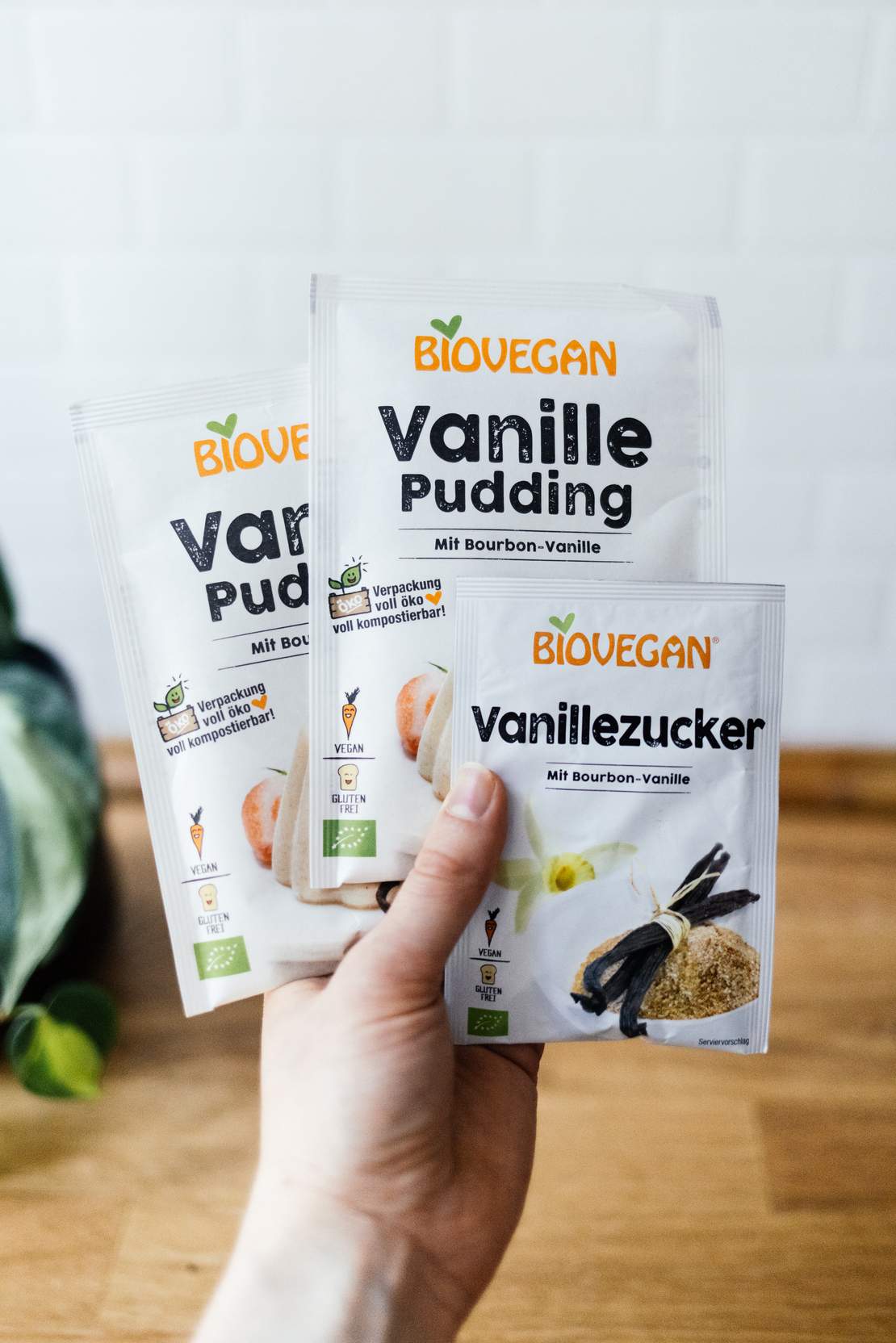 Vegan Strawberry Sheetpan Cake with Vanilla Cream
1 baking sheet (inner rim 32 x 41 cm/13 x 16 inches)
45 minutes (+ 90 minutes cooling time)
Ingredients
For the sponge cake batter:
220 g (1.75 cups) flour
150 g (0.66 cup) sugar
5 g (1 tsp) bourbon vanilla sugar (e.g. from Biovegan)
5 g (1 tsp) baking powder
50 ml (0.25 cup) vegetable oil
250 ml (1 cup) sparkling water
For the topping:
75 g (2.66 oz) vanilla custard powder (e.g. from Biovegan)
80 g (0.33 cup) sugar
800 ml (3.33 cups) plant-based milk
30 g (1 oz) agartine
100 ml (0.5 cup) cold water
400 g (14 oz) vegan curd
40 g (0.33 cup) powdered sugar
1 tsp ground bourbon vanilla (e.g. from Biovegan)
1 kg (2.25 lbs) strawberries
For the glaze:
24 g (0.75 oz) clear fruit glaze
70 g (0.33 cup) sugar
500 ml (2 cups) cold water
Instructions
Tip: We use a smaller baking sheet for this recipe. If you want to use a regular baking tray for the cake, just take one and a half times the amount of ingredients.
First, prepare the vanilla custard. To do this, mix 4 tbsp of sugar with 2 packets of custard powder and 300 ml (1.25 cups) of plant-based milk in a bowl, stirring well so no lumps form. Heat the remaining 500 ml (2 cups) of plant-based milk in a saucepan. Once the milk is warm, stir in the pudding mixture and bring to a boil for 2 minutes. Then remove from heat, cover with plastic wrap to prevent a skin from forming, and let cool.

Next, preheat the oven to 180°C/355°F (convection heat). In a large bowl, mix flour, sugar, vanilla sugar, and baking powder. Then add vegetable oil and sparkling water and stir briefly until no dry flour is visible anymore.

Grease a baking sheet (inner rim 32 x 41 cm/13 x 16 inches), dust with flour, and spread the batter on it. Bake for about 15-20 minutes at 180°C/355°F (convection heat) until the cake base is lightly browned. Use a toothpick to test whether the cake is baked through. Insert the wooden stick into the cake at an angle and pull it out again. If there are no cake crumbs sticking to it, the cake is done. If it's not yet done, leave it in the oven a little longer. Then remove the baking sheet from the oven and let the sponge cake dough cool down.
Tip: I use quite a bit of vanilla cream in the recipe because I love the cream so much. However, if you want less of it, you can reduce the amount and use only two-thirds of the ingredients.
While the dough bakes and cools, continue preparing the topping. For the bourbon vanilla cream, heat water and agartine in a saucepan. Once the liquid thickens a bit, gradually stir in the vegan curd, vanilla custard, powdered sugar, and ground vanilla. Let the cream simmer for at least 2 minutes, constantly stirring, so nothing burns or clumps. Then remove the vanilla cream from heat and spread it on the cooled cake base. Leave to cool until the cream has set.

Next, wash the strawberries, remove the stalks, and cut them into slices. Once the vanilla cream has set, arrange the strawberries on top of the cream.

Finally, prepare the cake glaze according to package instructions and pour it over the strawberries until they are almost entirely covered. Allow to set for at least one hour before serving.