Vegan "Scheiterhaufen" (Sweet Bread Casserole with Apples)
Some recipe names are a perfect fit. "Porridge," for example, sounds as warm and soft as it tastes. A "galette" sounds just as delicate and pretty as it looks. And then there is this one Bavarian dish called "Scheiterhaufen" (which translates to "pyre" in English). It might describe its look pretty well, but it doesn't do the sweet and fruity casserole justice.
But what is a "Scheiterhaufen" anyway? It's a dessert made of leftover bread, rum-soaked raisins, and fruit, and very easy to make. You just have to mix stale bread, raisins, and fruit in a casserole dish and douse everything with a mix of milk and eggs. That's it! So veganizing a "Scheiterhaufen" isn't that tricky. We kick the eggs and use plant-based milk instead of cow's milk. Making a plant-based vanilla sauce isn't too hard either.
So although the name may seem a bit off-putting, we couldn't recommend this sweet casserole more. It's quick and versatile. If you don't have any bread on hand, you could also use toast.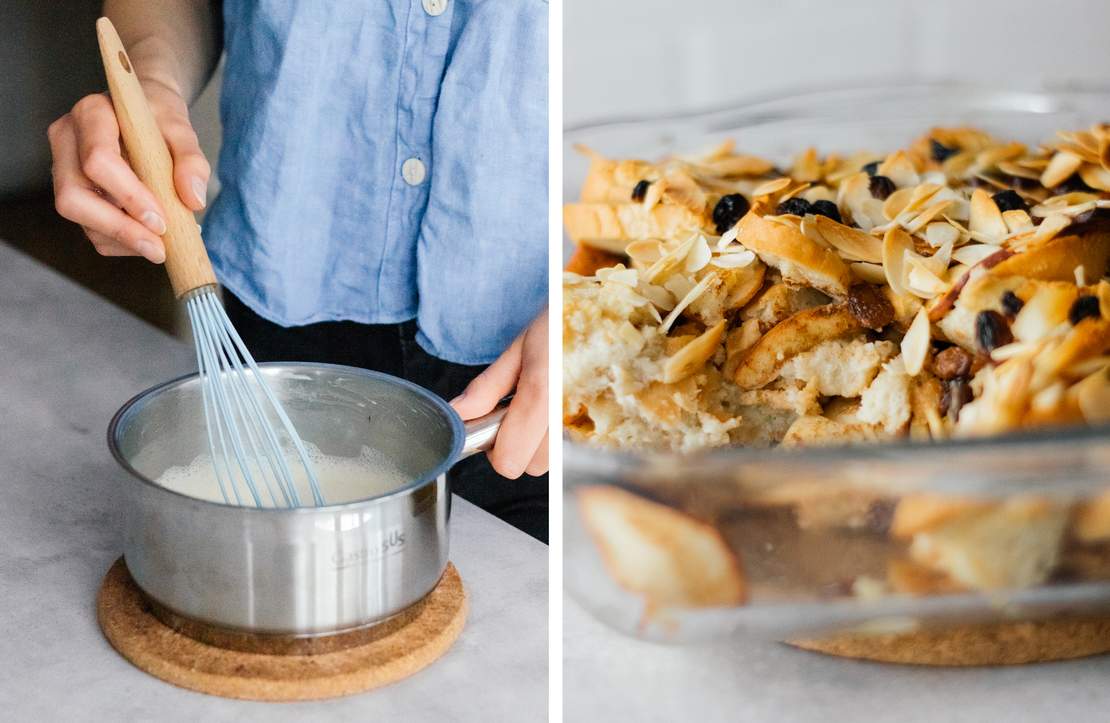 Vegan "Scheiterhaufen" (Sweet Bread Casserole with Apples)
1 casserole dish (22x22cm/8.5x8.5 inches)
20 minutes (+30 minutes baking time)
Ingredients
For the casserole:
400 ml (1.75 cups) plant-based milk
200 g (7 oz) stale bread
2-3 apples
1 tbsp cinnamon
30 g (0.25 cup) sugar
0.25 lemon (juice)
50 g (2 oz) raisins
50 g (2 oz) sliced almonds
For the vanilla sauce:
250 ml (1 cup) plant-based vanilla milk
15 g (2 tbsp) cornstarch
25 ml (1.5 tbsp) agave syrup
1 pinch of ground turmeric
Also:
vegan butter for greasing
Instructions
Heat plant-based milk until lukewarm. Coarsely chop the stale bread, and let soak in the lukewarm milk for about 10 minutes.

Preheat oven to 180°C/355°F (convection heat) and grease a casserole dish (22x22cm/8.5x8.5 inches) with vegan butter. Next, sliceapples and mix them with cinnamon, sugar, and lemon juice. Finally, add the soaked bread, apple slices, and raisins to the casserole dish and sprinkle sliced almonds on top. Bake the sweet casserole for about 30 minutes.

While the casserole is baking, heat plant-based vanilla milk in a small saucepan to prepare the vanilla sauce. Next, mix cornstarch with a few tablespoons of cold vanilla milk in a separate bowl until smooth and add it to the pot. Also add agave syrup and a pinch of turmeric and bring to a boil. Stir constantly until the sauce thickens. After about 3-4 minutes, remove from heat.

Serve the sweet bread casserole with warm vanilla sauce.