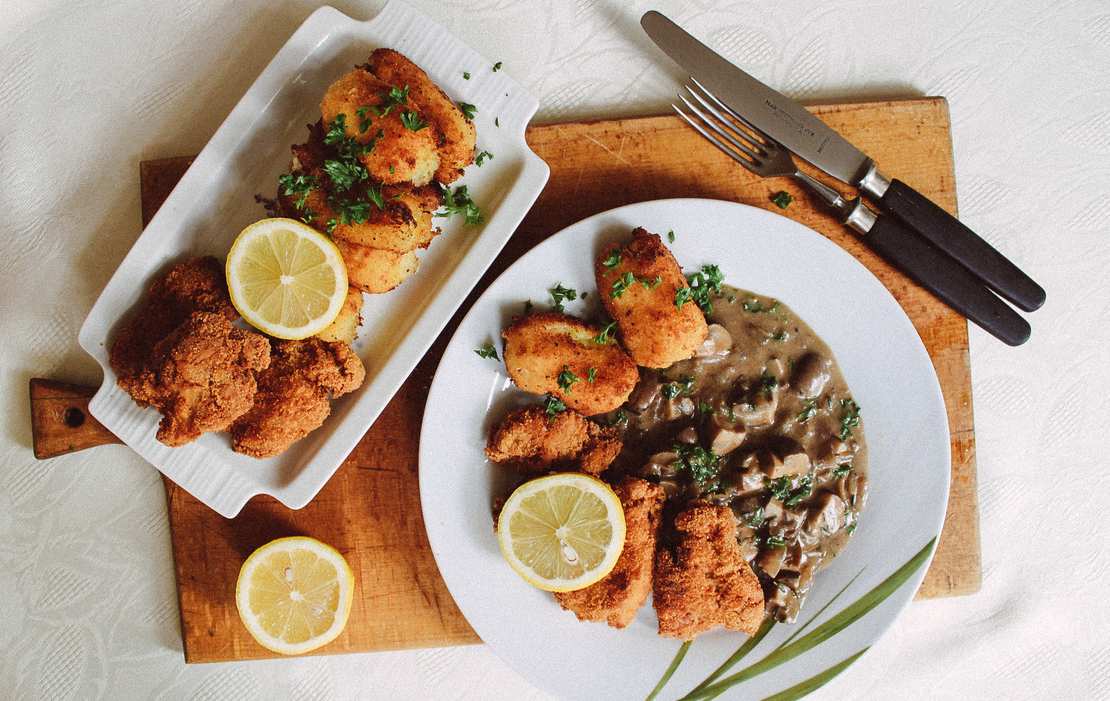 Vegan Schnitzel with handmade Croquettes
Vegan schnitzel rule: Breaded twice is better than once! For quite a few time, you can find a lot of vegan convenience products in supermarkets. You can buy vegan chicken or vegan gyro today, but it all started with vegan schnitzel in Germany. It was one of the first things offered. One of German's favorite dish seemed to enjoy its popularity even in the groups of vegetarians and vegans.
In principle, I am fine with convenience products. Of course don't fool yourself: Just because it's vegan, it is not healthy. But why should it be? Vegan is not all about eating healthy all the time, sometimes you want fast food and sometimes you want to eat unhealthy stuff. And why not? But still, I was no big fan of the vegan schnitzel from the supermarket because they all have a texture and taste that means nothing and everything, but definitely did not remind me of schnitzel.
This is why today we are presenting a recipe for you that's way easier than you would think. Surprise, surprise, you don't need egg to bread something! And to celebrate this happy "surprise" we bread twice today and throw some handmade croquettes in the air. Goodbye, freezer compartment!
Vegan Schnitzel
for 10 small schnitzel or 3 large ones
45 minutes
Ingredients
3 dry soy schnitzel or 10 -medaillons
500m l (1 cup) veggie stock
salt
pepper
paprika
2-3 tbsp mustard
250 g (8.8 oz breadcrumbs)
150 ml (0.6 cup) plant-based milk
150 g (5.3 oz) flour
oil
1 lemon
Instructions
Place dry soy meat in a large bowl and pour over with hot veggie stock until soy meat swims in it and gets soaked. Let it stand aside for 10 minutes.
Afterwards squeeze water out of soy meat, otherwise they will be wishy washy in the end. Season from both sides with salt, pepper and paprika and rub some mustard on them.
Time to bread soy meat! Take out three deep plates or bowls and put flour, plantbased milk and breadcrumbs in each of them separately.
First roll soy meat in flour, afterwards in plantbased milk and finish by covering them in breadcrumbs. This was round number one, because to get your schnitzel real crispy, you can now roll them into milk again and finish with a last layer of breadcrumbs.
Heat a lot of oil in a large pan - it should be that high, that your soy schnitzel will be able to float in it. As soon as it is hot, place schnitzel real carefully into your pan and do not burn yourself! Let the schnitzel roast from both sides until golden brown.
Afterwards drip off oil with a kitchen paper towel and serve schnitzel hot with a slice of lemon that you should squeeze out over the vegan schnitzel.
Handmade Croquettes
Ingredients
750 g (26.5 oz) floury potatoes
4 tbsp flour
1 tsp vegan butter
salt, pepper, nutmeg
200 g (7 oz) breadcrumbs
150 ml (0.6 cup) plantbased milk
100 g (3.5 oz) flour
1 bunch parsley
oil
Instructions
Peel potatoes and cut them into similar sized pieces. Place them in a pot and fill with water until completely covered. Salt water and bring to boil, afterwards let it simmer until potatoes are soft. Easily stick a fork into them to see if they are done.
Pour off water and mash potatoes a little. It's great to get this lumpy, so don't mash them too much.
Add vegan butter and flour, season with salt, pepper and nutmeg and let it cool down for 5 minuten.
Take out three bowls and fill with each flour, plantbased milk and breadcrumbs.
With your hands, form small croquettes or balls and roll them into flour, then plantbased milk and finally cover with breadcrumbs. Afterwards roll them into plantbased milk and some more breadcrumbs again to get them real crispy in the end.
Now you can decide whether to fry them in a pot with hot oil (about 320-340°F) or put them in the oven on a slightly oiled baking sheet at 320°F for 15 minutes. Make sure to turn them around several times.
Serve with chopped parsley.