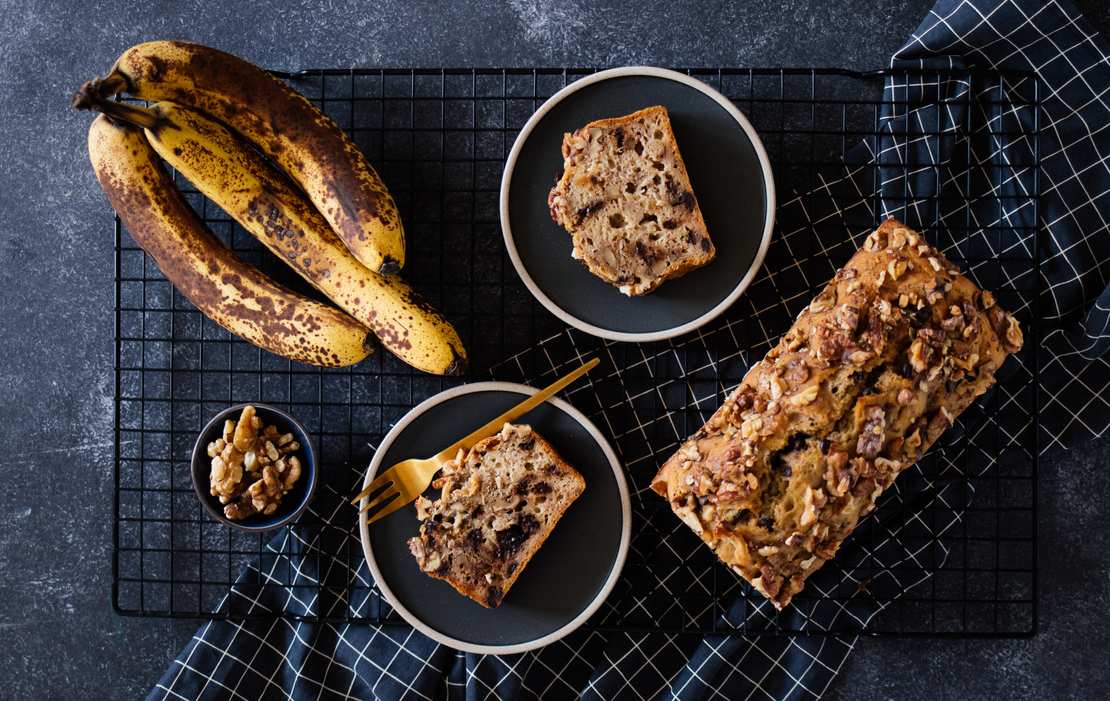 Vegan, simple banana bread with walnuts & chocolate
If there is a pastry that is very easy to prepare without animal products, then it's probably banana bread. Bananas are the ideal substitute for eggs because they give your cake a wonderfully juicy texture and are a perfect binding ingredient. It's very practical that you use bananas for a banana bread anyway, cause the answer for the missing eggs is found very quickly, guys.
The best bananas for vegan banana bread are covered with brown freckles and actually a bit "over the time". They are very sweet, which is why they replace not only the eggs but also the sugar in our recipe. I like bananas the most when they turn from green to yellow. So when I forget to eat my bananas, and they are already turned brown, I always use them to make banana bread. Baking instead of throwing away is the motto!
EDEKA supported us with this recipe, which makes us very happy! They have a pretty large selection of vegan products and everything you need for baking without milk and eggs. For the vegan banana bread, we used [EDEKA organic walnut kernels] (https://www.edeka.de/de/produkte/bio-edeka-walnusskerne-150g), which are natural and come from certified organic agriculture. We mixed the walnut kernels into the dough but also spread them on the cake before baking. This way, they roast in the oven and harmonize very well with the sweet bananas in the end! The bananas from EDEKA are cultivated in an environmentally and socially friendly way. More information is available [here] (https://www.edeka.de/nachhaltigkeit/edeka-banane/das-edeka-und-wwf-modellprojekt/index.jsp).
Vegan, simple banana bread with walnuts & chocolate
12 servings
15 minutes (+ 60 minutes baking time)
Ingredients
300 g spelled flour
10 g baking powder
a pinch of salt
2 ripe bananas
250 g apple sauce
135 ml plant-based milk
150 g EDEKA organic walnuts
75 g chocolate drops
Additionally
1 tbsp plant-based butter
1 tbsp spelled flour
Instructions
Preheat oven (circulating air) to 180 °C.
Mix the spelled flour, baking powder and salt in a large bowl.
In a second bowl, mash two peeled bananas with a fork.
Add the apple sauce and the plant-based milk to the bananas and stir well.
Gradually add the moist ingredients to the flour.
Coarsely chop the walnuts and stir in 100 g of the walnuts together with the chocolate drops. Set aside 50 g of the chopped walnuts.
Grease the baking tin with the plant-based butter and sprinkle with some spelled flour.
Put the dough in the baking tin and add the remaining 50 g of walnuts on top of the dough.
Bake the banana bread at 180 ° C (circulating air) on a medium rack for about 60 minutes. Cover with foil after about 30 - 40 minutes to prevent the walnuts from burning. After baking, let cool and divide into 12 pieces.