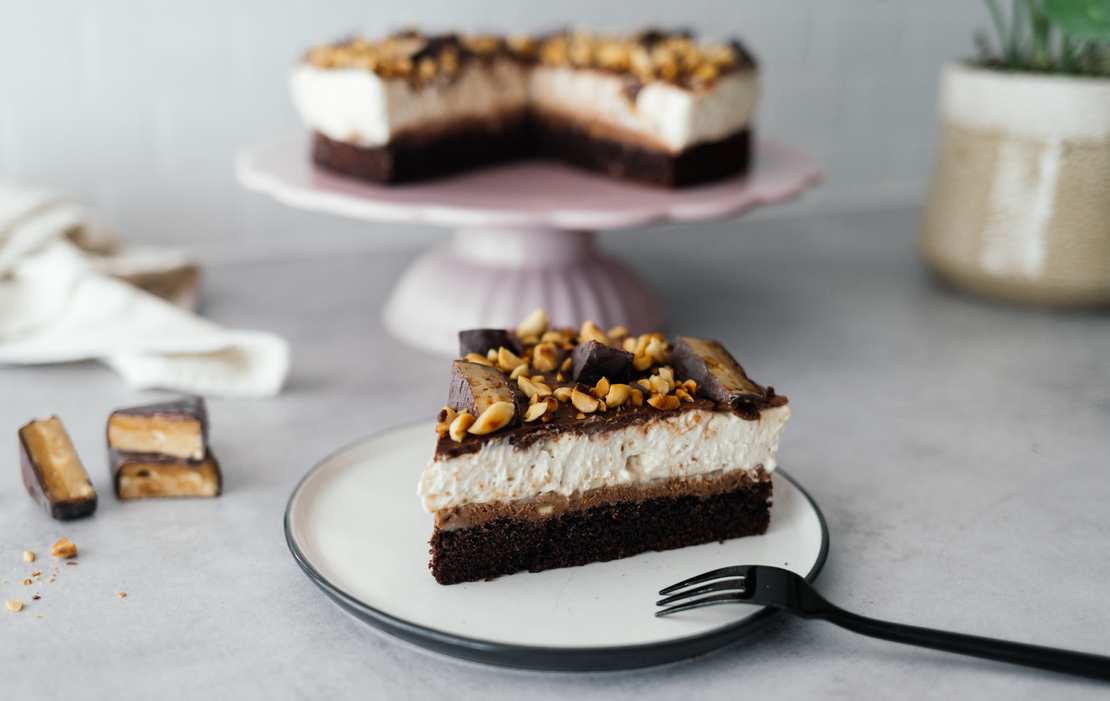 I can't even tell you exactly when my love for peanuts began. But I know it's been around for a very, very long time. Whether as peanut butter in muesli, toasted nuts over a meal, a salted snack for a movie night, or chopped in a cake – I just love peanuts always, at any time at day or night. Thus, you can imagine how much I used to love Snickers. But since they're unfortunately not vegan, I couldn't eat them for ages because there was no good plant-based substitute. But that's about to change! Veganz now has a vegan Choc Bar Peanut Caramel in its range. When I tried it, I was briefly relegated back to my childhood because it reminds me so much of Snickers: creamy caramel and crunchy peanuts meet a delicious chocolate layer (plus, it contains a third less sugar than the original one). Delicious!
Which recipe would go better with vegan snickers than a vegan snickers cake? Well, I can't think of anything. And who would rather develop that recipe than me? Well, there you go. So I went straight into the test kitchen, and not long after, a delicious and easy-to-make cake came out that convinced everyone at the office. The bottom layer consists of a simple and fluffy chocolate sponge cake. On top of it is a layer of the vegan Choc Bar Peanut Caramel Bar from Veganz. The bar contains only organic ingredients and is completely free of palm oil. Veganz generally focuses a lot on sustainability: the packaging consists of recyclable products and the bar also received the top score in the "Veganz Sustainability Score". I melted the bar and mixed it with some vegan cream, so the layer remains soft even after cooling. Next comes a vegan yogurt, cream, and peanut butter layer, and to round it all off, I melted some dark chocolate and mixed it with vegan cream to make a ganache, which goes on top of everything. To make the cake look even prettier, I chopped some more peanut caramel bars and toasted peanuts for garnish. And there you have it, the perfect cake that can be enjoyed at any time of the year. The fact that the cream layer is mainly plant-based curd also makes the cake the perfect guest on any summer cake buffet, I promise!
If you're not a peanut or caramel fan, that makes me a little sad, but even then, we have plenty other cakes and pies that you might like better: How about a summery vegan coconut lime cake, a vegan spaghetti ice cream cake, a vegan almond cake, or more of a fruity vegan grape cake with plant-based yogurt? We have a lot to choose from. But now off to the kitchen with you! We are looking forward to seeing lots of photos of your baked cakes and tarts.
Vegan Snickers Cake
1 springform pan (∅ 22 cm / 8.5 inches)
60 minutes (+ 30 minutes baking time & cooling time)
Ingredients
For the chocolate cake:
180 g (1.5 cups) spelt flour type 630 or wheat flour type 405
40 g (0.33 cup) unsweetened baking powder
150 g (0.75 cup) sugar
1 tsp (5 g) vanilla sugar
1 tsp (5 g) baking powder
50 ml (0.25 cup) neutral vegetable oil
250 ml (1 cup) sparkling water
vegan butter or oil for greasing
For the peanut cream:
100 ml (0.5 cup) plant-based cream for whipping
2 tsp cream stiffener
1.5 tsp vanilla sugar
100 ml (0.33 cup) water
20 g (1 oz) agar powder (25 % agar agar)
50 g (0.25 cup) sugar
400 g (14 oz) plant-based curd
70 g (2.5 oz) creamy peanut butter
For the peanut caramel layer:
200 g (7 oz / 4 bars) vegan snickers bar (e.g. Choc Bar Peanut Caramel from Veganz)
100 ml (0.5 cup) plant-based cooking cream
For the ganache:
150 g (5.5 oz) vegan dark chocolate
75 ml (0.33 cup) plant-based cooking cream
For garnish:
50 g (2 oz) peanuts
100 g (3.5 oz / 2 bars) vegan snickers bar (e.g. Choc Bar Peanut Caramel from Veganz)
Instructions
Preheat the oven to 180°C/355°F (convection heat). For the chocolate cake batter, mix spelt flour, unsweetened baking powder, sugar, vanilla sugar, and baking powder in a bowl. Add neutral plant-based oil and sparkling water and mix gently with a whisk.

Grease a springform pan (∅22 cm/8.5 inches) with vegan butter or oil. Pour the cake batter into the pan and bake at 180°C/355°F (convection heat) for about 30 minutes. Test with a toothpick if the cake is baked through. Depending on the color and the test, increase or decrease the baking time. Let the cake cool well afterward.
Tip: To test if the cake is done, insert a small wooden skewer into the cake at an angle and pull it out again. If there are no crumbs sticking to it, the cake is done.
For the peanut cream, whip vegan whipping cream with cream stiffener and vanilla sugar until stiff. Then refrigerate the cream until later.

In a large saucepan, whisk together water and agartine powder and bring the mix to a boil. It should boil vigorously for at least 2 minutes while whisking it constantly. Remove the saucepan from heat and whisk in sugar and vegan curd, spoon by spoon (!), to avoid lumps forming. Finally, add the peanut butter and stir until combined.

When the peanut butter mixture has cooled down, carefully fold in the whipped plant-based cream. Then refrigerate the peanut cream until later.

For the peanut-caramel layer, chop the vegan snickers and add them along with vegan cooking cream to a small saucepan. Melt over low heat, then remove from heat and let cool slightly.

For the ganache, roughly chop the vegan chocolate and melt it over a double boiler. Then add vegan cooking cream and stir well until a thick ganache forms. Allow cooling slightly.

For garnish, chop the peanuts and toast them in a frying pan over medium heat until they're lightly browned. Cut the remaining vegan snickers into pieces. Set both aside.

Carefully level the top layer of the cold sponge cake with a cake cutter. Alternatively, a sharp, long (bread) knife will also work.

Place the cake base on a cake plate and spread the melted snickers bar and cream mixture evenly on top. Now fix the sponge cake base in a cake ring so the peanut cream can be spread on top without anything running down. Then pour the cooled ganache evenly over the cake. Before the cake rests in the refrigerator overnight, garnish it with chopped vegan snicker bar chunks and toasted peanuts.