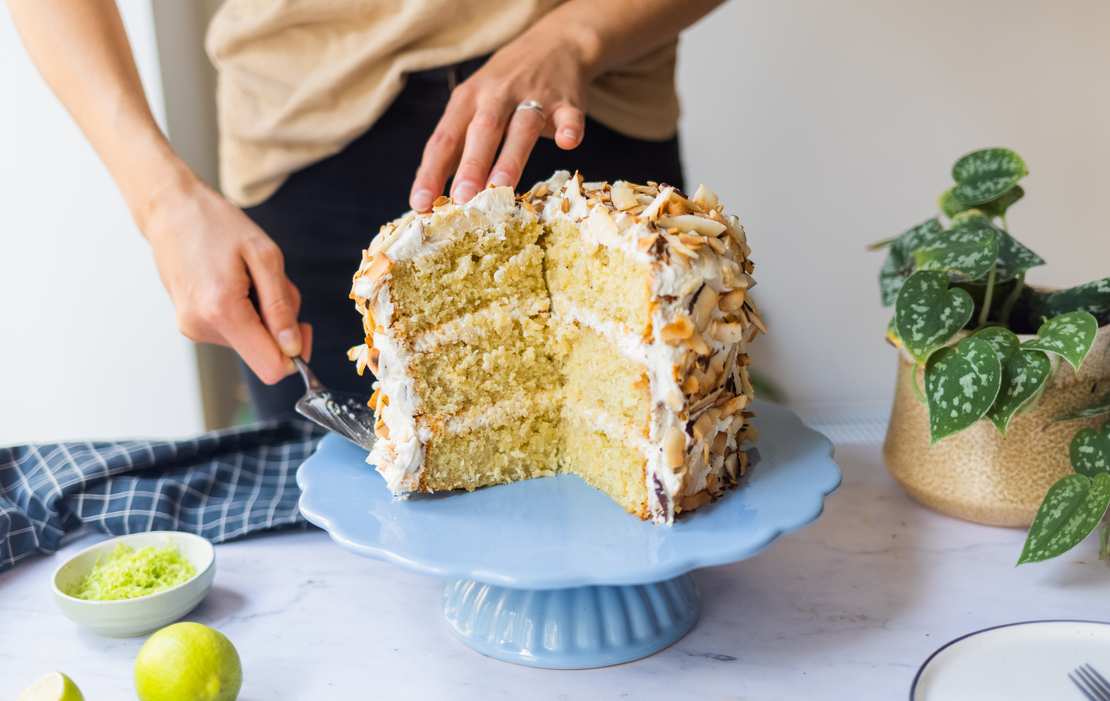 There are countless reasons to take the time to make a three-tier cake! They aren't only an eye-catcher at birthdays, weddings, and garden parties but also at the next coffee date with grandma and grandpa. But even if there's no big occasion coming up, you can, of course, bake this beautiful cake. It tastes like summer, weekend, and vacation, and we definitely all need that after the last two years, right? In addition, coconut and lime is also an absolute dream combination. Or what do you think? Such a cake is always associated with some time. For us, however, baking is almost meditative and an excellent balance to the daily office work. Now the cake is in front of us, and we're even more excited and proud of this pretty sight. But before you get started, we've got a few tips for you.
The bases: We baked all the bases individually. This takes a little longer, of course, but is recommended for so many bases. If you bake the entire dough in a springform pan, it can happen that the dough is still raw in the middle and already too dark at the edge. If this happens, don't worry - just put some aluminum foil over it and continue baking. If you bake the sponge cake bases individually, you must directly mix the batter just before baking. Otherwise, the cake won't be so fluffy during baking. It's also essential with a sponge cake that it's mixed very carefully. Give the cake layers enough time to cool down!
We mixed the batter in the "Titanium Chef Patissier XL" stand mixer from Kenwood. This one has some really great built-in features that make cake baking easier. With the "EasyWeigh scale", all ingredients can be weighed directly in the mixing bowl. It also saves a lot of time working with the machine. With the "sponge mixture" program, our batter was mixed very carefully without losing fluffiness. If you don't have a stand mixer, it's best to use a whisk instead of a hand mixer.
The coconut cream: Of course, we also mixed the ingredients for this in the kitchen machine from Kenwood. This also went super easy, as there's also the matching program for whipping cream for this. To solidify the cream, we boiled agartine and stirred it into the cream. Make sure that the agartine boils for two minutes before you continue using it. The agartine we used contains 30 % agar agar. Make sure you find one with similar content. Otherwise, your consistency may be quite different. A little tip at the end: Add the cold yogurt-curd cream by spoonfuls to the boiled argatine while stirring constantly and never the other way around, otherwise it can quickly become stiff. However, if this should happen, you can blend the mixture once to avoid having small pieces of argatine in the cream.
The decoration: Here, we toast coconut chips in a pan until they're nicely browned. This gives them a delicious toasted flavor. The brownish color also ends up looking good as a contrast on the cake. You can optionally sprinkle the lime zest over the cake at the end or spread it on the cut pieces on the plate, like we did. Soooo, enough tips and tricks from us. Now it's your turn. We are looking forward to seeing pictures of your creations!
Vegan Coconut Lime Cake
1 springform pan (∅ 18 cm / 7 inches)
45 minutes (+ 180 minutes baking and cooling time)
Ingredients
For the 3 sponge cakes:
525 g (18.75 oz) flour type 405
150 g (5.25 oz) coconut flakes
300 g (10.5 oz) sugar
24 g (0.75 oz) vanilla sugar
24 g (0.75 oz) baking powder
9 limes (zest and juice)
600 ml (2.25 cup) sparkling water
150 ml (0.75 cup) neutral plant-based oil (rapeseed or sunflower oil)
For the coconut cream:
300 ml (1.25 cups) vegan whipped cream
16 g (0.5 oz) cream stiffener
16 g (0.5 oz) vanilla sugar
75 ml (0.33 cup) water
75 ml (0.33 cup) canned coconut milk
30 g (1oz) agar agar (30 %)
75 g (2.66 oz) sugar
300 g (10.5 oz) vegan curd cheese
300 g (10.5 oz) vegan coconut yogurt
Also:
150 g (5.33 oz) coconut chips (toast)
optinal: lime zest
Instructions
Preheat the oven to 180°C/350°F (circulating air). Mix 1/3 of the ingredients for the sponge cake in a bowl. First, start with the dry ingredients: 175 g (6.25 oz) flour, 50 g (1.75 oz) desiccated coconut, 100 g (3.5 oz) sugar, 8 g (0.25 oz) vanilla sugar, and 8 g (0.25 oz) baking powder. Now add the lime zest and then the lime juice from 3 limes. Finally, add 200 ml (0.75 cup) of sparkling water and 50 ml (0.25 cup) of neutral plant-based oil and stir in as briefly as possible. Mix gently with a stand mixer or whisk.

Pour the batter into a springform pan (18 cm/7-inch diameter) and bake for approx. 30 minutes at 180°C/350°F (circulating air). Before taking the cake out, it's good to test it with a chopstick to see if it's baked through. Repeat these steps two more times, so you get three sponge cakes at the end.

For the coconut cream, first whip the vegan cream with cream stiffener and vanilla sugar. Set aside (at room temperature).

In a large saucepan, mix water, coconut milk, and agar agar with a whisk and bring to a boil. The mixture should boil vigorously for at least 2 minutes. Stir continuously with a whisk.

Remove the saucepan from heat and whisk in the sugar, vegan curd, and vegan coconut yogurt.

When the mixture has cooled completely, carefully fold in the whipped cream and refrigerate.

Place the coconut chips in a large frying pan and toast over medium heat until lightly browned.

Once the coconut cream has thickened a bit and the three sponge cakes are completely cooled down, use a piping bag to spread the cream in a ring on the bottom cake layer. Place the second sponge cake on top and spread the cream again. Do the same with the third sponge cake, and then spread the rest of the cream around the cake. Gently press the cooled coconut chips onto the cake. Optionally, decorate with lime zest too. Refrigerate the cake until ready to serve.
Tip: We prepared the cake in the "Titanium Chef Patissier XL" stand mixer from Kenwood and were able to implement step 1 directly in the stand mixer by using the "sponge mixture" function! We also weighed the cream for the coconut cream directly in the stand mixer and whipped it until stiff. So practical!