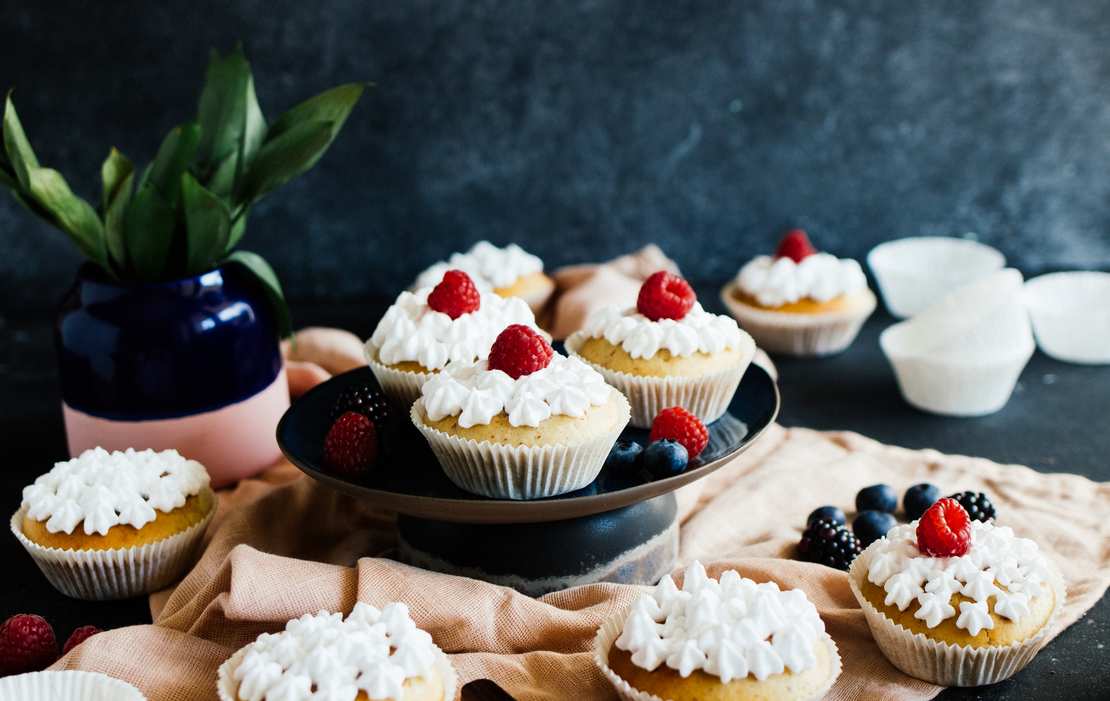 Vegan Stuffed Raspberry Muffins
We try to make full use of the fruit and vegetable seasons every year. In April and May, we buy asparagus and strawberries as if there was no tomorrow. In the summertime, we scarf watermelons, and in autumn, we add pumpkin to almost every dish. The berry season (mainly) from June to August is also one of our favorites. So we try to develop as many berry recipes for you as possible.
We've prepared a very simple recipe for you that's especially suitable for beginners because it's so simple that you can hardly do anything wrong. It only takes a few minutes to prepare the simple muffin dough! You can bake the muffins in paper cups, a muffin tin, or silicone cupcake cases. In the middle of the dough, we added raspberry jam, which you can also prepare yourself. After your muffins have cooled down completely, we decorated them with whipped vegan cream and a few fresh raspberries.
Of course, this recipe also works with other berries and fruits. And: It's also a great gift idea for Mother's Day, and we always go best with handmade presents. Goodbye coupons and lame presents bought last-minute – handmade presents are the key to your mother's heart (and by the way, they are the key to most everyone's heart!). So let's meet in the kitchen and bake these filled muffins with raspberry jam, deliver them to your mother, drink coffee with her and say: Thank you, mom!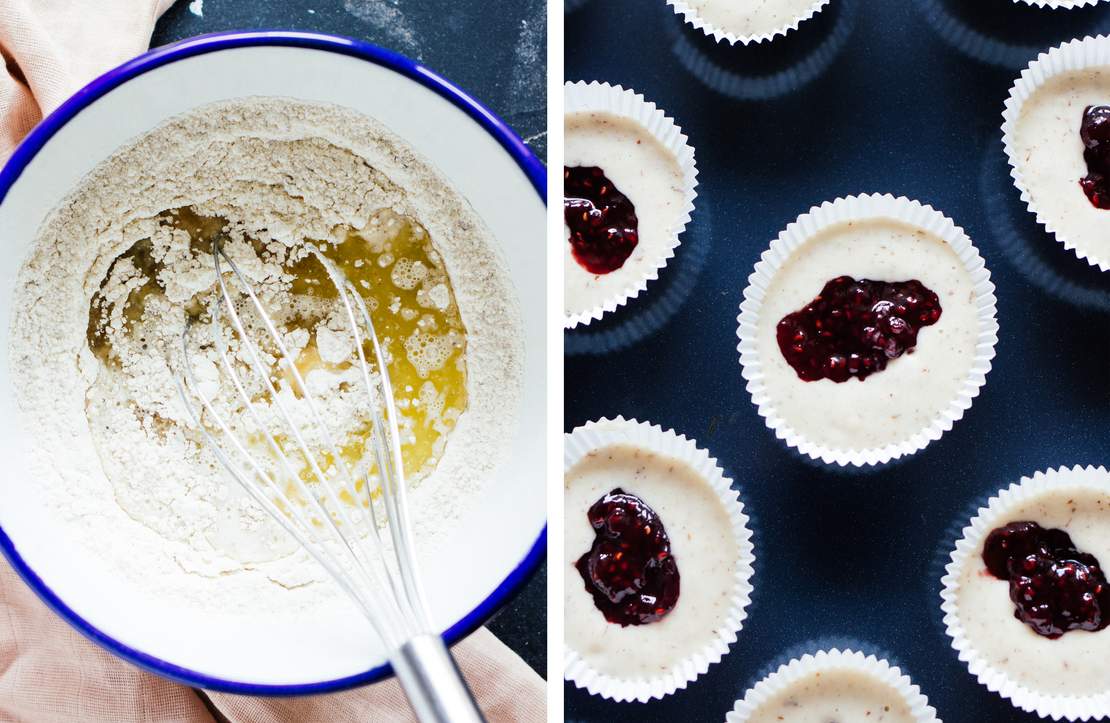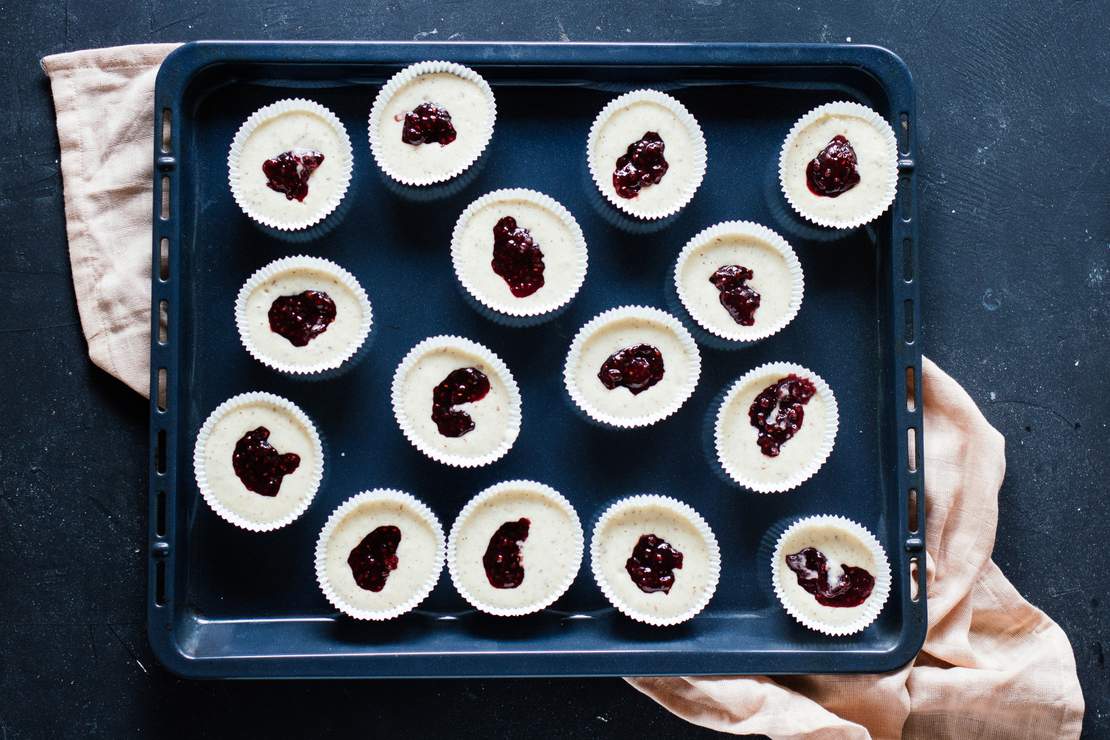 Vegan, Stuffed Raspberry Muffins
Ingredients
Dough
250 g (2 cups) flour
20 g (0.7 oz) starch
50 g (1.75 oz) ground almonds
200 g (1 cup) sugar
8 g (0.28 oz) baking powder
8 g (0.28 oz) vanilla sugar
200 ml (0.85 cup) plant-based milk
50 ml (0.2 cup) rapeseed oil
50 ml (0.2 cup) sparkling water
Also
100 g (3.5 oz) raspberry jam
200 ml (0.85 cups) vegan cream for whipping
8 g (0.28 oz) cream stiffener
8 g (0.28 oz) vanilla sugar
Instructions
Mix flour, corn starch, ground almonds, sugar, baking powder and vanilla sugar in a bowl. Little by little, stir in plant-based milk, rapeseed oil, and sparkling water until combined and the dough is smooth.
In a second bowl, stir raspberry jam until smooth.
Preheat oven to 180°C/355°F (circulating air). If needed, grease (with oil or vegan butter) and flour muffin tins. Add dough until half of the tins are filled, then add 2 tsp of raspberry jam to each muffin. Cover with some more dough.
Bake at 180°C/355°F for approx. 25 minutes. You can test their doneness with a toothpick – stick it in muffins if they come out clean, the dough is done! Afterward, let muffins cool down.
Whip vegan cream with cream stiffener and vanilla sugar and transfer to a piping bag or a freezer bag. Pipe whip cream on muffins. Garnish with more raspberries or some cane sugar.