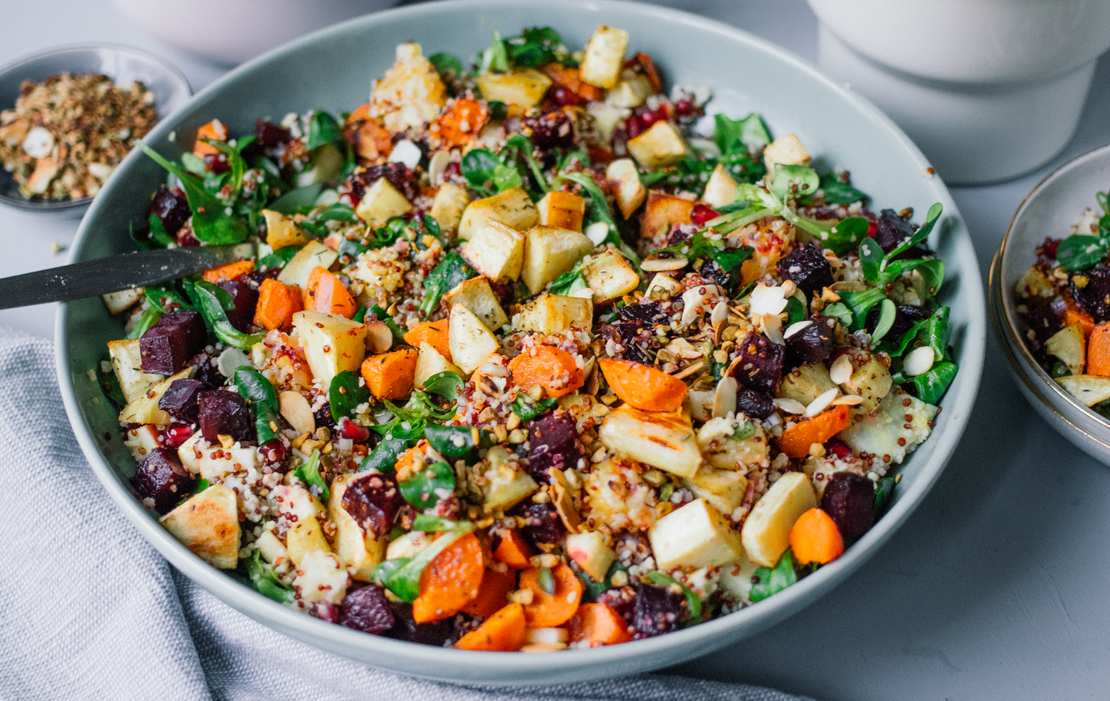 Winter Salad with Couscous, Quinoa, Roasted Veggies and Turmeric Dressing
Some people say that we should publish salad recipes more often on the blog. Some even think that we eat comfort food 24/7. But both assumptions are actually not true, as we can prove with this salad category. We actually eat salad often, and when we do, we like to do it 'right'. So instead of just throwing together a few cucumbers and iceberg lettuce, we love to combine various flavors and consistencies. With salads, you can get really creative and rarely have to follow recipes. You can also use this recipe in this manner and adjust the ingredients according to season and your taste.
The grains: I wanted to make a couscous salad, but then there was this little amount of red quinoa lying around, so both of them ended up in this salad. Depending on what you find in the kitchen, you can also use only one of them, or use buckwheat, farro, or another grain of choice.
Oven vegetables: Take a look at the vegetable department in your fridge and use what you find in there, depending on the season. We like to place beetroot a bit separate from the other vegetables on a baking sheet in order to avoid all-red veggies after baking. Instead of seasoning all vegetables with the same spices, try to season them individually.
Fresh ingredients: You don't like lamb's lettuce? Lucky you – every other type of greens works just as fine. You don't like to eat raw onions? Just kick them out. This salad contains so many different ingredients that it's really no problem to leave out some of them.
The toppings: The same applies to the toasted nuts as a crunchy topping. If you don't like pistachios, just switch in almonds, cashews, or any other nut you like. However, don't skip the step of toasting them in a pan, as this adds such a wonderful flavor to your salad.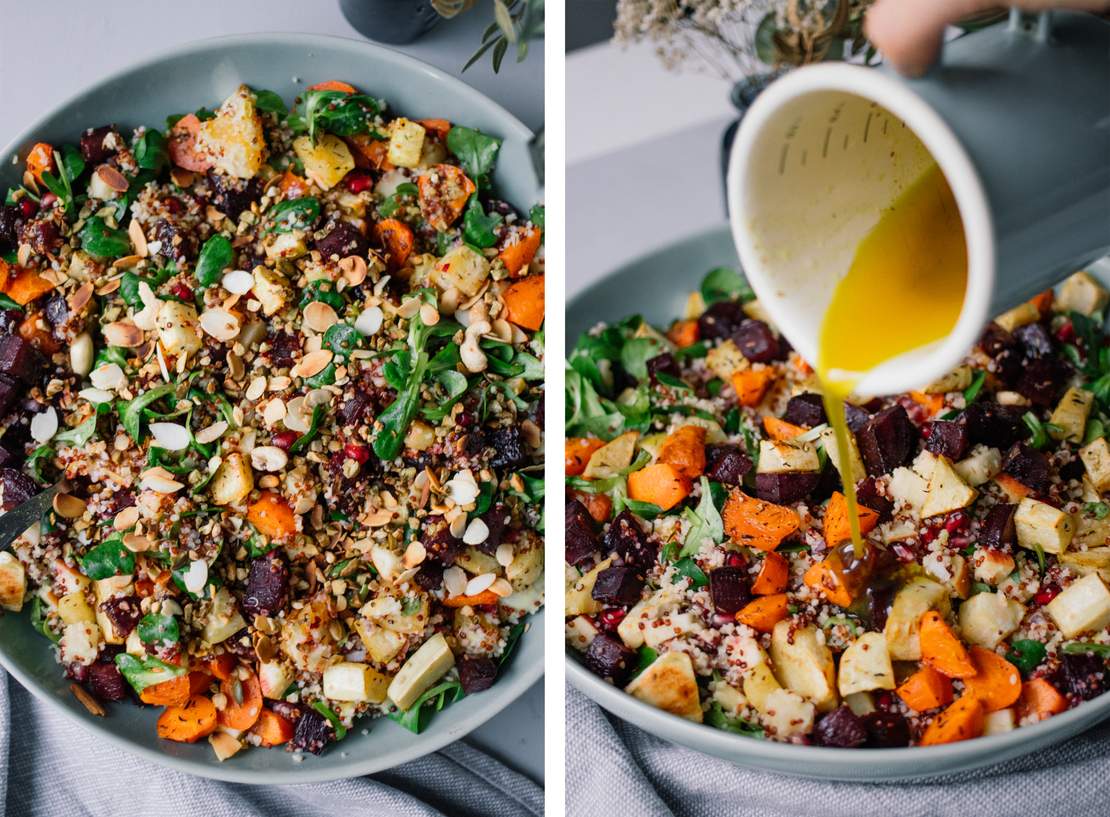 Winter Salad with Couscous, Quinoa, Roasted Veggies and Turmeric Dressing
Ingredients
50 g (0.25 cup) couscous
50 g (0.25 cup) red quinoa
200 g (7 oz) parsnip
2 carrots
1 tsp dried rosemary
0.5 tsp cumin
0.5 tsp dried thyme
150 g (5.5 oz) beetroot
1 pomegranate
1 orange
1 apple
1 red onion
50 g (2 oz) lamb's lettuce
50 g (2 oz) pistachios
salt
For the dressing:
6 tbsp olive oil
1.5 tsp turmeric
0.5 tsp sumach
2 tsp lemon juice
1.5 tsp mustard
3 tsp maple syrup
salt
pepper
Instructions
Add couscous and a pinch of salt to a bowl and cover with hot water. Cover the bowl and let the couscous cook for approx. 5 minutes, or until the water has been absorbed. Remove the lid, fluff up with a fork and let the couscous cool down.

Parallelly, rinse quinoa underwater, then add it to a pot with a double amount of water. Season with a pinch of salt and bring to a boil. Then cover the pot with a lid and let the quinoa cook for approx. 15 minutes over medium heat. Afterward, let cool down.

Preheat oven to 200°C/390°F. While the couscous and quinoa cook, peel parsnip and beetroot and together with carrots chop into bite-sized pieces. Add carrots and parsnip to one half of a baking sheet and transfer beetroot to the other half of it. Drizzle everything with olive oil and season with salt and pepper. Add extra dried rosemary and cumin to the carrot-parsnip mixture, and season the beetroot with dried thyme. Roast in the oven for approx. 20 minutes.

In the meantime, deseed the pomegranate. Chop orange and apple, finely dice the red onion and prepare lamb's lettuce. Toast pistachios in a fat-free frying pan until browned, then set aside.

For the dressing, mix olive oil, turmeric, sumach, lemon juice, mustard, and maple syrup in a bowl. Season with salt and pepper to taste.

For serving, add couscous, quinoa, oven vegetables, fresh fruit and veggies, and dressing to a large bowl and toss to coat. Sprinkle toasted pistachios on top.