Vegan Almond Pancakes with Homemade Lemon Curd
Wintertime is approaching and that also means: it's cold season again! As if nature had arranged it just like that, the season of citrus fruits starts at t at the same time, which provide us, among other things, with plenty of vitamin C. You read that right – although we can buy lemons, oranges and the like all year round, they do have a season and that's exactly when we should celebrate them properly. And how could the start be even better than with an 8 kg (17.5 lbs) box full of lemons?
The sight of this box was really an absolute highlight and highly motivating and inspiring for us – the options on what to do with so many lemons are endless! We turned the first ones directly into homemade lemon curd. You probably know the wonderfully glossy, fragrant, almost pudding-like cream as a spread for scones from the UK or as a filling for a lemon meringue pie. Normally, quite a few eggs are beaten for this which makes it difficult to use a plant-based egg substitute in our vegan recipe.So instead we prepare a cream based on plant-based milk, sugar and vegan butter, which is flavored with plenty of lemon juice and zest and then thickened with cornstarchWhen it comes to thickening your lemon curd, you can proceed according to your preference and prepare your cream more liquid or creamy, as you wish. Keep in mind, however, that it will continue to thicken and solidify as it cools. Lemon curd is a great idea if you need to use up a lot of lemons and want to preserve them – the cream will keep in your refrigerator for a few weeks if you seal it in an airtight jar.
Of course, you could now also make scones for your lemon curd, but somehow, we had a pile of pancakes in our mind, over which we pour our homemade lemon cream. We made our pancakes a bit nuttier, because almonds and lemons always go fantastically together. This can be done easily by replacing some of the flour with ground almonds. If you are allergic to almonds, you could also make this with ground hazelnuts or go completely nut-free replacing the ground nuts with flour.
Surely you are now wondering where we got a box of 8 kg (17.5 lbs) lemons from. The online delivery service "gebana" makes it possible. We have already introduced it to you in a podcast episode, in which we talked about fair trade. "gebana" has made it its goal to make international trade fairer and more sustainable and not to rest on existing standards, but to constantly develop and improve them. Instead of working with middlemen, they work directly with local producers – in the case of their citrus fruits, for example, with 53 farming families from Greece. They also share sales with them – in addition to organic and fair trade premiums. As with all their products, you can find out exactly how the lemons are grown, harvested and transported, what the working conditions are like locally, and even what gebana is currently working on to improve things, on the gebana website.
So how does the ordering system work? You can pre-order the lemons in their online shop until November 14th, in order to receive your own large box asap, in which between 32 and 56 lemons will be waiting for you – depending on the size of the fruit in the respective harvest. There are also more delivery options forDecember and January. With our code "gebanaundjagdwurst", you can save 10 € in their online shop on an order with a minimum order value of 40 €, so also if you want to order even more boxes full of citrus fruits like oranges, grapefruits or clementines.
And if you need more recipe ideas for your box of lemons, we suggest our lemon and poppy seed cake, our lemon and poppy seed pretzels, a vegan lemon upside down cake and vegan lemon cupcakes.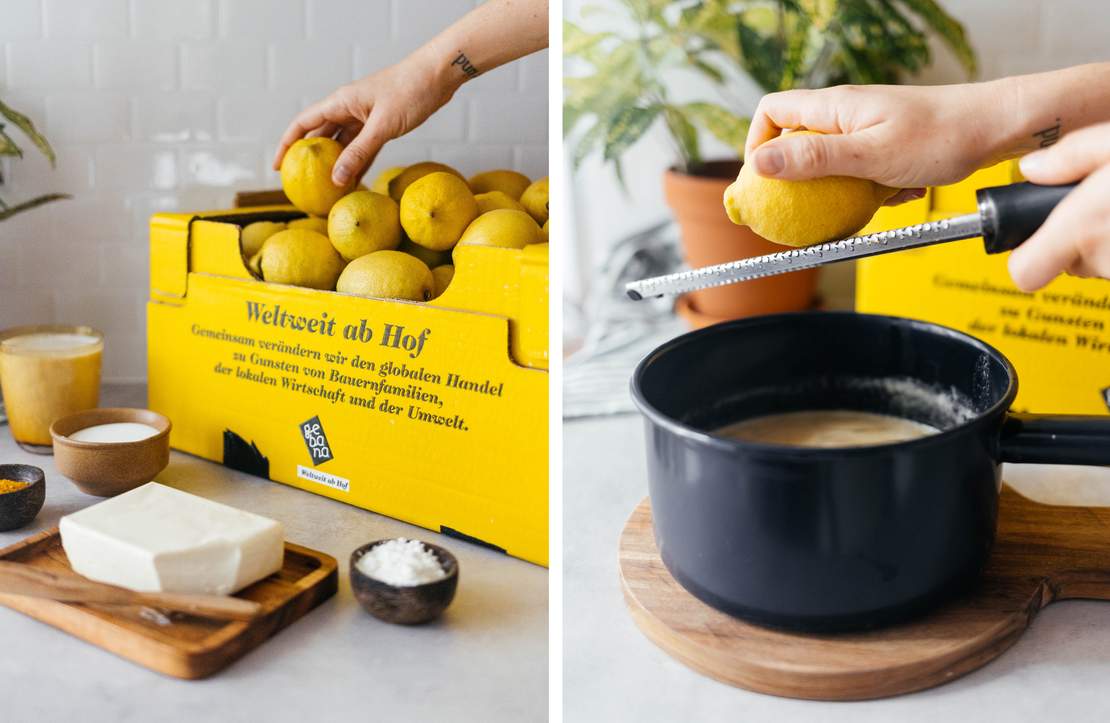 Vegan Almond Pancakes with Homemade Lemon Curd
6 Pancakes
45 minutes (+ 10 minutes resting time + cooling time)
Ingredients
For the lemon curd:
150 ml (0.66 cup) plant-based milk
200 ml (1 cup) fresh lemon juice
100 g (3.5 oz) sugar
125 g (1 stick) vegan butter
1 pinch of salt
2 lemons (zest)
3 tbsp cornstarch
1 pinch of ground turmeric (optional)
For the almond pancakes:
75 ml (0.33 cup) plant-based milk
2 tsp lemon juice
40 g (0.33 cup) flour
40 g (0.33 cup) ground almonds
1 tbsp sugar
5 g (1 tsp) vanilla sugar
2.5 g (0.5 tsp) baking powder
1 pinch of salt
vegan butter or vegetable oil for frying
For serving:
Instructions
For the lemon curd, place 125 ml (0.5 cup) of the plant-based milk, lemon juice, sugar, vegan butter, and salt in a small saucepan and heat over low heat whilestirring until the vegan butter has melted.

Next, stir in lemon zest. If you want a bolder yellow color, you can add some turmeric. Then simmer on low heat for about 2-3 minutes.

Whisk cornstarch with the remaining plant-based milk and add the mixture to the saucepan, stirring directly to prevent lumps from forming. Simmer while stirring from time to time, until you reach the desired consistency. Then allow your lemon curd to cool and transfer to an airtight jar. This way, the vegan lemon curd will last in the fridge for about 1-2 weeks.
Tip: Less cornstarch is sufficient if you prefer a more liquid lemon curd (e.g. as a topping for desserts and cakes). Also, note that the lemon curd will become a little more solid as it cools.
For the pancakes, first, prepare the vegan buttermilk. To do this, add the lemon juice to the plant-based milk and let it sit for at least 10 minutes.

Mix flour with ground almonds, sugar, vanilla sugar, baking powder, and a pinch of salt in a bowl. Now carefully add the vegan buttermilk to the dry ingredients. Stir only briefly. There may still be lumps of flour to be seen. This will make the pancakes extra fluffy.

Heat a frying pan over medium heat. Add vegan butter or vegetable oil to the pan and fry the pancakes from both sides until they're golden brown.

Serve the pancakes with vegan lemon curd and toasted sliced almonds.