Zoodle Salad with Shredded Tofu
Zoodles are the perfect summertime companion for me. They are easy and quick to make, have lots of vitamins and are perfect to avoid the lunch (noodle) low. Yes, we also put some "regular" spaghetti in the salad, but you can leave them out if you want. You can also change the vegetables according to your mood. You don't feel like olives or artichokes? Then just leave them out or replace them with dried tomatoes or fried eggplant. There's no right or wrong here.
Now, what exactly is shredded tofu?
Shredded tofu is nothing more than shredded tofu. You can marinate and season it to your taste and sauté it in a pan or mix it raw into a salad. And it also makes a great addition to wraps or sandwiches. It definitely is a new taste experience to eat it grated. Be sure to give this a try!
What if you don't have a spiral slicer?
You can make the salad anyway, but it's a bit more work since you'll have to cut the zucchini and carrots into thin strips by hand, unfortunately. If that's too much work for you, you can also cut slices or cubes. Otherwise, I can only recommend you to get a spiral slicer. It's worth it!
If you are now in the mood for vegetable noodles, we can provide you with other recipes: We already have one so far Green Goddess Pasta, which hides the green spaghetti or Zoodles with a Sweet Potato Cashew Sauce.
But now let's get to the spices of the salad, because as with any good meal that's probably the most important thing. Often, there are long lists of ingredients with many different spices, but that is not the case with our dish today, because we have exactly one spice blend that is an absolute allrounder. (Alright, pepper and salt are additionally included). The Umami spice blend by Sonnentor consists of quite a few different dried vegetables – and all in organic quality. Umami is the sixth flavor in addition to sweet, sour, spicy, bitter and salty. The word comes from the Japanese and means "savory". Thus, the spice is wonderfully suited to all hearty dishes such as soups, stews, casseroles and co.
To give the salad even more flavor, we add the tomato paste by Mani Bläuel to the vegetable noodles. The sun-ripened tomatoes, the mildly fruity extra virgin olive oil and the basil bring the Mediterranean feeling of life directly to your home.
Zoodle Salad with Shredded Tofu
Ingredients
For the Shredded Tofu:
1 onion
2 cloves of garlic
200 g (7 oz) tofu
2 tbsp umami spice mix (e.g. by Sonnentor)
vegetable oil
salt
pepper
Also:
200 g (7 oz) spaghetti
2 zucchini (approx. 600 g / 21 oz)
250 g (8.66 oz) carrots
100 g (3.5 oz) tomato paste (e.g. from Mani Bläuel)
80 g (2.66 oz) black olives
100 g (3.5 oz) artichokes
150 g (5.33 oz)pickled peppers
1 lemon
fresh basil
salt
pepper
vegetable oil
Instructions
Peel and finely dice the onion and garlic. Sauté in a pan with vegetable oil. Coarsely grate natural tofu with a grater, add to the pan and fry over high heat until crispy. Add umami seasoning, stir and season with salt and pepper. Set the shredded tofu aside.

Cook the pasta according to package directions until al dente.

Using a spiral slicer, slice the zucchini and carrots into thin strips. Then sauté the vegetable noodles in a pan with vegetable oil over medium heat for about 5 minutes. Remove from heat and stir in the tomato paste. Season to taste with salt and pepper.

Drain olives, artichokes and pickled peppers. Cut artichokes in half and peppers into strips.

To serve, place vegetable noodles on a plate and top with olives, artichokes and pickled peppers. Twist the spaghetti and add them to the plate along with basil. Now sprinkle the shredded tofu on top and drizzle everything with lemon juice.
Tip: If you like, you can add a few blobs of the tomato paste on the plate and sprinkle some of the umami seasoning on top.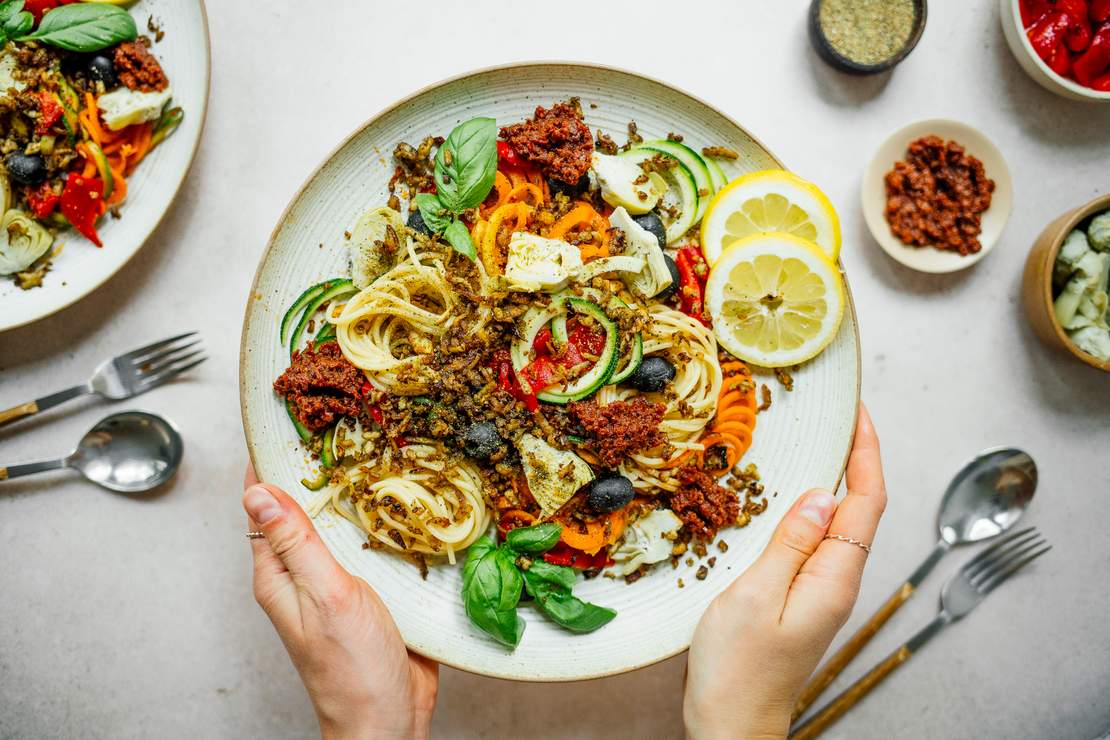 More Vegan Recipes with Tofu