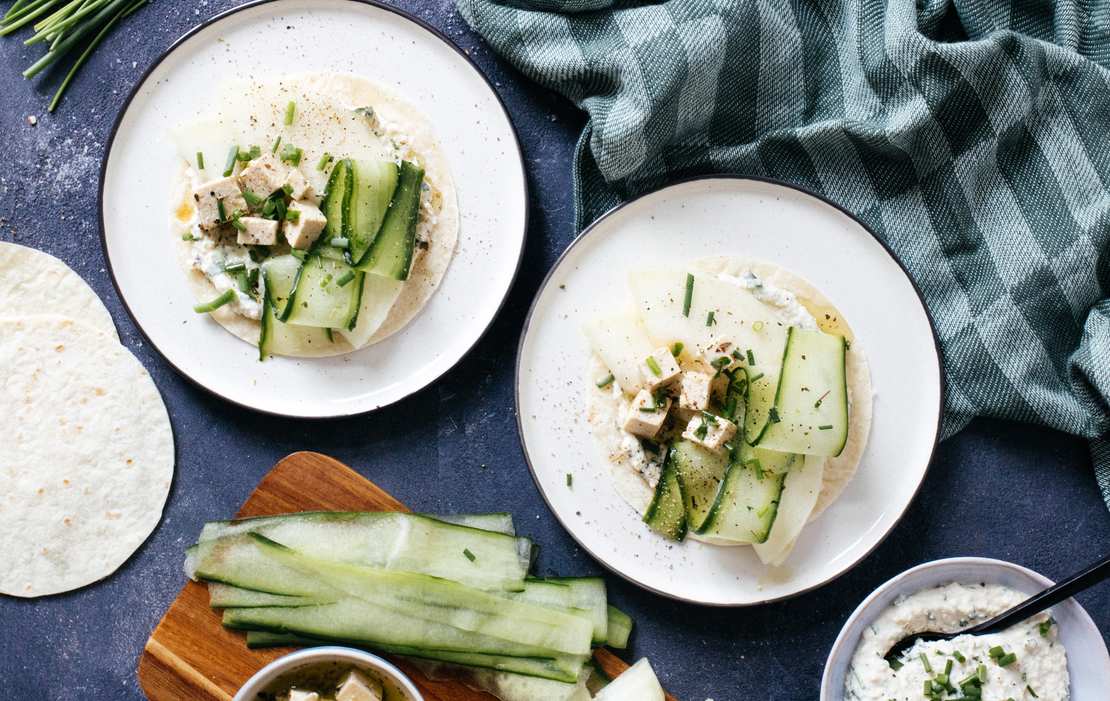 Fresh Spring Tacos with homemade, vegan "Feta" Cheese
We have a soft spot for tacos and love to experiment with them. Besides classics such as fish tacos (vegan, of course!), tostadas or taquitos, we also serve Korean tacos, ramen tacos, chanterelles tacos or even chocolate tacos. You can find all our taco recipes here.
Honeydew melon, cucumber and vegan "feta" cheese are kicking fresh on this Taco Tuesday! The perfect taco for warm spring days even if you think the combination of the ingredients sounds a bit weird. Its SO delicious!
We've made the vegan feta with tofu a day before so the tofu cubes can absorb all the delicious flavours overnight. The nexr day you can easily top your taco in a few minutes and make your own vegan cashew ricotta. Read more about our vegan feta cheese here.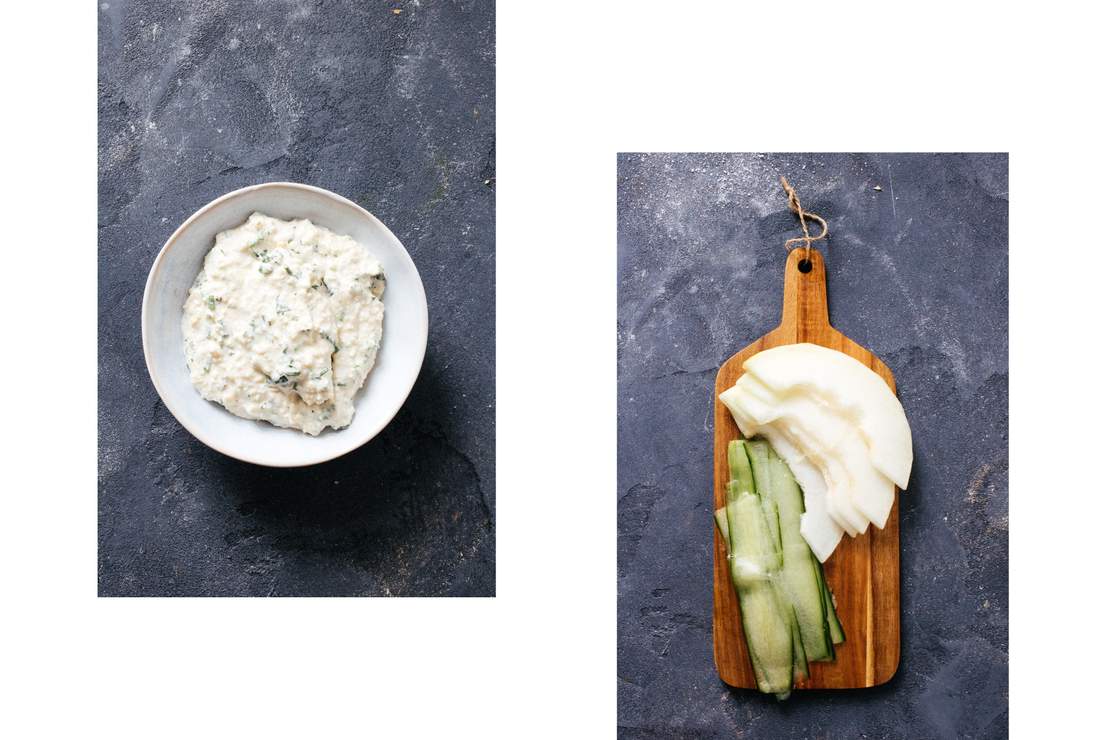 Vegan "Feta" Cheese made out Tofu
Ingredients
200 g (7 oz) tofu
100-150 ml (0.5 - 0.66 cup) olive oil
2 tbsp dried basil
2 tbsp dried oregano
1 tbsp dried thyme
1 tsp salt
1 tsp miso paste (optional)
2 cloves garlic
Instructions
Dice tofu in same-sized pieces.
In a preserving jar, pour in about 5 tbsp of your olive oil and stir in salt, herbs, and miso paste if used.
Peel 2 cloves of garlic and slightly crush them with the back of a knife or slice them. Then add them in your jar.
Fill the jar with tofu dices but leave some space at the top.
Now pour over olive oil until your jar is filled, lock it carefully and shake it so all the tofu gets covered in herbs.
Put it in your fridge. The longer you keep it there, the better it will taste! You can taste it after 24 hours and season it with some more salt, if you like. Whenever you open the fridge, shake the jar from time to time so all the herbs keep flowing around.
Fresh Spring Tacos with homemade, vegan "Feta" Cheese
Ingredients
6 soft tacos
1/4 honeydew melon
1/2 cucumber
1 portion of homemade, vegan "feta" cheese (recipe on the blog)
Vegan Ricotta Dip
150 g (8.8 oz) cashews (soaked in at least for 30min, best overnight)
1/2 lemon (juice)
50 ml (0.2 cups) water
2 tbsp nutritional yeast
1 garlic clove
2 tbsp plant-based yogurt
3 g chives
3 g parsley
3 g mint
salt & pepper
Instructions
Vegan Ricotta Dip
In a food processor mix cashews, lemon juice, a garlic clove, nutritional yeast and start with 25 ml water.
If it turns out to dry, add more water. Cashew ricotta should neither be liquid or stone-hard, but of a creamy consistency with some cashew pieces.
Wash and chop the fresh herbs and add them with the plant-based yogurt to the cashew ricotta. Season with salt and pepper and add more nutritional yeast, if it's not cheesy enough for your taste.
Tacos
Peel the honeydew melon and cut it in stripes with the help of a vegetable peeler.
Repeat the same procedure with the cucumber (if you use an organic cucumber, you don't have to peel it).
Take a taco and spread some ricotta dip on it. Add honeydew melon, cucumber, and vegan feta cheese and finish it up with some more dip and finely chopped chives.
More Plant-Based Cheese Alternatives