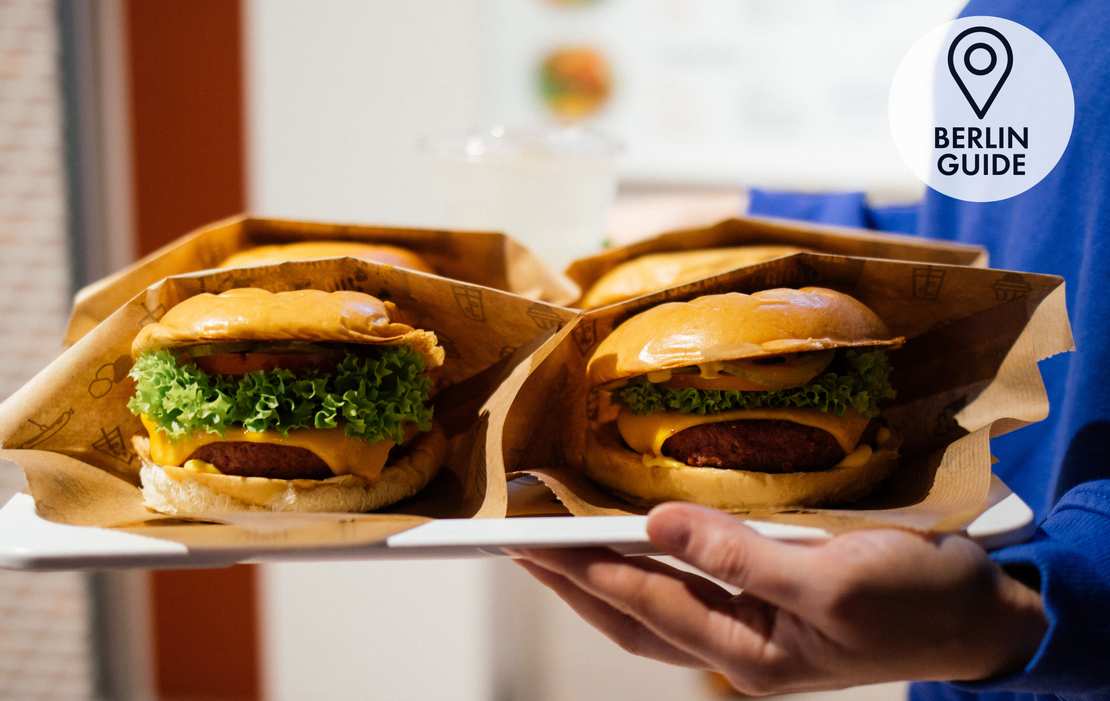 10 great vegan burger spots in Berlin
Berlin Guide: We are living in Berlin hopping happily and hungry from one diner to the next restaurant, stopping in between at a new café. In our Berlin guide we tell you, where we eat and how it tastes. Got a nice tip for us? Let us know, please!
About five years ago, a burger trend started here in Berlin and flooded the whole city with hundreds of new burger spots. Fortunately, the situation has calmed down and separated the wheat from the chaff. And although Isa is not really a fan of burgers, we visited a lot of vegan burger spots in Berlin and tried to find the best ones for you.
PS: The order of the restaurants is alphabetical. The numeration is based on no rating.
Although the Korean restaurant "Angry Chicken" is not primarily a burger shop and there is only one vegan burger on the menu, the "Happy Vegan Burger" is a must-have on our list. This burger is just a bit different from the others. The sweet potato patty is very soft but doesn't crumble, the pickled cucumbers and spinach give a nice crunch, and the vegan wasabi mayonnaise adds a great spiciness. If you're also looking for new tattoo inspirations, we're sure you'll find some when you take a look at the small drawings that are all over the place. But Julia gets the sexy pig, okay?
One thing we always love to see on menus is the little comment "Everything available in vegan". Uh, yes! And that's exactly what you can read on the menu of "Ban Ban Kitchen", a small Korean restaurant in Neukölln. They serve mandu, Korean fries, nori tacos, bibimbap and their "Ban Ban Burger" with soy fillet, fresh salad, veggies and homemade vegan kimchi, all cozied up in a soft sesame bun. When ordering, just tell them you're vegan and they'll put together the perfect burger for you.
3. Der vegetarische Metzger
The "vegetarian butcher" is located directly at Bergmannstraße and offers a small supermarket and a few vegan burgers on their menu. We really like the vegan "crispy chicken burger" with vegan mayonnaise and soy chunks (costs only 6.90 €). You can also find a "pulled beef burger" or a "green army burger" with vegan shawarma. There are not many seats, but you can do a little shopping after your meal!
Check our full review here.
The burgers at "Lias's Kitchen" are (in our opinion) one of the best, because even Isa really likes them (and she normally doesn't like burger that much). Normally we order the Smokey Mushroom BBQ Burger or the Chicken Cheese Burger (with really crisp seitan). All burgers are available for just 6.90 € or in a menu with a drink, coleslaw and fries for 11.80 €. Make sure to get one of the shakes, they are fantastic as well. You can find "Lia's Kitchen" at Kollwitzkiez in Prenzlauer Berg.
Check our full review here.
Eventually, quite possibly, "Neue Republik Reger" would be Julia's answer when you ask her about her current favorite burger place in Berlin. They also offer vegan hot dogs, poutine, curryvurst, tschicken nuggets, cake and more, but the burgers are so delicious and versatile: If you're not into black bean patties, just order the pulled seitan, tempeh, or portobello burger, or the one you can see on the picture: the cheerful chicken burger with a the super crispy vegan chicken filet, spicy sriracha garlic mayonnaise and fresh salad and vegetables. This is exactly the place that you should take friends with, who imagine vegan burgers just as sad vegetables between a dry bun.
The "Ryong" at Torstraße serves Japanese-Vietnamese burgers with a homemade steamed bao bun. On request, you can order every burger vegan. We are very delighted with the extraordinary creations, as the Hulk Burger with a steamed bao bun in crispy spinach tempura with tofu, homemade avocado & teriyaki sauce, garlic mayonnaise, and edamame.
Check our full review here.
There are many reasons why you should stop by "Tofu Tussis" at "Markthalle 9" in Kreuzberg. For a start, they are producing their own organic tofu and other soy products right there, in the middle of Berlin. And if you're going there buying some homemade tofu, why not eat a vegan burger, too? They are definitely one of the best in the city! First, you can choose the type of burger: classic, chili cheese, with avocado, or a saté burger. The burger patties are juice and have just the right texture (neither too crumbly nor soggy, which can sometimes happen with vegan patties). Then you decide on the bun: a classic, pink, or black one. They are all tasty and filling – so definitely try them!
The "Valladares" in Berlin Moabit will get you with a wide range of dishes and a pretty nice interior. We tried the big "kahuana burger" with vegan "cheddar," smoked soy patty, sweet mustard and grilled onions for 9 € or 12 € in a menu with fries. The cheese had a superb consistency, and the soy patty was really delicious! We will definitely try more from their menu card in the future!
Unfortunately, "Vincent Vega"n is located in the East Side Mall, right at Warschauer Straße. Nevertheless, the burgers taste good, especially the Beyond Meat Burger! No other burger patty comes so close to the actual meat flavor. You should definitely go there, even if 13 € is quite expensive.
"Windburger" in Kreuzberg offers one of the very few tofu burgers that we really like. Fried tofu slices are stuffed in a soft homemade sesame bun - the tofu is soft and still a bit wobbly. Yes, you have to like this kind of tofu, but Julia, for example, loves it! Regarding the toppings, this is just a typical, good, classic burger with salad, cucumber, tomato, onion, ketchup, and vegan mayonnaise. Moreover, it probably the cheapest burger on our list and costs only 3.50 €!