7 Healthy Recipes to Cook When You're Having a Cold or Flu
On Zucker&Jagdwurst you will find so many recipes that it can sometimes be difficult to find exactly the right one for the moment. For that, we've categorized our recipes, but if you want to be more specific, you'll hopefully find the right dish in our recipe collections – for example if you're looking for soy-free desserts, hangover food, and what to eat when you have a cold. You can find all recipe collections here.
I like to state that I never catch a cold. And in fact, it rarely happens - my explanation for this is as simple as probably wrong: I like to dress a bit too cold for any weather, to toughen myself against colder temperatures. So far, this method worked quite well, but then two weeks ago, it happened: runny nose, feeling tired, ... urgs.
Fortunately, I rarely lose my appetite and could still taste things. So I slurped from soup to soup until I was healthy again.
So if you're sick too, I want to share the 7 recipes that helped me through the cold. Cook them for yourself or just be nice and prepare them for a sick friend!
Vegan Noodle Soup with Veggies
Chicken soup is probably THE ultimate home remedy against colds and flu, but even without chicken, this soup will do wonders. This is not only because of the vegetables, but also thanks to the rising hot steams that will relieve your nose and the comfortable warmth that will spread through your body and stimulates the blood flow.
Citrus Salad with Blood Orange Vinaigrette
Especially when you're having a cold, it's important to get enough vitamin C - citrus fruits are a popular choice for this, although they actually don't contain as much vitamin C as other fruits and vegetables. Of course, they are still healthy and you should cook with them. This salad combines blood oranges, grapefruit and oranges that will all support your immune system. You can also squeeze out even more citrus fruits and drink the juice, or prepare a hot lemonade. Don't let the name mislead you though: vitamin C is very sensitive to heat so you should actually only drink a lukewarm lemonade.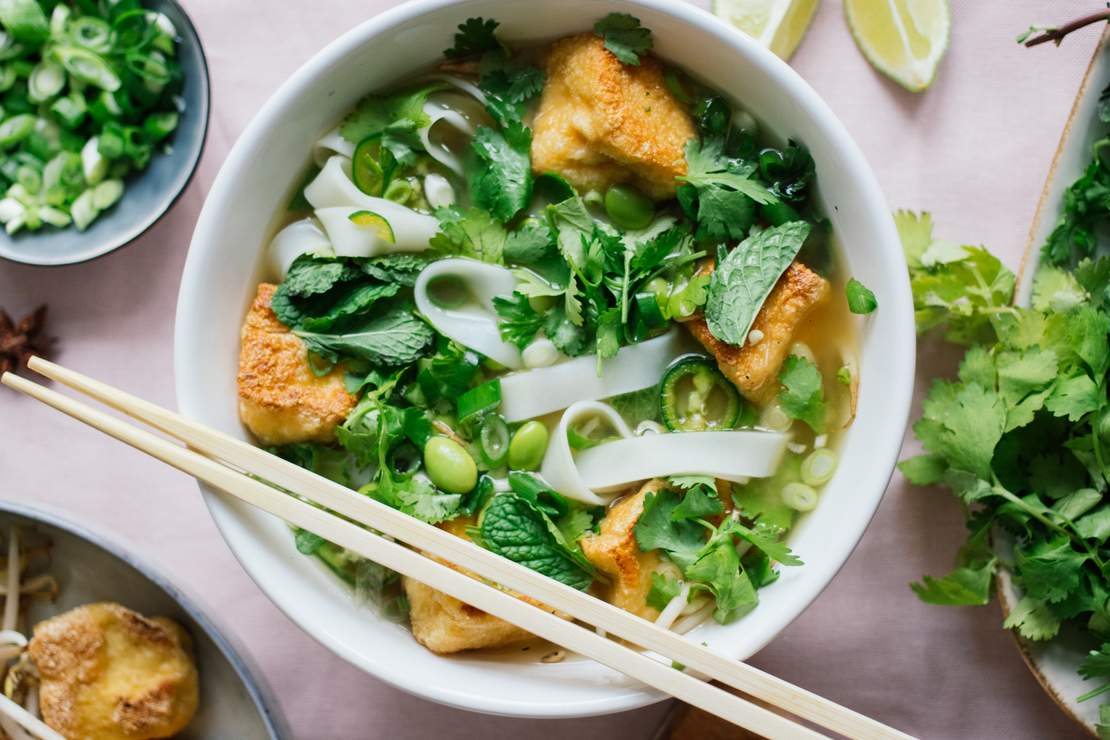 Vegan Rice Noodle Soup
Off to the next soup! A steaming bowl of hot rice noodle soup isn't only good for your general well-being and spending warmth, but also contains a few very healthy spices such as star anise, as well as ginger and fresh mint and lime juice as toppings. It's filling but doesn't sit heavily on your stomach, and can be adjusted with whatever you can find in your kitchen. We're not going to repeat that the steams of every soup relieve your nose, okay?
Vegan Chicken Marsala Pasta
When you have a cold, it's, of course, very important to take a lot of vitamins to support your immune system. But what should not be neglected is our own well-being and what our inner self is crying out for. And if deep inside we're calling for pasta, we should also treat our body to it. So grab your absolute favorite food and enjoy it. Because if you're happy, you'll get healthy much faster.
Golden Coconut Soup with Rice Noodles
Here's the next soup to the rescue. This time, it's a quick recipe that is done in less than 30 minutes. The ingredient list ready like the the A team of flu fighters: turmeric is said to have antibacterial effects and strengthens the immune system just like the vitamin C in the used lime jucie. Ginger contains essential oils that have healing and anti-inflammatory effects. The spicy chili stimulated the circulation of the blood flow in your mucosals - spicy food is definitely my favorite secret weapon against colds.
Red Thai Coconut Soup
Speaking of spicy food: When I'm sick, I love to make this coconut soup with red curry paste even a bit spicier than usually. Better not put your tissues far away when you're eating this soup.
Energy Balls with Amaranth and Turmeric
Last but not least, here's something sweet for the road - while these energy balls won't help directly against a cold or flu, they still provide you enough energy to recover quickly. In this recipe, you'll even meet some of our anti-flu friends such as turmeric and lemon zest.