Citrus salad with blood orange vinaigrette
Is everyone around you also coughing and sneezing? Than it's time for a citrus salad that provides you with tons of vitamins. We love this combination of blood oranges, grapefruits and oranges, but feel free to use whatever you like and have in your kitchen.
Radicchio is naturally slightly bitter, but if you notice that yours is TOO bitter, remove the stalk generously and transfer it into a bowl with lukewarm water for at least 30 minutes. Also you can season the dressing with more maple syrup to make it a bit more sweeter.
This salad serves for 2 people as kind of a main dish. If you serve it as a side dish, it serves for at least 4 people.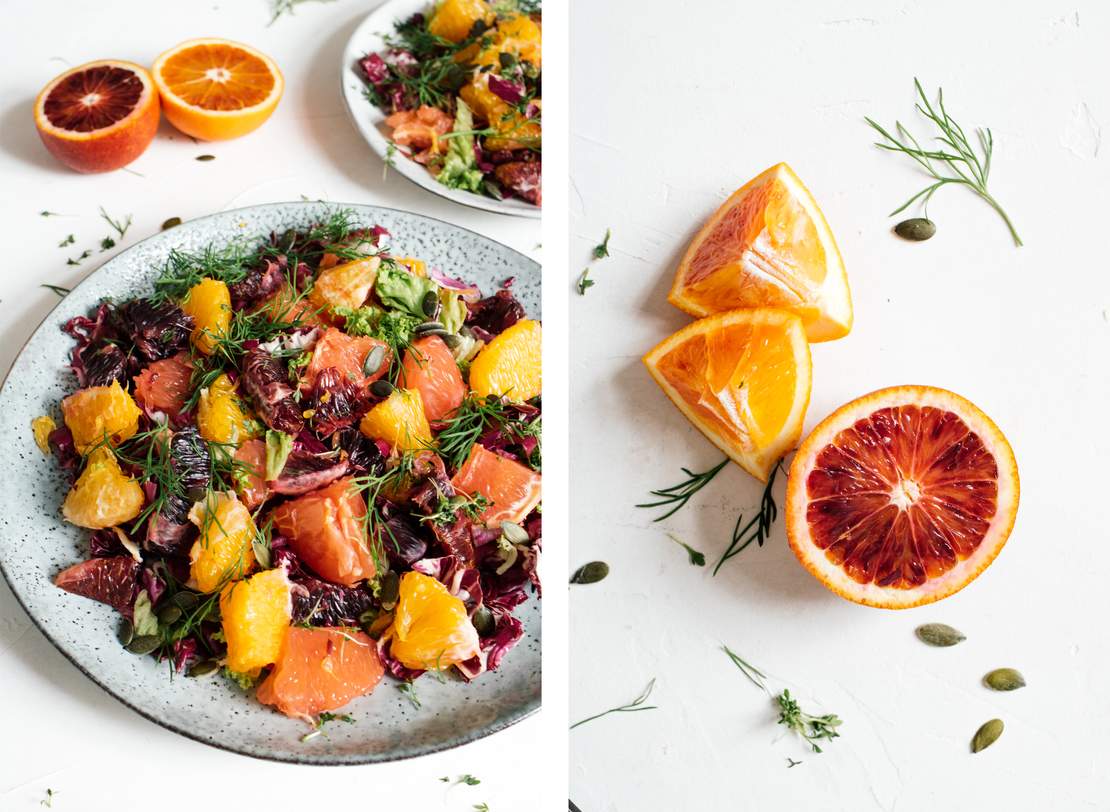 Citrus salad with blood orange vinaigrette
2 large servings / 4 small servings
20 minutes
Ingredients
3 blood oranges
2 oranges
1 grapefruit
1 radicchio
garden cress for serving
dill for serving
pumpkin seeds for serving
pumpkin seed oil for serving
For the vinaigrette
3 tbsp olive oil
3 tbsp blood orange juice
1 tsp maple syrup
salt
pepper
Instructions
Peel and cut citrus fruits into bite-siced pieces or slices. Finely wash and slice radicchio.
Add all ingredients for the vinaigrette in a jar and shake or stir to combine. Season with salt and pepper to taste.
Serve radicchio and citrus fruits. Top with dill, garden cress, pumpkin seeds and pumpkin seed oil as you much as you like.