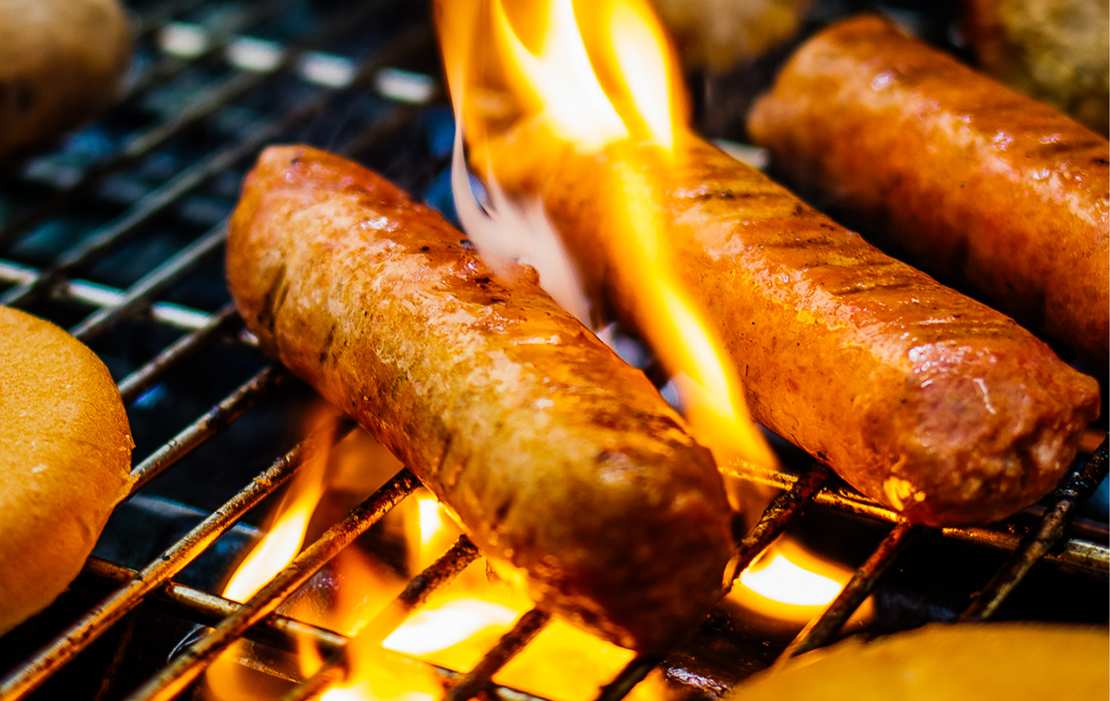 Vegan BBQ Sausages in German Supermarkets
Week after week, you can find more vegan products in German supermarkets and organic stores. It's hard to keep track of them all, so we regularly eat our way through vegan alternatives, so you don't have to. Which vegan cheese or sausage is our favorite and which is the vegan ice cream we wouldn't buy again? You can find all of our vegan shopping guides here.
Papperlapapp! What a nice German word! We love to talk about food. A lot. Our favorite bakery now offers vegan cookies? Wheee! Our favorite yoghurt now comes in new flavours? Yay! And this new kitchen gadget (now also available in pastel colours) twists our head? Phew! There is a lot to talk about in this world full of beautiful things. Here is the place where we tell you, what's keeping us busy, happy or astonished.
In addition to cooking and baking, we've now experienced product testers. Those who know us know that we're big supermarket fans and don't miss the opportunity to browse the shelves for vegan novelties regularly. And what could be more natural than to ring in the barbecue season with a vegan sausage test? So we set out to find the best meatless sausages made from soy, seitan, pea protein, or even algae (yes, there are sausages with algae). Living in Berlin, we enjoy the privilege of having access to a variety of vegan meat alternatives. However, because we know that not every product is available everywhere, we sampled sausages from various major supermarkets, health food stores, and online stores to cover a spectrum as wide as possible. Fortunately, the market for vegan alternatives is booming right now, and you're bound to find some of the sausages.
We evaluated criteria like taste, consistency, ingredient list, price, organic quality, or availability. Of course, all results are purely subjective - fortunately, tastes are different.
For orientation: We have sorted the sausage varieties alphabetically, just like the supermarkets mentioned. So the order doesn't play a role in our evaluation. We didn't receive any money from a brand or an agency and judged purely on personal feelings.
Help us to keep this guide up to date!
Have you discovered other vegan grilled sausages in the supermarket? Please write us in the comments how they tasted to you so that this guide remains up to date.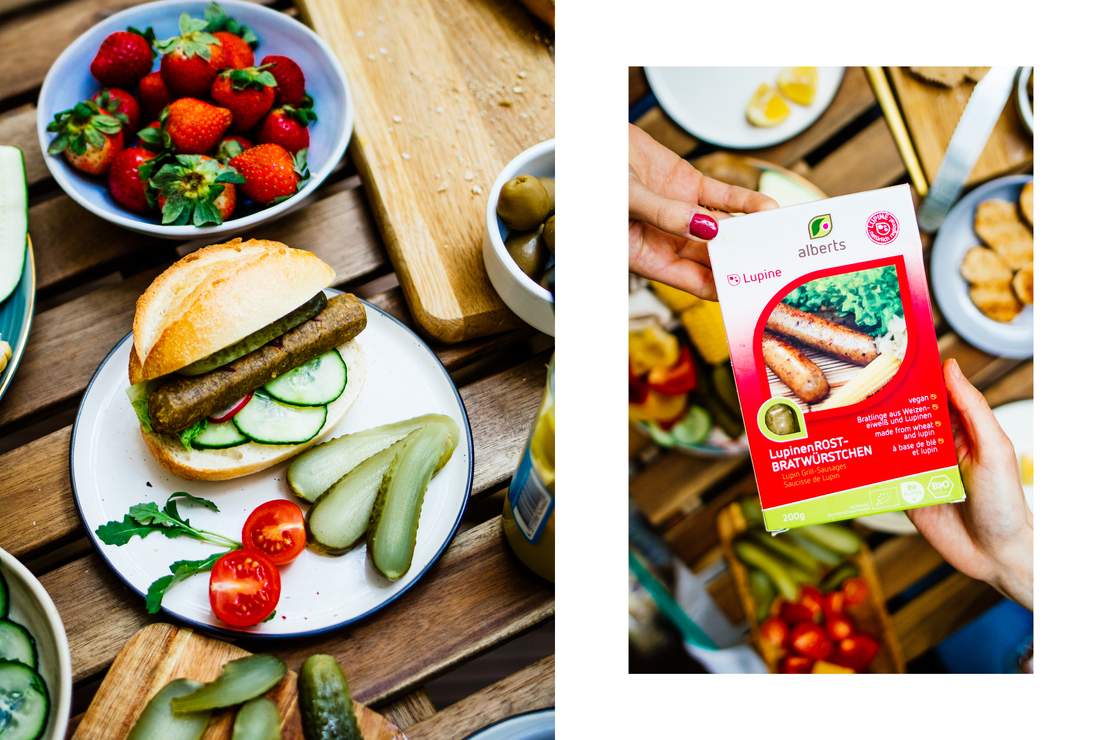 Vegan varieties: Cocktail Sausages, Rostbratwürstchen, Seitan Sausages, Tofu Sausages
Price: 3,79 € (200 g)
Supermarkets: Online (Kokku, Vantastic Foods, vekoop)
Main ingredients: wheat protein, sweet lupine seeds
Alberts sausages are regional, with the main ingredients of wheat protein and lupine seeds. The company attaches importance to short transport routes and produces in organic quality, which is unfortunately often not the case, and we, therefore, we want to emphasize. The sausages themselves are unfortunately a bit too dry for us and have something bready. The taste reminds us slightly of vegetable broth. Not that we don't like them, but they are not so much BBQ sausages for us. We lack the typical BBQ flavor and miss the "crunch" for the ultimate barbecue feeling.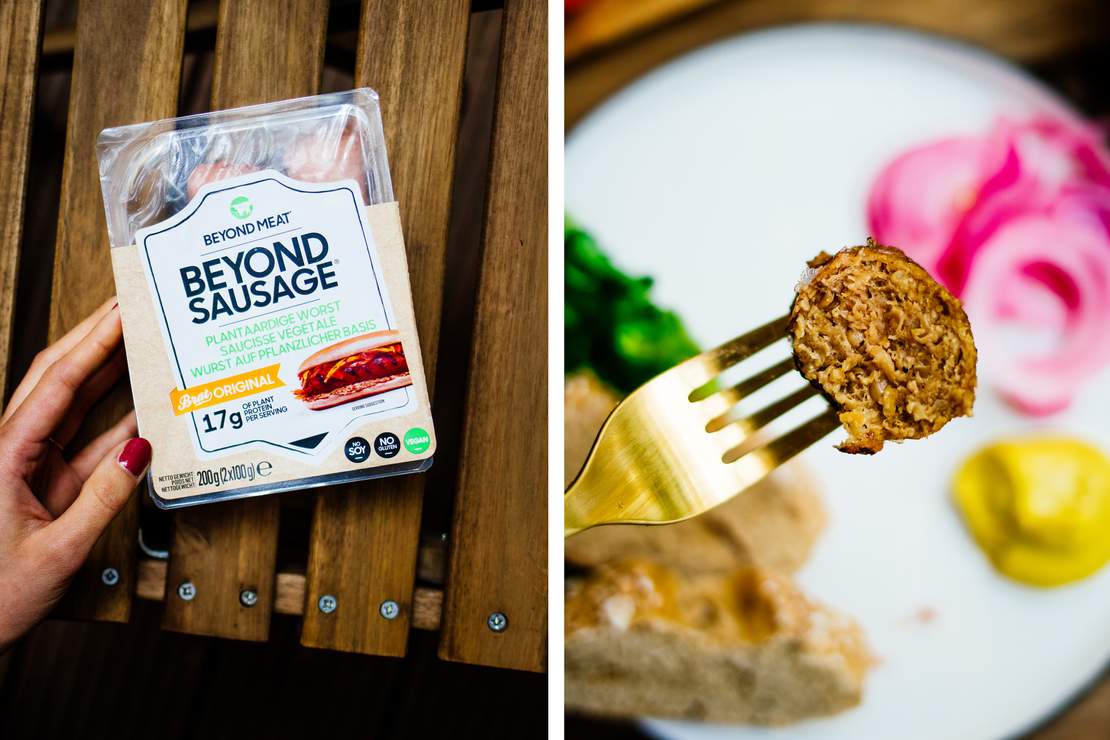 Vegan variety: Beyond Sausage
Price: 4,99 € (200 g)
Supermarkets: Edeka, Globus, Gorillas, Kaufland, Metro, Real
Main ingredient: pea protein
Okay, we're honest: We were looking forward to these sausages the most. The patties are finally available in Germany for some time, and we love them! Recently, the mince and the sausages on a pea protein basis have been added. They were previously only available in America, crazy! The sausage definitely smells pretty meaty and also looks pretty rough in the cut. But when we try it, we like this consistency very much. And well, what can we say? It tastes fierce - like meat. The Beyond products are costly and thus nothing for every day. But the only products that have so far convinced all meat-eaters we know. If you live vegan for ethical reasons and miss meat, then try this sausage. If you don't like the taste of meat, you'd better leave it alone.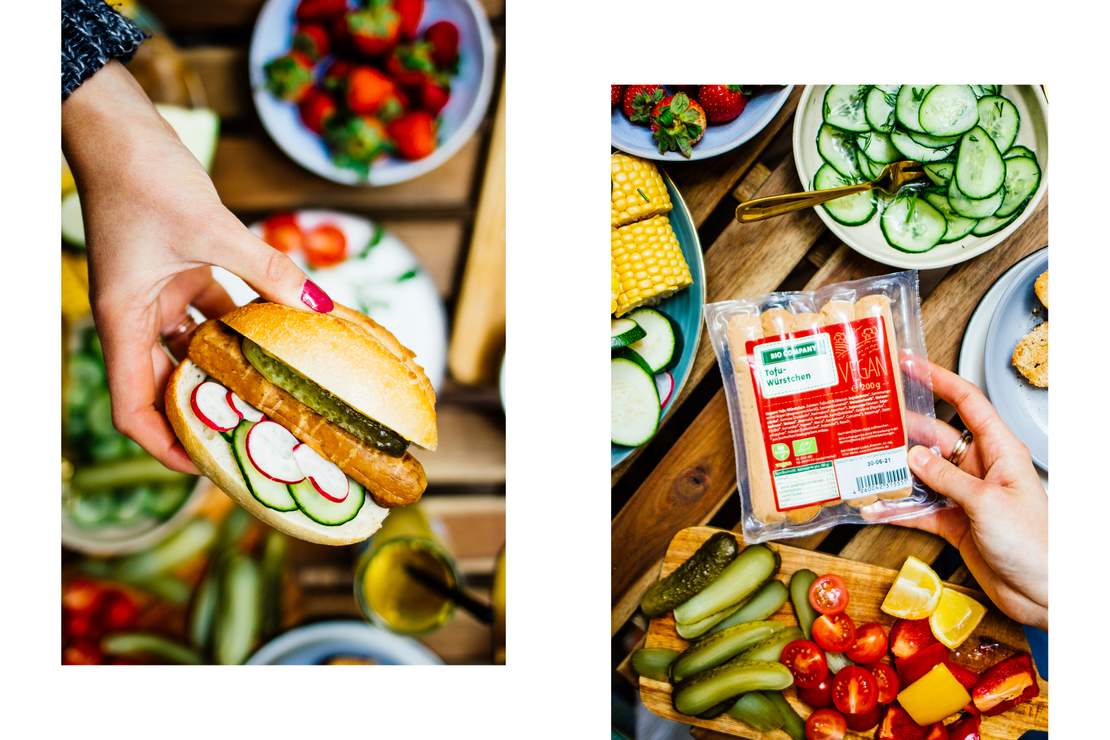 Vegan Variety: Tofu Sausages
Price: 2,49 € (200 g)
Supermarket: Organic Company
Main ingredients: tofu, seitan
According to the packaging, there is a spicy-aromatic organic sausage on our plates. We can also directly make out different consistencies - the sausage is surrounded by a skin, which is clearly different from the inside. Unfortunately, it then disappoints in taste, is a bit pappy on the outside, slightly crumbly on the inside, and the hoped-for "crunch" is missing. And also, the spicy advertised flavor, unfortunately, doesn't really come through. We only detect a hint of paprika. Unfortunately, this sausage is not one of our favorites. But at least the list of ingredients reads well.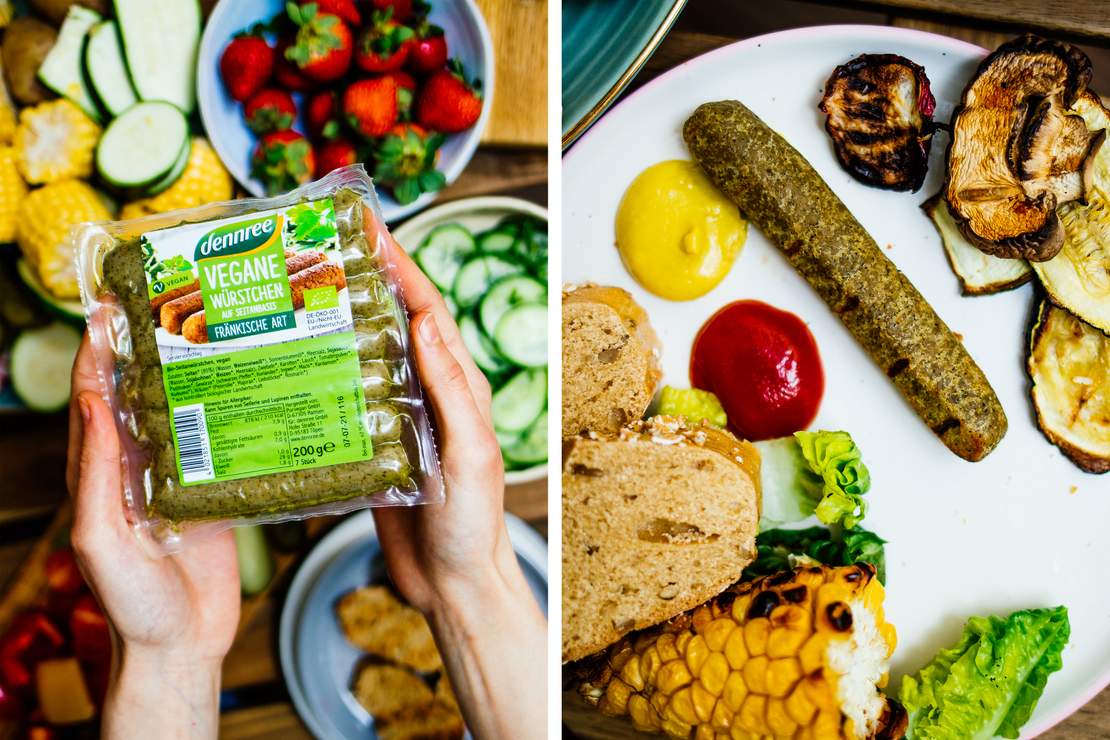 Vegan varieties: Vegan Sausages based on Seitan Franconian Style, Vegan Sausages based on Seitan Puszta Style.
Price: 2,45 € (200 g)
Supermarkets: Bio Company, Denns
Main ingredient: seitan
The sausages from Dennree are very, very small and thin and thus too dry on the grill very quickly. In taste, they don't really remind us of bratwurst either. They are very spicy - too spicy for us. The herbs in the ingredient list could have been used more sparingly. Speaking of the ingredients list: Denns private label sausages are entirely organic, which is excellent, of course. They should be much thicker and larger for our feeling because, like this, they're unfortunately not as juicy.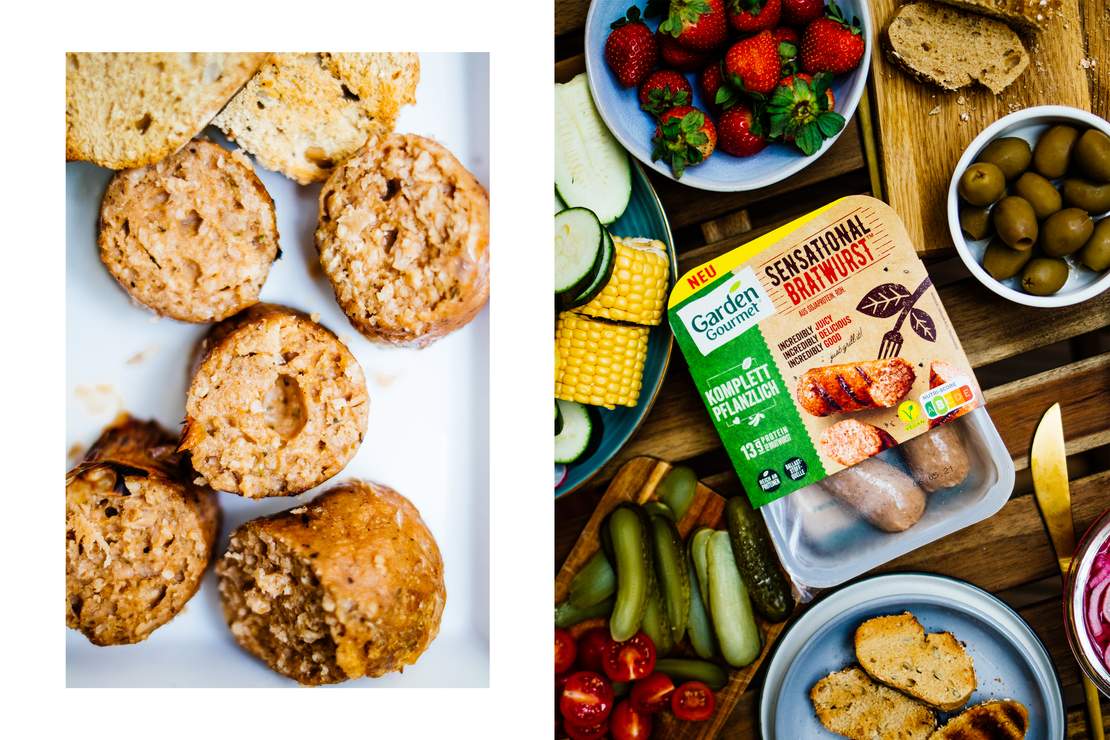 Vegan varieties: Sensational Bratwurst
Price: 3,49 € (180 g)
Supermarkets: Edeka, Rewe, Tegut
Main ingredient: soy
At Garden Gourmet, we're biased because Disclaimer: This company belongs to Nestlé. We need to emphasize that. We think it's a good sign that more and more large companies are now offering purely plant-based products, but personally, we don't like to support Nestlé and try to use other products whenever possible. Fortunately, the choice is now wide.
But now to the product itself: The sausage has a particularly thin skin, which comes off during grilling. When cut, it's very coarse and smells quite meaty! In the taste test, we then find out: Less juicy than expected, and for us, the texture is almost too coarse. The taste has fast food factor and remains in the mouth for a long time - An Authentic Bratwurst, but not that well-rounded by the consistency.
Vegan varieties: Bratgriller Curry, Bratgriller Herbs
Price: 2,79 - 3,29 € (250 g)
Supermarkets: Rewe, Online (Kokku, Vantastic Foods, vekoop)
Main ingredients: soy, wheat
Hobelz has two vegan barbecue sausages in its range. Our test team takes the herb variant under the microscope. And: We like the sausage! Very herbal, with great consistency, neither mealy nor dry, and with a very subtle spiciness in the aftertaste. Pleasant, spicy, hearty, delicious. And even with a slight crunch and also shiny in look, well done!
Vegan varieties: Bratwurst, Rostbratwürstchen, Ham Bratwurst.
Price: 2,99 € (200 g)
Supermarkets: Edeka, Kaufland, Netto, Rewe, Tegut
Main ingredients: pea protein or soya
With Like Meat, our expectations are pretty high. On Instagram, we asked for your favorite grilled sausages, and these were frequently mentioned. There're three different varieties to choose from, and we're testing the Rostbratwürstchen. They have the typical sausage look with the old familiar skin pellet and are also nice and crunchy when we cut into them. Only from the inside, we do not like it as much as we had hoped. The sausage filling is very soft, almost mushy. But the taste is solid. A sausage that we take with a clear conscience to barbecue parties.
Vegan varieties: Vegan Mühlen Bratwurst, Vegan Mühlen Griller
Price: 2,49 € (250 g)
Supermarkets: Edeka, Globus, Kaufland, Rewe, Tegut
Main ingredient: soy protein
Rügenwalder Mühle, another large company and one that produces meat on top. We see this critically, no question. However, one also notices directly that this company has years of experience in sausage production. The grillers have the most convincing look of all the sausages tested and look like raw meat at first glance. They also smell incredibly intense and authentic. And that's how they taste, too. Super hearty, meaty, and also with this sausage, the aftertaste of fast food remains. Really convincing, even for non-vegans tasty, one of our favorites.
Vegan varieties: Grillknacker, Räucherknacker, Rostbräterle
Price: 3,39 € (250 g)
Supermarkets: Alnatura, Denns, Rewe, Tegut, Online (Kokku, Vantastic Foods, vekoop)
Main ingredient: tofu
Taifun comes from the Black Forest and sources soy only from Germany and Europe. You can find many of their products in mainstream health food stores, online, and sometimes at supermarkets under the brand name Tukan. We're big fans of the Taifun tofu varieties. For all you skeptics: Feel free to try the marinated tofu varieties from the refrigerated section. But back to the sausages: The smoked crackers we chose for the test taste more like Vienna Sausages and burst open during grilling. The smoked flavor is very mild, but we like the consistency because the sausage has a skin. This is often not the case with tofu-based sausages.
Vantastic Foods: Jack The Griller
Vegan varieties: Jack The Griller, Vegan Bockwurst, Vegan Bratwurst.
Price: 3,49 € (150 g)
Supermarket: Online (Vantastic Foods)
Main ingredients: jackfruit, seitan
Vantastic Foods has three sausages on sale. We chose Jack the Griller because it's jackfruit-based, and we definitely haven't eaten that before. Unfortunately, it comes out quite dry and fibrous. The ingredient list lists potato starch, and we can clearly see that. In addition: A significant component is wheat protein, so unsuitable for people with gluten intolerance. On the other hand, the taste is pleasant, not over-seasoned, and nice and hearty - All in all, a solid sausage.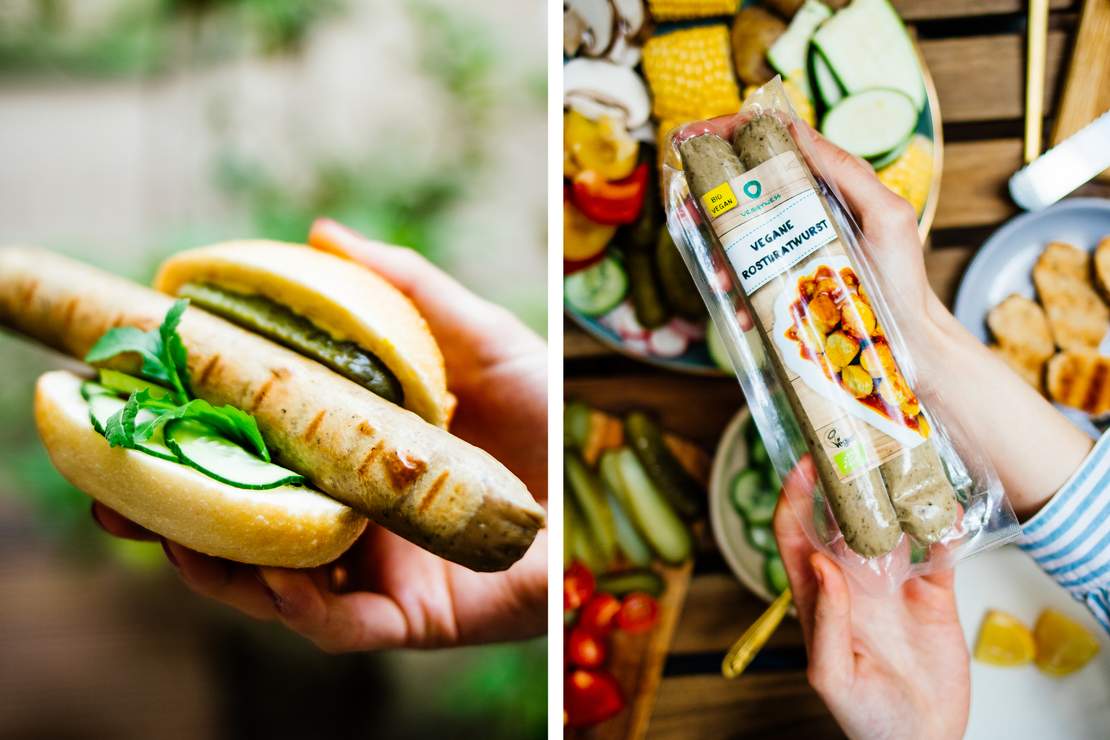 Vegan varieties: Vegan Bockwurst, Vegan Bratwurst, Vegan Mini Bratwurst, Vegan Rostbratwurst
Price: 3,69 - 4,29 € (200 g)
Supermarkets: Globus, Metro, Rewe, Tegut, Veganz, Vitalia, health food stores, online (Kokku, vekoop, Vantastic Foods)
Main ingredient: seitan
Veggyness was previously unknown to us as a brand, and we're excited. We always like to try new products. But wow, this sausage is massive in our mouths, almost a little spongy and slightly rubbery due to the seitan. There's something we can't place here taste-wise. For this, the sausage and ingredients list looks exemplary, but taste-wise, there's still room for improvement.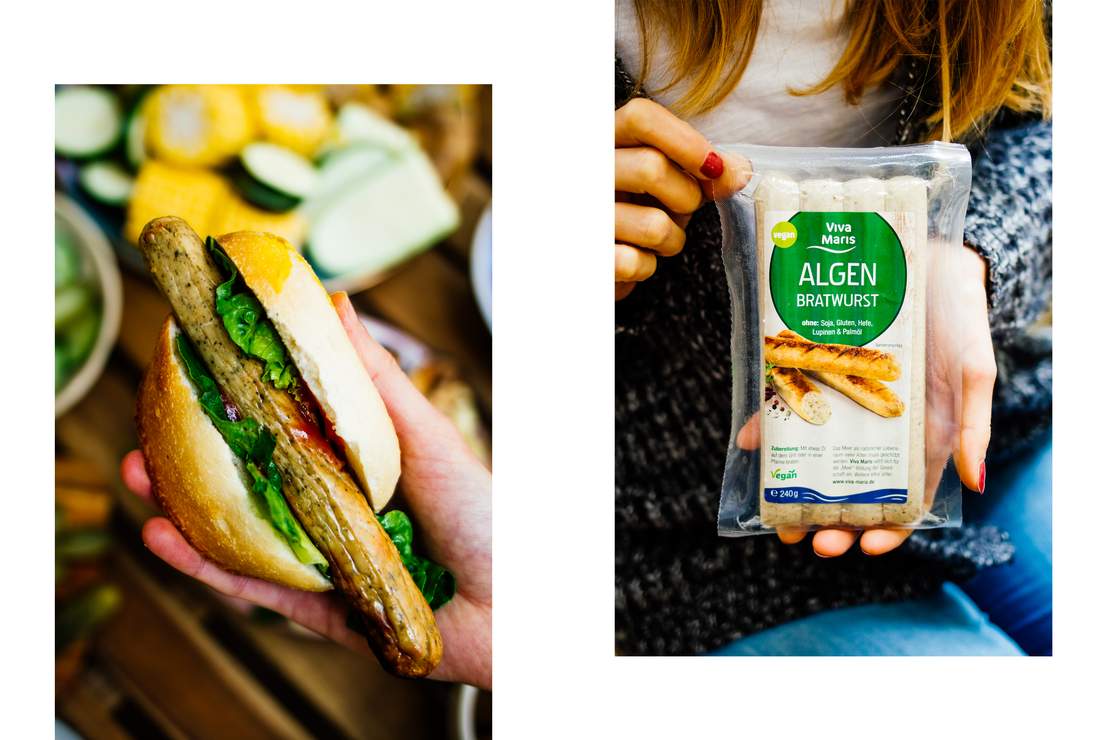 Vegan varieties: Algae Bratwurst, Algae Currywurst, Algae Wienerwurst
Price: 4,59 € (240 g)
Supermarkets: Online (Kokku, Vantastic Foods, vekoop)
Main ingredients: water, canola oil, pea protein
A sausage with algae, in pre-vegan times, we would undoubtedly have looked skeptical at first. We only discovered that algae brings a good portion of umami flavor and harmonizes not only with sushi when we started to experiment more and more with flavors. We definitely like the look of the sausage when grilled. The pellet puckers nice and also convinces in the cut - wow! And we're also surprised by the taste - you don't really taste the alga. This sausage tastes really good to us, wonderfully spicy and herbaceous. A sausage we definitely can recommend to you.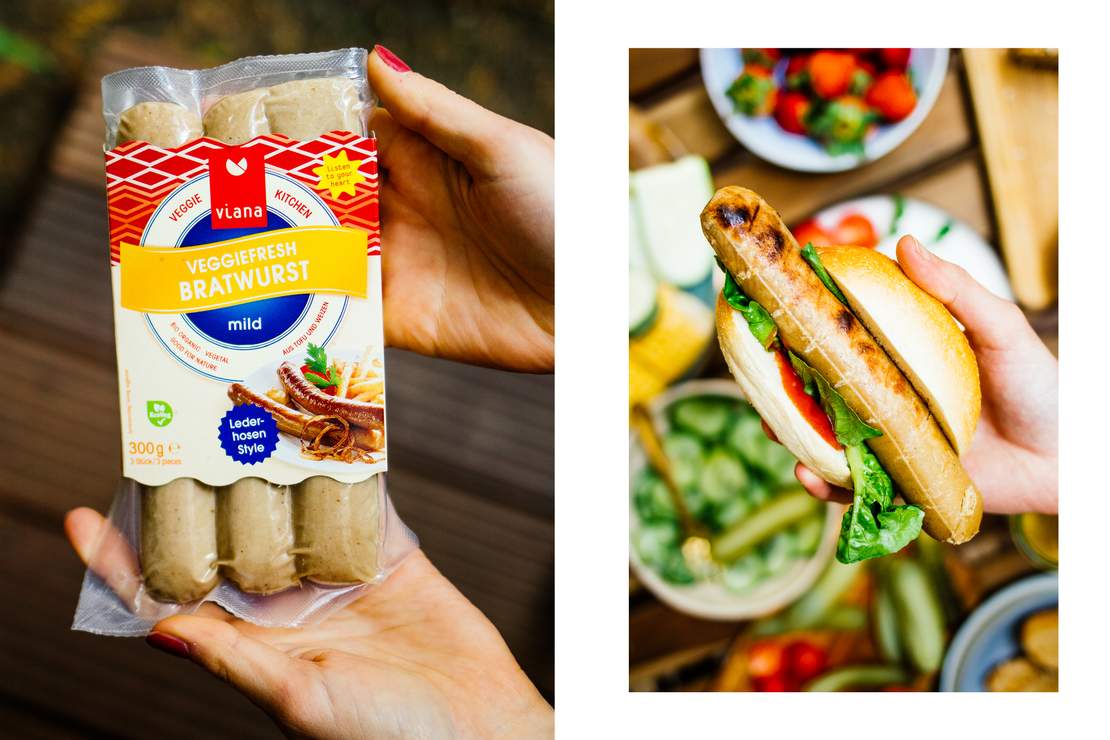 Vegan variety: Veggiefresh Bratwurst mild
Price: 3,99 € (300 g)
Supermarkets: Alnatura, Veganz, Online (Kokku, Vantastic Foods)
Main ingredients: tofu, wheat
Viana's Mild (Organic) Bratwurst is just that - very mild. It creates a rather bulky feeling in the mouth and is also very salty. We chew on the pieces for a long time, and unfortunately, the taste is also rather unexciting. Unfortunately, it's not one of our favorites.
Vegan varieties: Bauern Knacker, Chorizo Bratwurst, Mini Super Griller, Super Griller
Price: 3,69 € (200 g)
Supermarkets: Alnatura, Denns, Online (Kokku, Vantastic Fooods, vekoop)
Main ingredient: seitan
When trying the small grilled sausages from Wheaty, we directly identify the main ingredient: seitan. The sausages are unfortunately far too firm, slightly rubbery, and tough to chew. They taste hearty but not much else. But: Wheaty produces in organic quality in Germany, which we again find really good.
More Vegan Shopping Guides