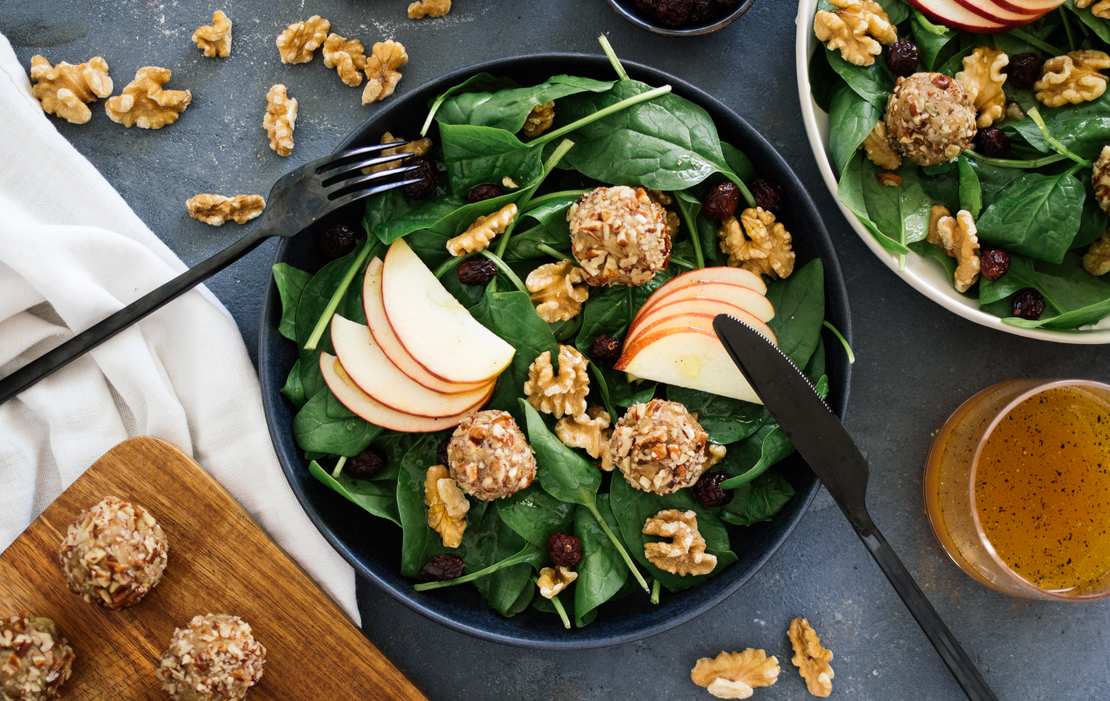 Vegan Cheese Ball Salad with Apple & Cranberries
Vegan cheeseballs? Hell yeah! Before we wanted to try our first vegan cheese balls, we searched on the Internet for inspiration. Unfortunately, a lot of recipes need a lot of time or utensils we don't have. We definitely have to try these versions later, but for now, we want something really quick and easy. So we decided to do our first vegan cheese balls at home! They also work very well on a salad, on a cheese platter, or with bread or toast.
Vegan cheese balls made of cashews
10-15 cheese balls
15 minutes (+ 1 hour time to rest)
Ingredients
150 g (5.5 oz) cashews
2 twigs of thyme
4 tsp lemon juice
25 g (0.88 oz) nutritional yeast
15 g (0.5 oz) coconut oil
2 tsp White Miso Paste
1 clove garlic
0.25 tbsp salt
ADDITIONAL
Instructions
Soak cashews overnight in water or at least for two hours in hot water.
Drain cashews. Peel and dice garlic clove and add the rest of the ingredients to a food processor.
Mix until you get a smooth mixture. It works also with an immersion blender, but it will take 5 - 10 minutes.
Form 10 - 15 small balls and let the cheese balls chill for an hour in the fridge.
Finely chop the pecan nuts.
Roll cheese balls in chopped pecan nuts so they are fully covered.
Spinach Salad with apples and cranberries
Ingredients
APPLE-CRANBERRY-SALAD
150 g (5.3 oz) baby spinach
0.5 apple
80 g (1.8 oz) walnuts
50 g (1.7 oz) dried cranberries
DRESSING
80 ml (0.3 cup) vegan apple juice
2 tbsp apple vinegar
3 - 4 tbsp olive oil
salt&pepper
Instructions
Salad
Wash and shake dry baby spinach.
De-seed, wash and slice apple.
Chop walnuts and roast in a pan without oil for 3 - 4 minutes.
On a big plate arrange baby spinach and top with roasted walnuts, apple slices and dried cranberries.
Dressing
Mix alle the ingredients in a jar and shake.
Serve salad with "cheese" balls and the dressing.