Simple Vegan Asparagus Risotto with Peas
We can't tell you how many pots of risotto we've cooked in our lives so far, but it must be a lot! Risotto is one of those meals for which we always have all the basic ingredients in our pantry: risotto rice, shallots, and vegetable broth (yes, we sometimes even prepare risotto without white wine). Whether you add root vegetables and mushrooms in fall and winter, or fresh greens in spring and summer – you can basically pair any seasonal vegetables of your choice to your risotto and it's always a great dish.
So luckily, it's not difficult to prepare risotto but you do need some patience. Here's how it's done: first, we sauté the onion and garlic, then add the risotto rice, and deglaze everything with vegan white wine and vegetable broth (if you want to prepare risotto alcohol free, just add more broth instead). This is the moment, when your patience is tested. For the next 20-30 minutes, you have to add the broth little by little – just enough to slightly cover the rice. Afterwards, you have to let it simmer until the broth is absorbed by the rice, before you add the next ladle of liquid. We can only recommend listening to a podcast during this cooking process (plus, start drinking the remaining white wine). Don't move too far from the stovetop as you should stir the risotto regularly to avoid any burning.
Once your risotto is almost ready, add green asparagus and some frozen peas to get a fresh and filling spring dinner. We highly recommend adding vegan Parmesan cheese and fresh lemon juice before serving to add more depth but also a fresh note. And if you're now in the mood for even more risotto, also check out our recipes for vegan pumpkin risotto, broccoli risotto, and mushroom risotto.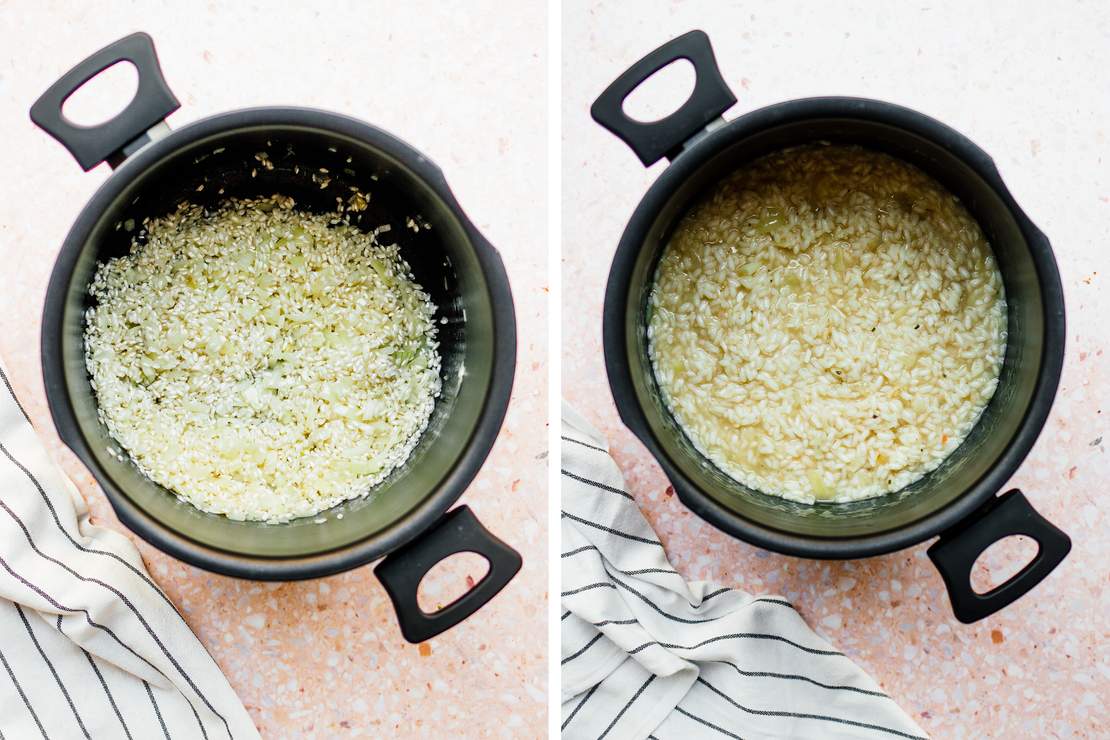 Simple Vegan Asparagus Risotto with Peas
Ingredients
250 g (9 oz) frozen peas
2 onions
1 garlic clove
3 tbsp vegan butter
250 g (1.25 cup) risotto rice
200 ml (0.75 cup) vegan white wine
400 ml (1.66 cup) vegetable stock
400 g (14 oz) green asparagus
1 lemon
vegan Parmesan cheese (optional)
salt
pepper
Instructions
Defrost peas. Peel and finely dice onions and garlic.

Melt vegan butter in a large saucepan over medium-low heat. Add onions and garlic and fry for approx. 3-4 minutes, or until translucent. Add the risotto rice and keep frying for approx. 5-7 minutes while stirring constantly. The rice should be translucent, not browned.

Deglaze with vegan white wine and let simmer over medium heat until the white wine is completely absorbed by the rice. In the meantime, heat vegetable broth until it's warm. Add the broth little by little, just enough at a time until the rice is covered. Let it simmer until the liquid has been absorbed almost completely before adding the next ladle of broth. Repeat until the risotto rice is cooked but still tender to the bite, which will take approx. 20 minutes. Stir constantly to avoid any burning.

In the meantime, trim the root ends off the asparagus and cut the stems into larger chunks, approx. 3 cm (1 inch) long. Add asparagus to the risotto approx. 10 minutes before it's done. After another 5 minutes add the peas and let everything cook until the risotto is done.

Season risotto with fresh lemon juice, vegan Parmesan cheese, salt, pepper to taste, and serve directly.