creamy vegan mushroom risotto
Don't be afraid of risotto! There are actually a lot of people who are afraid of cooking risotto. But in reality, it's not even that complicated if you stick to a few ground rules. First of all: rice for risotto is no crazy invention. There are numerous different varieties of rice and you'll be mad at yourself in the end, if you use basmati rice for risotto, just because you didn't have any other rice at home. It won't work, because basmati rice is a long-grain rice that won't end up soft and creamy as desired in risotto. You should always use round-grain rice which has a soft core and will produce starch in the cooking process which will make your risotto wonderful and sticky.
There's always a common thread running through a risotto cooking process. Start with onions and garlic, then rice and let them "sweat". Afterwards deglaze with liquids, bring to a simmer and add more ingredients. But enough with talking, let's start cooking.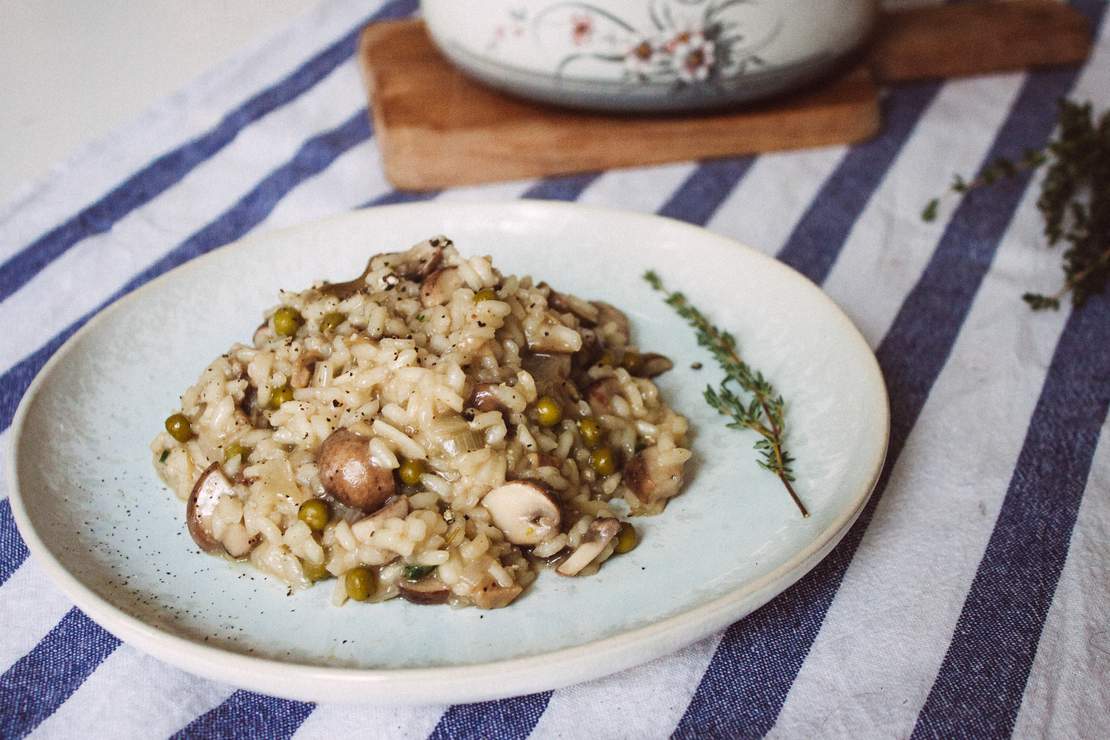 Creamy vegan Mushroom Risotto
Ingredients
250 g (8.8 oz) risotto rice
250 g (8.8 oz)brown button mushrooms
15 g (0.5 oz) dried porcini
5 tbsp vegan butter
3 shallots
1 clove garlic
200 ml (0.8 cup)vegan white wine
400 ml (1.7 cups) porcini stock
3 twigs thyme
4 tbsp peas (optional)
3 tbsp vegan Parmesan (optional, recipe on the blog)
salt&pepper
Instructions
Start by preparing mushrooms, because porcini needs to be soaked first. Therefore, add dried porcini in a small bowl and fill up with 2 cups hot water and set aside for at least 30 minutes. Afterwards pour off water with a sieve, but make sure to keep the water for later! Do not throw it away.
Brush brown button mushrooms, cut in quarters. Melt 2 tbsp vegan butter in a frying pan, add mushrooms and sauté for approx. 8 minutes. Just before the end, add porcini and let it all roast for 2-3 minutes. Afterwards season with salt and pepper and set aside.
Peel and finely dice shallots and garlic. Melt 2 tbsp vegan butter in a large saucepan and sweat onions and garlic for 4-5 minutes.
Add risotto rice and keep sweating on low heat until rice turns slightly translucent which will take 5-7 minutes. Keep stirring all the time, so nothing will burn.
Deglaze with vegan white wine, stir and bring to a simmer. Afterwards keep simmering on low-medium heat until wine is completely soaked by rice.
Afterwards add the water that you hold back from soaking porcini before. Add two ladleful of it and keep stirring, then wait again until it is completely soaked in. Add more stock and repeat this process, until risotto rice is soft which will take approx. 20 minutes. Season with salt and pepper.
Take from heat. Finely chop thyme and add to risotto along with roasted mushrooms. If desired, add peas.
We recommend to add at least 1 tbsp vegan butter and vegan Parmesan to risotto before serving. Season again with salt and pepper.