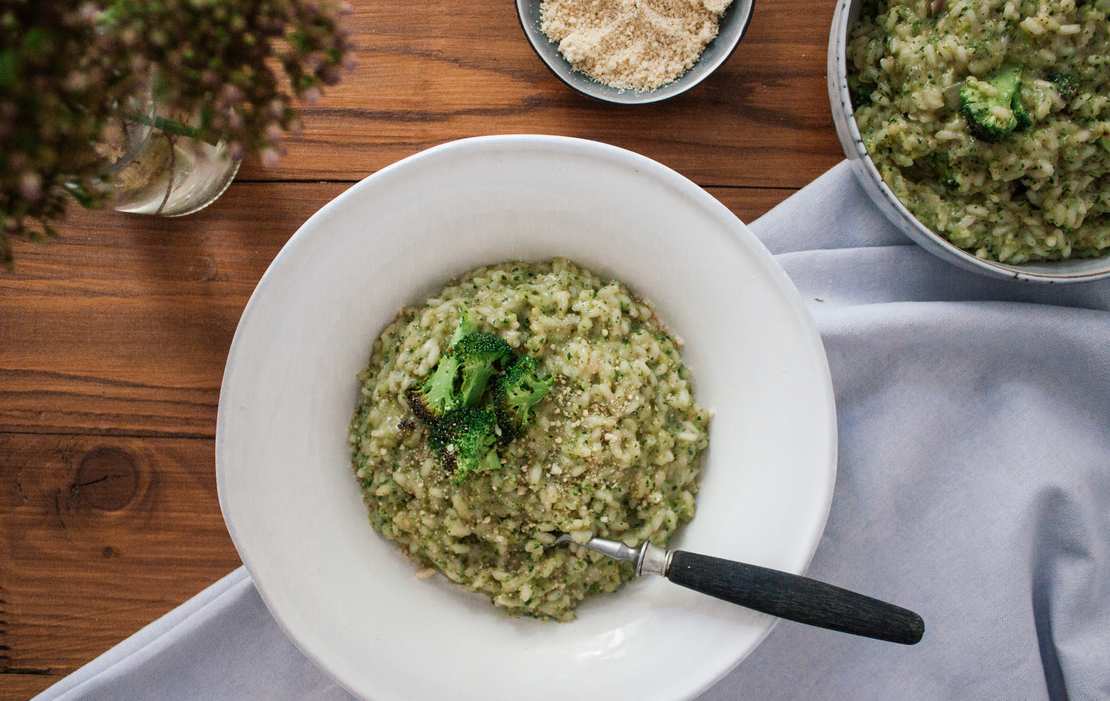 Although I hate rice pudding (no understatement!), I love risotto! The hearty, creamy "mush" is still slightly firm to the bite and can be combined with lots of vegetables. I even feel it's kind of meditative to stir the rice, cover it with new liquid and watch it getting absorbed by the rice, that gets creamier and creamier.
You can vary risotto very easily with different vegetables, spices or with pesto, that is stirred in at the end. You can prepare the pesto in advance and then pay full attention to the risotto. For today's recipe we decided on broccoli pesto, that turns your risotto green and can also be used for other dishes such as pasta. Yes, you CAN eat raw broccoli (and it's actually very healthy), but since it's not easy to digest when it's raw, you can also blanch the broccoli in advance in simmering water. This only takes 2-3 minutes and makes the broccoli more digestible.
Green broccoli risotto
Ingredients
250 g (1.25 cup) risotto rice
5 tbsp vegan butter
3 shallots
1 garlic clove
200 ml (0.75 cup) vegan white wine
500 ml (2 cups) vegetable broth
50 g (1.7 oz) broccoli
salt
pepper
Green broccoli pesto
200 g (7 oz) broccoli (raw or blanched)
25 g (0.8 oz) parsley
25 g (0.8 oz) basil
30 g (1 oz) pine nuts
30 g (1 oz) walnuts
3 tbsp vegan Parmesan cheese
1 tsp white miso paste
2 garlic cloves
200 ml (0.75 cup) olive oil
1/2 lemon (juice)
salt
pepper
Instructions
Add broccoli, parsley, basil, pine nuts, walnuts, miso paste, garlic, vegan Parmesan cheese or nutritional yeast, olive oil and lemon juice to a food processor. Season with salt and pepper, then mix until a smooth pesto forms. Season with salt and pepper to taste.
Peel and finely chop shallots and garlic. Melt vegan butter in a large pot and fry shallots and garlic for approx. 4 - 5 minutes.
Add risotto rice and fry on low heat for approx. 5 - 7 minutes or until the rice gets translucent, too. Keep stirring to make sure that nothing burns.
Deglaze with vegan white wine and let it simmer over medium heat until the rice completely absorbs the white wine.
Now add vegetable broth little by little. Only add as much to cover the rice, then let it slowly simmer until the broth is almost completely absorbed before adding more vegetable broth. Keep doing this until all broth is used and the risotto rice is soft but still firm to the bite - this will take approx. 20 minutes.
In the meantime, heat vegetable oil in a frying pan and sear remaining broccoli florets until browned. Season with salt and pepper.
Once the risotto is done, remove from heat and stir in 4 tablespoons of broccoli pesto. If desired, add more vegan Parmesan cheese and vegan butter and season with salt and pepper to taste. Serve risotto with fried broccoli on top.