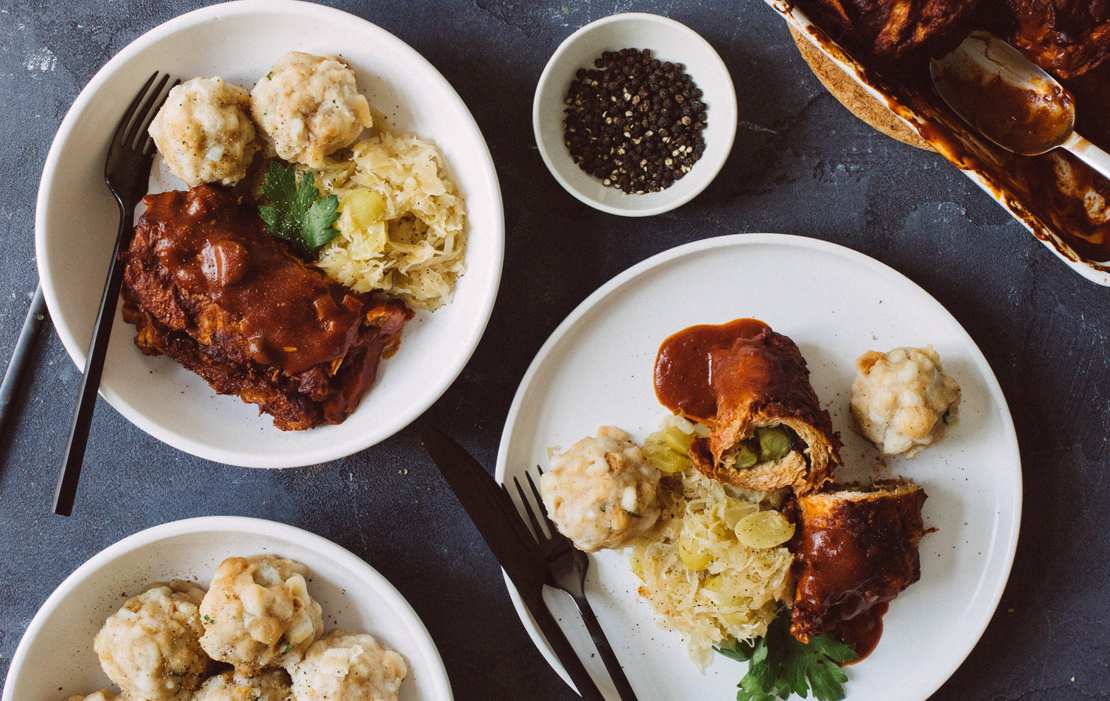 Stuffed soy steaks with dumplings & sauerkraut
Once upon a time, a girl was jumping around the kitchen screaming of joy. The reason for it were these "rouladen" (stuffed soy meat rolls), I was the girl, and Isa told me to shut up for a few minutes. Well...
What shall I do? In my childhood, we ate these "rouladen" rarely, because obviously, they need some time and effort, but this is what makes them so special. I eat them every year for Christmas with red cabbage and German potato dumplings. But this time, we decided to go for a more "casual Sunday" version with sauerkraut and homemade mini dumplings.
Maybe it's time to visit your parents or grandparents on a Sunday? Serve them this dish, and we're very excited how they will react.
Stuffed soy steaks with dumplings and sauerkraut
Ingredients
For stuffed soy meat (6):
6 big soy steaks
8 large gherkins
2 large onions
150 g (5.5 oz) button mushrooms
oil for frying
salt
pepper
parsley for serving
For the sauce:
1 onion
1 clove garlic
2 tbsp soy sauce
50 ml (0.25 cup) gherkin liquid from the jar
400 ml (1.75 cup) vegetable stock
200 ml (0.85 cup) vegan red wine
4 tbsp flour
4 tbsp tomato paste
2 bay leaves
2 cloves
salt
pepper
For the dumplings (15):
250 g (9 oz) dried diced bread rolls
275 ml (1 cup) plant-based milk
1 onion
5 tbsp breadcrumbs
6 tbsp soy flour
ground nutmeg
salt
pepper
For sauerkraut:
500 g (18 oz) sauerkraut
1 onion
2 bay leaves
6 juniper berries
20 grapes
Instructions
Start by soaking soy steaks in hot vegetable stock for approx. 15 min. Take a saucepan and cover with a lit. Afterward, rinse under cold water and press out as much liquid as possible. Salt and pepper from both sides. Using approx. 1 tbsp per soy steak, rub from both sides with mustard until coated.

For the stuffing: Peel and dice two large onion. Clean and cut button mushrooms. Heat oil in a large frying pan and fry onion and mushroom for approx. 5 min. Season with salt and pepper to taste, then remove from heat and set aside. Halve gherkins. For each roulade, you'll need 2 halved gherkins and one tablespoon of onion-mushroom mixture. Place it on the bottom third of a soy steak, then roll up the soy steak carefully, so it doesn't fall apart. Once rolled, you can fix it using a cooking string or tooth sticks. Again, heat some oil in the large frying pan and sear rolled soy steaks from all sides.

For the sauce peel and chop onion and garlic. Heat oil in a small saucepan and fry onion and garlic. Dust with flour, then stir in tomato paste. Fry until it gets darker, then deglaze with vegetable stock, red wine and reserved water from gherkin jar. Add soy sauce, bay leaf and season with salt, pepper, nutmeg, and paprika to taste. Let the sauce simmer for approx. 10 min. on low heat.

You'll now need a large casserole dish. Transfer rolled soy steaks into the dish and cover with all the sauce. Toss to coat, then bake in the oven at 180°C/350°F for approx. 30 - 40 minutes. If they get too dark, cover the casserole dish with aluminum foil.

In the meantime, it's time to take care of the dumplings and sauerkraut. For the dumplings, peel and chop onion. Heat vegan butter in a frying pan and fry onions. Season with salt and pepper. Heat plant-based milk and stir in soy flour. Transfer dumpling bread to a bowl and pour over the milk-flour mixture. Add fried diced onion and breadcrumbs and stir to combine. Season with nutmeg to taste, then let it rest for approx. 10 minutes. Form 15 round mini dumplings out of the mixture. Heat water in a large saucepan, it should not cook but always stay simmering. Add dumplings and let them simmer on low heat for approx. 10 - 12 minutes. Then remove from water.

Transfer sauerkraut to a large saucepan. Add diced onions, bay leaves, juniper berries, and halved grapes. Season with salt and pepper to taste and warm on medium heat.

And then it's time to serve! Stuffed and rolled soy meat will get to know dumplings and sauerkraut on the serving plate. They will like each other, we promise!