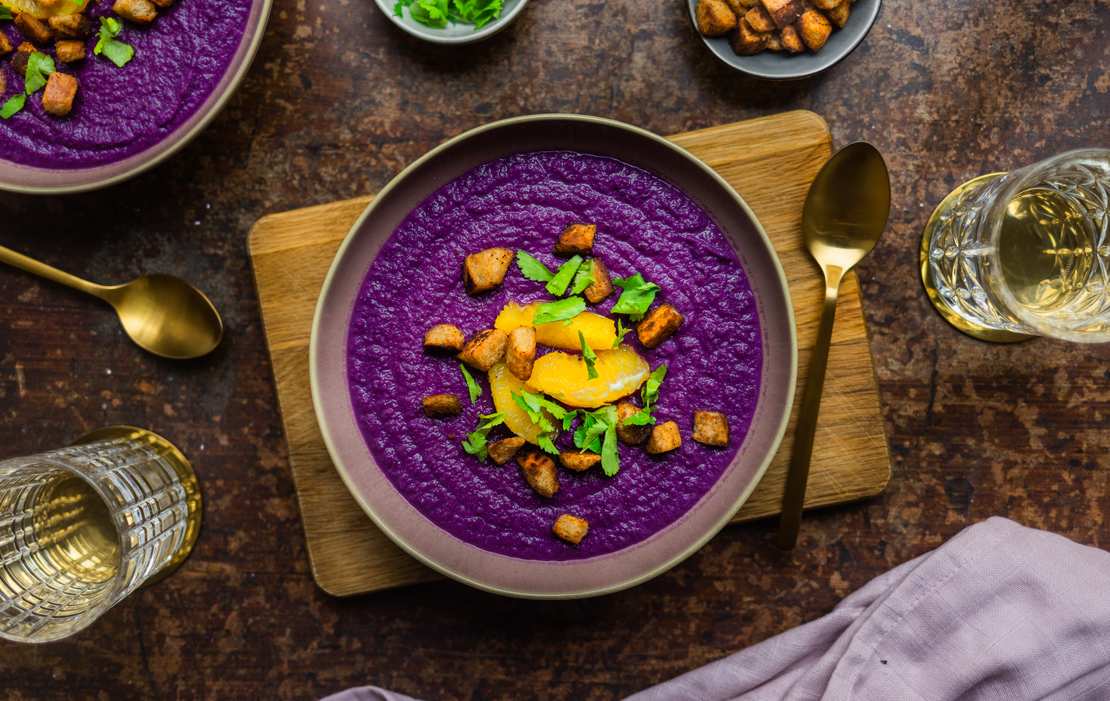 Vegan Christmasy Red Cabbage Soup with Cinnamon Croutons
This soup has been an absolute Christmas classic in my family for a long time. Honestly, I must say I was a little skeptical before I tried it the first time. But after eating the first spoon, all doubts were gone immediately. This soup is wonderfully creamy, fruity in taste due to the orange, and has a crunch thanks to the cinnamon croutons. In addition, with spices like ginger and and cloves, the soup totally tastes like Christmas. Simply wonderful! To make sure you don't have to search for all the whole spices in the soup before serving it, you can pack them together in a spice bag,but alternatively, it also works with a tea bag.
It's probably a tradition in many families to eat red cabbage at Christmas. If this is too boring for you, this soup is a perfect alternative. It can be served as a main course or an appetizer. We topped it with orange, cinnamon croutons, and cilantro. Of course, if you don't like the latter, you can use parsley instead or omit the herbs altogether.
The soup and oranges can easily be prepared one day in advance. Just store them in the refrigerator overnight. However, the cinnamon croutons taste best when they're freshly pan-fried - otherwise, they lose some crunch. But luckily, this is done quickly! It doesn't matter if you use spelt or wheat rolls or toast – it works with all alternatives and tastes very similar.
Just warm up the soup when the rest of your meal is cooked and add the fresh toppings. Well, if that's not perfect for a stressful Christmas day!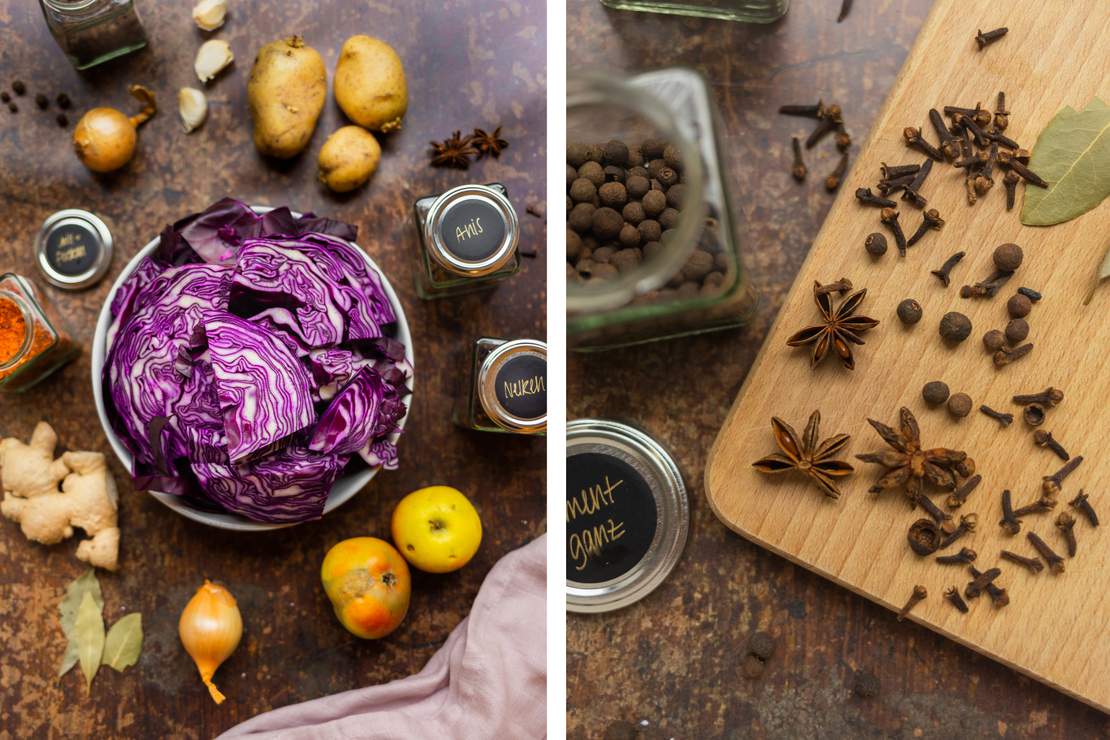 Vegan christmassy Red Cabbage Soup with Cinnamon Croûtons
Ingredients
For the soup:
1 kg (2.25 lbs) red cabbage
200 g (7 oz) potatoes
2 apples
2 onions
2 garlic cloves
15 g (0.5 oz) ginger
1 tsp chili flakes
3 tbsp olive oil
2 cloves
2 star anise
2 dried all spice berries
2 bay leaves
100 ml (0.5 cup) vegan red wine
800 ml (3.3 cups) vegetable broth
200 ml (0.75 cup) coconut milk
1 orange (juice and zest)
salt
pepper
For the cinnamon croutons:
2 tbsp olive oil
1 slice of toast or bread roll (glutenfree if needed)
1 tsp cinnamon
Also:
Instructions
Wash red cabbage, remove the stalk, and cut the cabbage into strips. Peel the potatoes, wash apples, and dice both. Peel onions, garlic, and ginger, and chop them as well. Add cloves, star anise, all spice berries, and bay leaves to a spice bag or tea bag.Tie well with kitchen twine and set aside.

Heat three tablespoons of vegan butter over medium heat and sauté onions, garlic, ginger, and chili flakes for about 5 minutes. Add red cabbage, potatoes, and apples.Sauté for another 5 minutes. Deglaze with red wine and add vegetable stock and the spice bag. Let the soup simmer over medium heat for about 30-40 minutes, stirring regularly to avoid any burning.

Meanwhile, peel and carefully fillet the oranges for the topping. Wash and chop cilantro. For the croutons, cut bread into small cubes. Just before serving the soup, heat olive oil and cinnamon in a frying pan and roast the bread for about 5-10 minutes until browned and crispy.

Remove the spice bag from the soup. Add coconut milk and the zest and juice of one orange. Puree the soup and season generously with salt and pepper to taste.Serve with the filleted orange slices, cilantro, and cinnamon croutons.