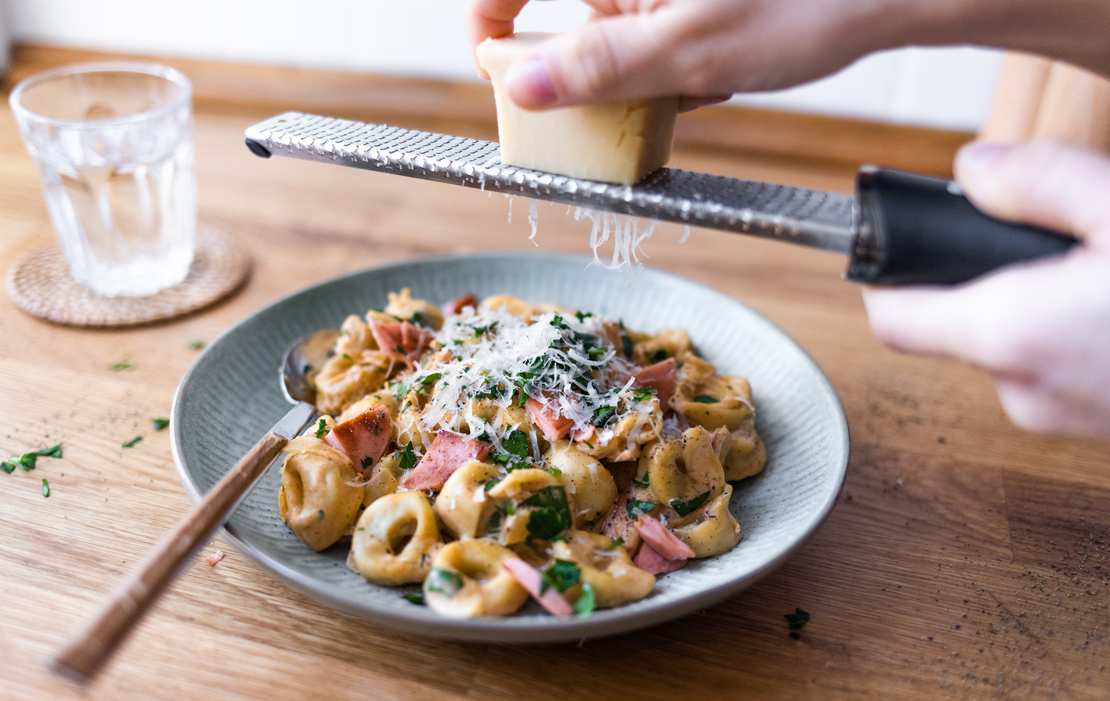 Tortellini in a Creamy Vegan Ham Sauce
Sometimes, we wander through the supermarket just to get inspired and look for new recipe ideas. This time, Julia got stuck in the pre-packaged meals section and couldn't take her eyes off the tortellini in ham cream sauce. So when I was trusted with writing the recipe, I was very excited. However, I have never actually eaten this dish as a classic ready meal, only freshly cooked according to my mom's recipe. That's why I combined the ingredient list from the pre-packaged meal with memories of my mom's dish and came up with the following recipe.
Of course, the pre-packaged meal contains a lot of things we don't want to eat: cream powder, skimmed milk powder, whey product and so on. So I replaced all said ingredients with vegan ones and added some spices such as nutmeg and hot paprika powder. If you don't like that, just leave it out. The ham was the biggest challenge when developing this dish. Without thinking, I bought pre-sliced vegan ham, cut it into pieces, and fried it in a pan. It quickly melted into a mush and completely dissolved after I added the liquid components. After following Isa's advice and using vegan luncheon meat instead, it worked – even though the ingredient list is pretty similar. Who knows why. Keep that in mind when preparing the dish. If you happen to know why, please let us know in the comments! We would love to hear about your experiences.
If you like, you can add a few (frozen) peas (that's what my mom always did) for freshness. The parsley and fresh lemon juice also add a nice kick of freshness. Finally, if you don't like tortellini for some reason, you can also use noodles or gnocchi to go with it.
This dish is a real comfort food. Perfect for cold days when you want to cuddle up on the couch all wrapped up. But it's also ideal for lunch if you only have little time to cook, as it only takes 20 minutes to make. If you're very ambitious, you can make the tortellini yourself. You can find the recipe here. It's worth the effort!
Tortellini in a Creamy Vegan Ham Sauce
Ingredients
#####For the Ham Cream Sauce:
1 onion
2 garlic cloves
175 g (0.33 lb) vegan ham replacement (e.g. vegan luncheon meat)
20 g (0.25 stick) vegan butter
100 ml (0.5 cup) vegan white wine
200 g (0.5 lb) plant-based cooking cream
300 ml (1.25 cups) vegetable broth
50 g (1.75 oz) vegan parmesan
2 tbsp nutritional yeast
1 lemon (juice)
nutmeg
hot paprika powder
mild paprika powder
salt
pepper
####Additionally:
250 g (0.5 lb) vegan tortellini
30 g (1 oz) fresh flat-leaf parsley
fresh pepper
Instructions
First, peel and dice the onion and garlic cloves. Next, cut the vegan ham into small pieces.
Tip: Vegan ham, unfortunately, melts when heated, so pay attention to which product you use. Vegan luncheon meat worked for me.
Bring a pot of salted water to a boil and cook the tortellini according to package instructions.
In a skillet, melt vegan butter over medium heat. Sauté onions and add garlic and vegan ham. Sauté everything until lightly browned, deglaze with vegan white wine, and simmer briefly before adding plant-based cooking cream and vegetable broth.
While the sauce simmers, grate the plant-based parmesan and add it to the sauce along with nutritional yeast and the juice of half a lemon. Now season to taste with nutmeg, hot paprika powder, salt and pepper.
Wash and chop the parsley and add half of it to the sauce. Also, add the cooked tortellini to the sauce, and mix everything well. Serve the tortellini with the remaining parsley, fresh pepper and a splash of lemon juice if desired.