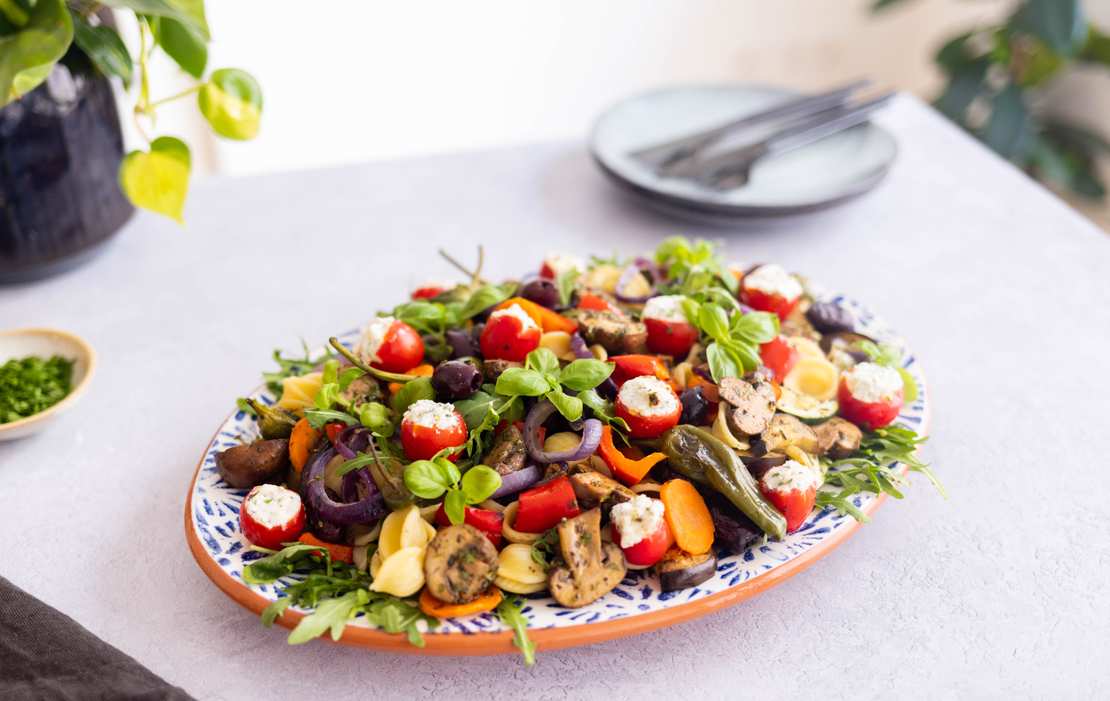 Vegan Antipasti Pasta Salad
Summer is almost here and so is the barbecue season. There is nothing better than being satiated and satisfied on a warm summer evening, sitting around a fire with friends or family, and enjoying the evening. In my circle of friends, it's common that everybody prepares a different salad or side dish that goes with the grilled vegetables, tofu, vegan sausages, or steaks. So, the more people we are, the greater the selection of side dishes (and the more overlap there) will likely be on the buffet. To make sure you and we don't get bored, we've come up with another vegan pasta salad this year, although we already have several delicious BBQ recipes for them on our blog. For example, how about a vegan pasta salad with green asparagus and strawberries, a macaroni salad with almond dressing or the world's best potato salad?
What makes this salad special is that it's a Mediterranean antipasti pasta salad! Among other ingredients, it hides pimientos (unripe green peppers often eaten as tapas in Spain), olives, stuffed tomatoes, and pickled mushrooms and is served with a delicious basil dressing. So for those of you who want to try a new recipe – this one is worth trying and guaranteed to win over your non-vegan friends!
Depending on how much time you have, you can just buy the pickled mushrooms and leave out the stuffed tomatoes. But if you have more time, the extra effort is definitely worth it! Otherwise, you can, of course, adapt everything to your taste and omit or add individual vegetables or prepare a different dressing. By the way, you can find more recipes for the perfect barbecue here.
Vegan Antipasti Pasta Salad
Ingredients
For the pasta salad:
250 g (9 oz) short pasta
100 g (3.5 oz) arugula
1 eggplant
1 red bell pepper
1 medium zucchini
2 carrots
200 g (7 oz) pimientos
250 g (9 oz) pickled mushrooms(see recipe below)
2 red onions
100 g (3.5 oz) olives
olive oil
dried rosemary
dried oregano
dried thyme
salt
pepper
For the stuffed tomatoes:
16 cherry tomatoes
50 g (1.75 oz) vegan feta
20 g (0.75 oz) vegan cream cheese
0.5 garlic clove
fresh basil
salt
pepper
For the basil dressing:
80 g (3 oz) vegan basil pesto
4 tbsp olive oil
0.5 lemon (juice)
Instructions
If you want to pickle mushrooms yourself for this recipe, you should do this at least one day before so the mushrooms have enough time to infuse. You can find the recipe below. If you don't have much time, just buy pickled mushrooms.

For the stuffed tomatoes, wash and finely chop the basil. Peel the garlic and crush it with a garlic press or finely mince it. Then mash vegan feta and vegan cream cheese in a bowl with a fork and stir in garlic and basil. Season with salt and pepper to taste. Transfer the cream to an airtight container and refrigerate it until later.

Next, preheat the oven to 180°C/355°F (convection heat). Wash the eggplant, cut it into bite-sized pieces, transfer it to a bowl, and season with salt. Set aside until the rest of the vegetables are prepared. Salting will remove water and bitterness from the eggplant. Additionally, it will absorb less fat later.
Tip: You can also sauté the vegetables on the grill or in a pan.
Wash the arugula and remaining vegetables, peel the carrots if necessary, and cut the vegetables into bite-sized pieces except for the tomatoes and pimientos, that can stay whole.

Arrange the cut vegetables on two baking sheets, drizzle with olive oil, and season with salt, pepper, and dried herbs. Bake in the preheated oven at 180°C/355°F for about 20-30 minutes until the vegetables are browned and cooked.

Meanwhile, prepare the dressing and fill the tomatoes. For the dressing, mix basil pesto with olive oil and lemon juice in a bowl. For the stuffed tomatoes, cut off the "lid" of the tomatoes and hollow them out with a cake fork or small spoon. Then fill the tomatoes with the vegan feta cream.

Just before the vegetables are done roasting, bring a pot of salted water to a boil and cook the pasta according to package directions.

Once the roasted vegetables are done, remove them from the oven. Arrange them on a platter or mix them in a bowl together with the cooked pasta, arugula, pickled mushrooms, stuffed tomatoes, and basil dressing and serve.
Pickled Mushrooms
Ingredients
250 g (9 oz) brown mushrooms
5 g parsley
1 garlic clove
70 g (7 tbsp) olive oil
20 g (2 tbsp) balsamic vinegar
20 g (2 tbsp) white wine vinegar
1 tsp colored peppercorns
0.5 tsp chili flakes
1 tsp dried thyme
1 tsp dried rosemary
1 tsp dried basil
5 g parsley
salt
vegetable oil for frying
Instructions
Clean the mushrooms, pat dry, and, if necessary,trim the stems. Then, depending on the size, leave the mushrooms whole, cut them in half, or quarter them.

Heat a pan with oil and sauté the mushrooms briefly over medium heat until they are lightly browned but haven't lost any water yet. Then let cool in a bowl at room temperature.

Wash and finely chop the parsley, and peel and mince the garlic.

Fill a sealable jar with olive oil and both vinegars. Add the spices and herbs as well as the garlic and cooled mushrooms. Mix everything briefly, close the jar and let the mushrooms steep in a cool, dark place or the refrigerator for at least 24 hours. Remove from the refrigerator before eating, so the oil becomes more liquid again. In an airtight screw-top jar, the mushrooms will keep for several days.