Vegan Asparagus Pasta Salad with Strawberries
Attention to all spring vegetable and fruit lovers! Asparagus and strawberries are in season again, and you know exactly what that means: we combine these two ingredients because, as we all know, they make an excellent team!
We chose to mix sweet strawberries with roasted asparagus in a salad that turns into a great spring dish with some pasta and a fresh tahini lemon dressing. Thanks to toasted sliced almonds, you also get a slight crunch in this salad, but you can replace the almonds with other nuts such as walnuts or pecans.
If you need to prepare a quick salad for your next picnic, you're definitely on the safe side with this recipe. It's also the right choice for lunch or dinner if you love the combination of sweet and savory ingredients as much as we do.
And in case you'd rather avoid asparagus and strawberries in combination, we have a whole range of salads that also come with a creative and, above all, filling twist. These include vegan cheese balls on a spinach salad, vegan feta cheese on a chickpea salad, or a pea pesto and honeydew melon with a pasta salad.
Fortunately, everything is allowed in a salad, and you decide for yourself what combination you want to convince your friends with next!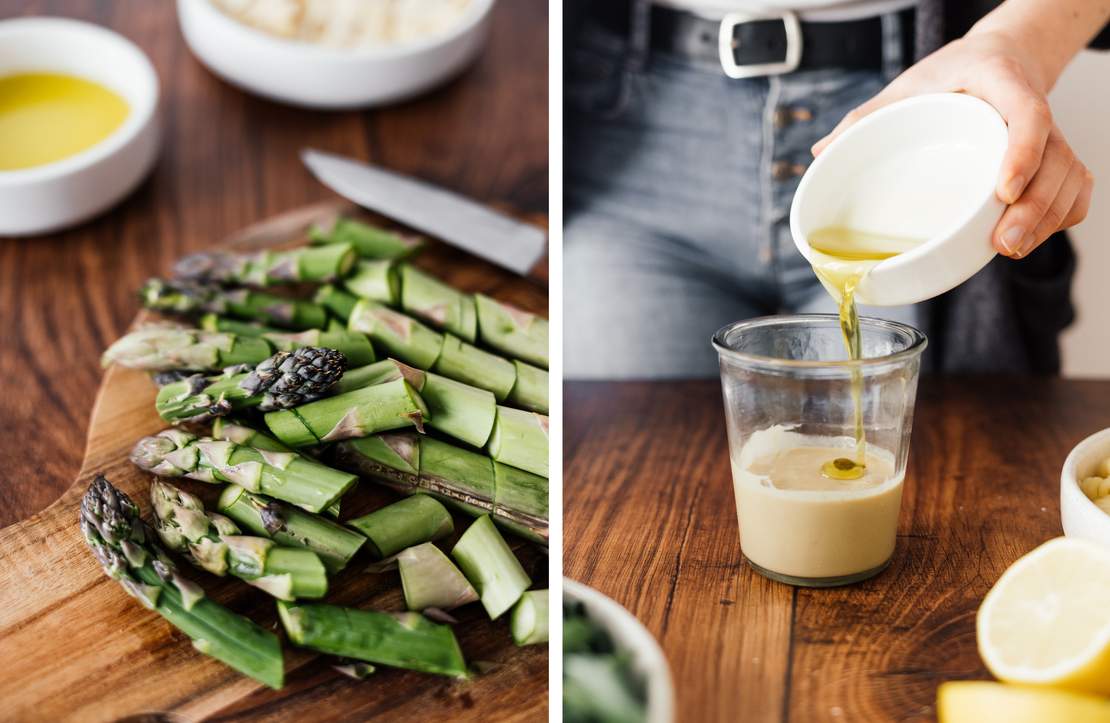 Vegan Asparagus Pasta Salad with Strawberries
Ingredients
For the pasta:
250 g (9 oz) pasta
400 g (14 oz) strawberries
400 g (14 oz) green asparagus
100 g (3.5 oz) lamb's lettuce
50 g (2 oz) sliced almonds
salt
pepper
For the tahini dressing:
1 lemon (juice)
100 ml (0.5 cup) tahini
50 ml (0.25 cup) olive oil
salt
pepper
agave syrup
Instructions
Bring a pot of salted water to a boil and cook the pasta according to package directions until al dente.

Meanwhile, wash the green asparagus, trim any woody ends and cut the asparagus stalks into bite-sized pieces.

Heat vegetable oil in a frying pan and fry the asparagus for about 5-6 minutes until lightly browned. Season well with salt and pepper and set aside.

Wash the lamb's lettuce. Also wash, hull, and slice the strawberries. Toast sliced almonds in a fat-free frying pan until lightly brown.

For the dressing, stir tahini, olive oil, and lemon juice until combined. Season with salt, pepper and agave syrup to taste.
Tip: If you have a rather dark tahini, simply add a dash of plant-based milk which gives a fresher look and helps the dressing to get a little creamier.
In a salad bowl, mix lamb's lettuce with strawberries, cooked pasta, and asparagus. Serve with toasted sliced almonds and drizzle with dressing.
Tip: For a nut-free version of the recipe, simply leave out the almonds.